Sometimes, even though you know spring is right around the corner, the temperature drops and it starts to feel like winter is never going to end. If that sounds like you, take heart. We've picked out the best movies to get in the mood for spring even when the weather isn't cooperating. Hold on, warm days are on the way!
Ferris Bueller's Day Off
The sun is shining, the birds are chirping – sounds like a perfect day to play hooky. And that's no problem for Ferris Bueller because he knows exactly how to get away with it. Ferris Bueller's Day Off is a timeless 80s classic that still holds up incredibly well today. With a heaping dose of charm, Matthew Broderick plays the titular lovable scamp in what became a career defining role. In contrast to his usual heavier fare, director John Hughes (The Breakfast Club, Some Kind of Wonderful) also struck a different chord emotionally with this film. Just right for a little escape from gray, rainy weather.
Big Fish
Will Bloom has been at odds with his father Edward for three years. But now that Edward is dying, his son wants to make one last attempt to reconcile. What he wants is to finally get the truth about his family history. His whole life, he has been fed nothing but tall tales about the man and his life. For instance, he claimed to have left his hometown as a young man with a giant, fought killer mythical creatures in a magic forest, found the perfect city and left it, lived with a werewolf in a circus, enchanted his beloved wife Sandra with 10,00 daffodils, won World War Two virtually single-handedly, and spent an entire night on the bottom of a lake. A bit more on the sentimental side, this spring movie is sure to lift your spirits.
Saving Grace
After the death of her husband, Grace Trevethan is faced not only with finding out he had a secret lover, but another huge secret as well. Left penniless after never working a day in her life, Grace must learn to fend for herself. If she doesn't want to lose everything, she'll need money – lots of it and fast! Thankfully, her gardener Matthew happens to know about a few special plants in urgent need of Grace's green thumb. Fresh, green plants, new beginnings. What more could a spring film have to offer?
Maximize your movie enjoyment with the perfect Teufel products
10 Things I Hate About You
All the boys at Padua High want to get with Bianca Stratfort. But her family has one strict rule: Bianca cannot date anyone until her older sister Kat gets a boyfriend. And so, new sophomore Cameron hatches an ingenious plot to set Kat up with bad boy Patrick. A delightfully understated adaptation of Shakespeare's The Taming of the Shrew, it proves that retellings of classics don't have to be stuffy. Replete with fun side characters, this film is a smart retelling of a romantic and funny story just waiting to brighten your day.
Tuck Everlasting
15-year-old Winnie (Alexis Bledel) flees her strict parental home when she learns that she's about to be sent to boarding school. By chance, while walking through the forest, she meets the Tucks who lead a secluded life out in nature. Winnie is fascinated by the mysterious family and soon falls in love with young son Jesse (Jonathan Jackson). Before too long, though, she learns that the Tucks have an incredible secret and she is confronted with a difficult decision… If modern settings aren't your thing, this might be the spring movie for you!
Spring Breakers
Director and screenwriter Harmony Korine, known for writing scandalous film Kids, takes a look behind the scenes of an infamous American tradition. At first appearing to be a harmless teen comedy about the yearly parties on Florida's beaches, it quickly reveals a darker underbelly. While the partying itself only lasts a week, Spring Breakers showcases the bumps, bruises, and traumas that will stay with many partygoers for a lifetime. If you like engrossing, darker tales, let this one shake you out of hibernation.
Start spring off right with good movies and top-of-the-line audio gear
Now that your spring movie watch list is full, what's the best way to enjoy these classic films? On a nice big TV with a powerful sound system, of course! After all, the only way to bring the big-screen experience home is with cinema-quality audio. Well, Teufel has just what the doctor ordered.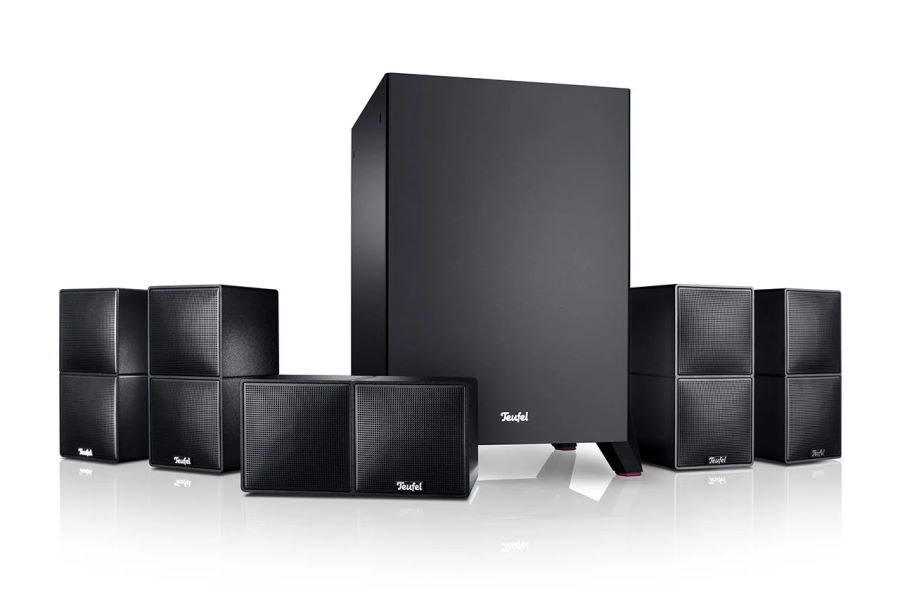 ▶ Cubycon: Small enough to be overlooked, but sound you just can't miss. You want a fully-fledged system that doesn't take up too much space? Look no further. The Cubycon is a high-end 5.1 home cinema system in miniature. Flexible setup options allow for vertical or horizontal configurations with speakers placed on shelves, wall mounted, or on stands – this set can truly do it all.
▶ CINEBAR PRO: This soundbar also puts out a lot of sound despite its space-saving aesthetic. Housing a 250 mm woofer, eight huge high-performace drivers, and six amplifiers, it can fill rooms up to 35 square meters with ease.
More soundbars from Teufel