Teufel Audio recently presented the Definion 3, the latest in our high-end Definion stereo series. In addition to premium materials and expert tuning, Definion stereo speakers are characterized by one very important and unique component: Sychronized Coaxial Acoustics designed and patented by Teufel Audio.
Differences in time alignment can muddy playback
As already discussed on this blog, classic stereo speakers usually have a 3-way construction consisting of a tweeter, midrange driver and bass woofer. Each distinct driver is responsible for reproducing a separate part of the frequency range transmitted by the audio signal. Crossovers separate the signal along the frequency spectrum and then channel individual frequency ranges to the drivers that can best play them back.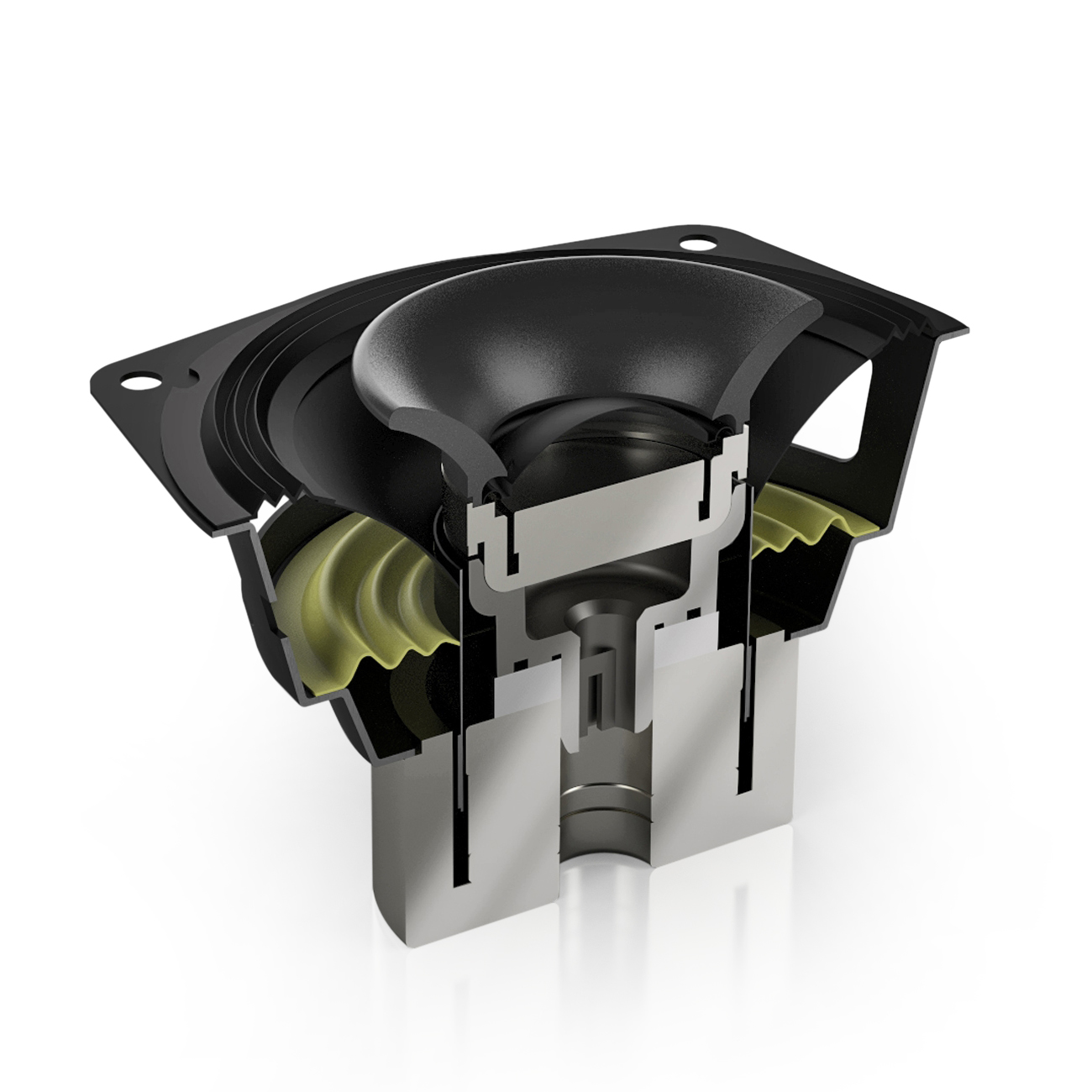 Unfortunately, having sound radiate from different drivers solves one problem just as it creates another. The fact that each driver exists in a separate physical location introduces differences in time alignment. Sounds that come from distinct physical locations will, depending on where the listener is located, arrive at the ear at different times.
Overcoming this barrier to a perfect stereo soundstage was the goal that drove our research efforts. In total, our engineers in Berlin invested 2.5 years developing a special coaxial driver that could overcome the spatial differences between a tweeter and midrange driver. The end result was so successful, we developed an entire series around it – our premiere Definion range.
Approaching the ideal of a point sound source
Coaxial drivers eliminate the problem of differences in time alignment. The word "coaxial" means "having a common axis." In terms of sound reproduction, the word is used with drivers in which the treble and lower range originate at the same source. In reality, it is not physically possible for both drivers to share the exact same axis. Two drivers that shared the exact same sound source would constitute a perfect point sound source, which would, in theory, have perfect dispersion characteristics.
Again, this is an ideal that is impossible to realize in the real world, but the closer two drivers are brought together, the closer they come to approaching this acoustic nirvana.
The following advantages are the result:
•    Exceptionally spacious sound imaging for a feeling of being at a live music event
•    Omnidirectional sound dispersion for good sonic detail over a wide area
•    Transparent playback: Vocals and individual instruments are rendered with a highly natural sound
•    The excellent reproduction of complex harmonic structures
Since low bass – with its long slow traveling sine waves – is not easy for our ears to localize, problems effecting sound dispersion are mostly relegated to the mid and upper ranges. That's why most coaxial drivers consist of a tweeter and midrange driver. The Definion series uses a tweeter positioned directly in front of a midrange driver which also acts as a wave guide for the treble range.
The question often arrives as to why coaxial drivers aren't used more often if they're superior to the use of separate drivers. The answer is that the development and implementation of such drivers is extremely expensive and time consuming. In other words, if done well, coaxial drivers lead to a superior result but any mistakes in the design or execution can create less than optimal sound.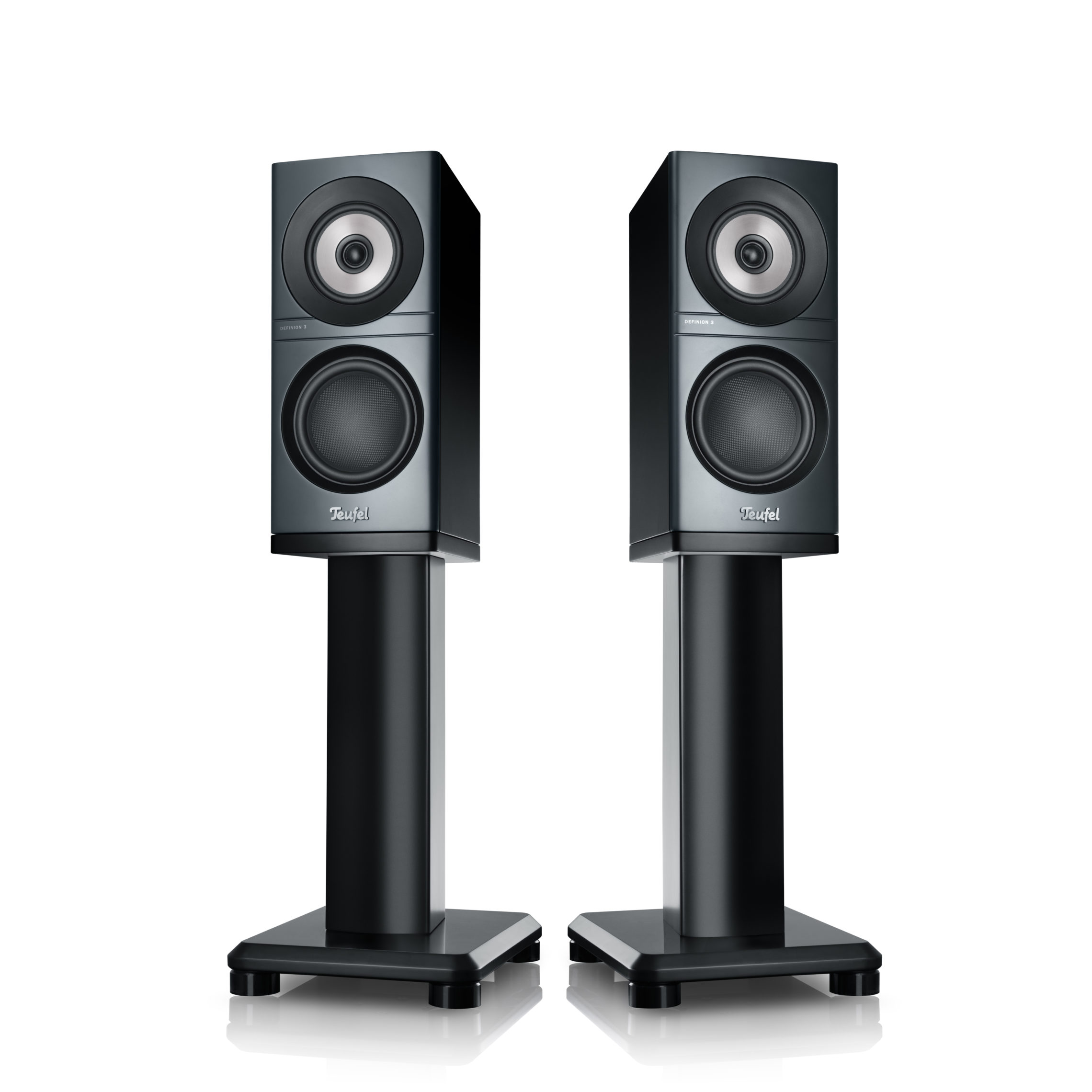 Technology used by Teufel's patented Sychronized Coaxial Acoustics

1.    Coated fabric dome tweeted placed in front of the midrange driver
2.    A midrange driver with a highly stable honeycomb structure for the minimization of bending vibrations
3.    Voice coil carrier for the magnetic system
4.    Integrated construction of the tweeter and midrange driver
5.    Moving coil
6.    A pole construction holds the tweeter in place
Those who want to experience a new level of precision and naturalness with music can test the Definion 3 at home for up to 8 weeks.