Notes from Berlin: the uncompromising development of the REAL BLUE PRO. We sat down for a talk with Sebastian and Christoph from Teufel's acoustic engineering team to find out what these new headphones bring to the table.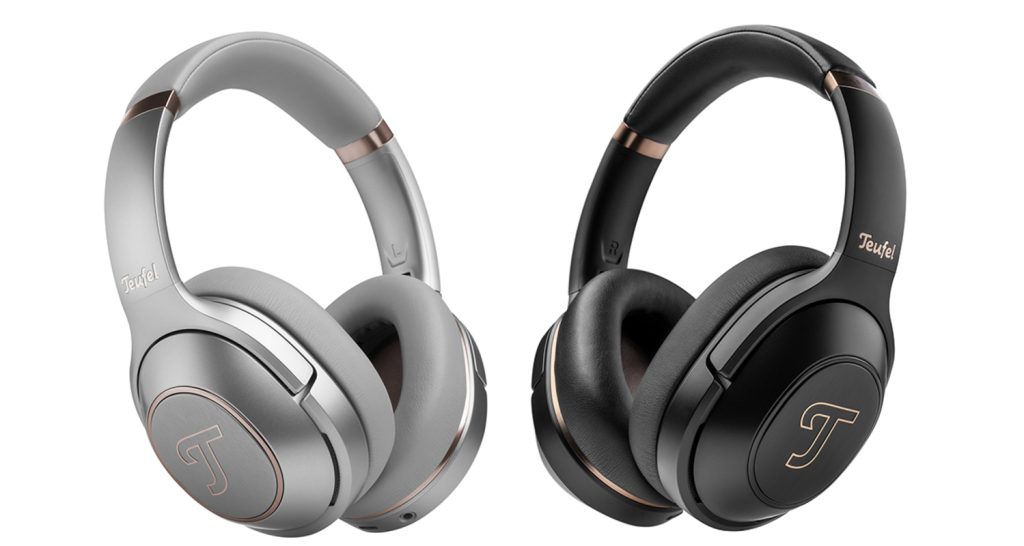 Headphones that can compete on the international stage
Teufel Blog: Christoph and Sebastian, could you quickly introduce yourselves and your part in the REAL BLUE PRO project?
Sebastian: I've been on Teufel's acoustics team for almost five years. My work is mainly in the headphone engineering department, where I take care of things like concept development, tuning, active noise control, speech intelligibility for phone calls and stuff like that. With the REAL BLUE PRO, we gave a lot of thought to the placement and layout of the microphone openings, as well as matching the driver characteristics precisely to our signature audio profile. I also optimized the ANC and phone call quality until we had something we were happy with.

Christoph: I started at Teufel more than 9 years ago, and in that time I've worked on products from every category of the portfolio, ranging from home cinema to portables, stereo speakers, and all kinds of headphones. On top of product development, I also do a lot of work on innovative DSP algorithms, improving features and audio quality of our products. That's actually how Dynamore, Teufel's stereo widening feature came about. With the REAL BLUE PRO, I was more of an advisor, bringing in my experience from the popular REAL BLUE NC and other headphones.
Teufel Blog: What was the intent behind developing this model and what did you focus on in the development process?

Sebastian: The intent was to develop a set of overear headphones that could go toe to toe with any competitor worldwide. We planned for the full feature set: ANC, Transparency Mode, very high speech intelligibility for phone calls, Mimi, battery performance and much more. The physical components, such as the drivers and earpads are of the highest quality to get the maximum performance out of every area. When it comes to headphones in the consumer audio segment, we didn't make a single compromise.
We put particular focus on the interplay between sound quality and ANC. When optimizing for ANC, audio quality quickly starts to suffer. Finding a balance between those was one of the tasks we really mastered. In addition, it was important to us to place the microphone chambers in such a way that wind noises would be kept at bay. We put a lot of emphasis on implementing passive noise reduction methods as well as the most powerful algorithms yet for digital signal optimization. We also took a very close look at the impact of the angle of external sounds so we could get the maximum out of ANC and Transparency Mode.
Christoph: … beyond that, our goal was not only good external product design, but to reinforce the shared objective functions of the REAL BLUE and REAL BLUE NC family's characteristics. That also made it crucial to to take advantage of the previously mentioned optimization potential. Because of that, it's no wonder that the headphones speak a similar language in terms of ergonomics and sound.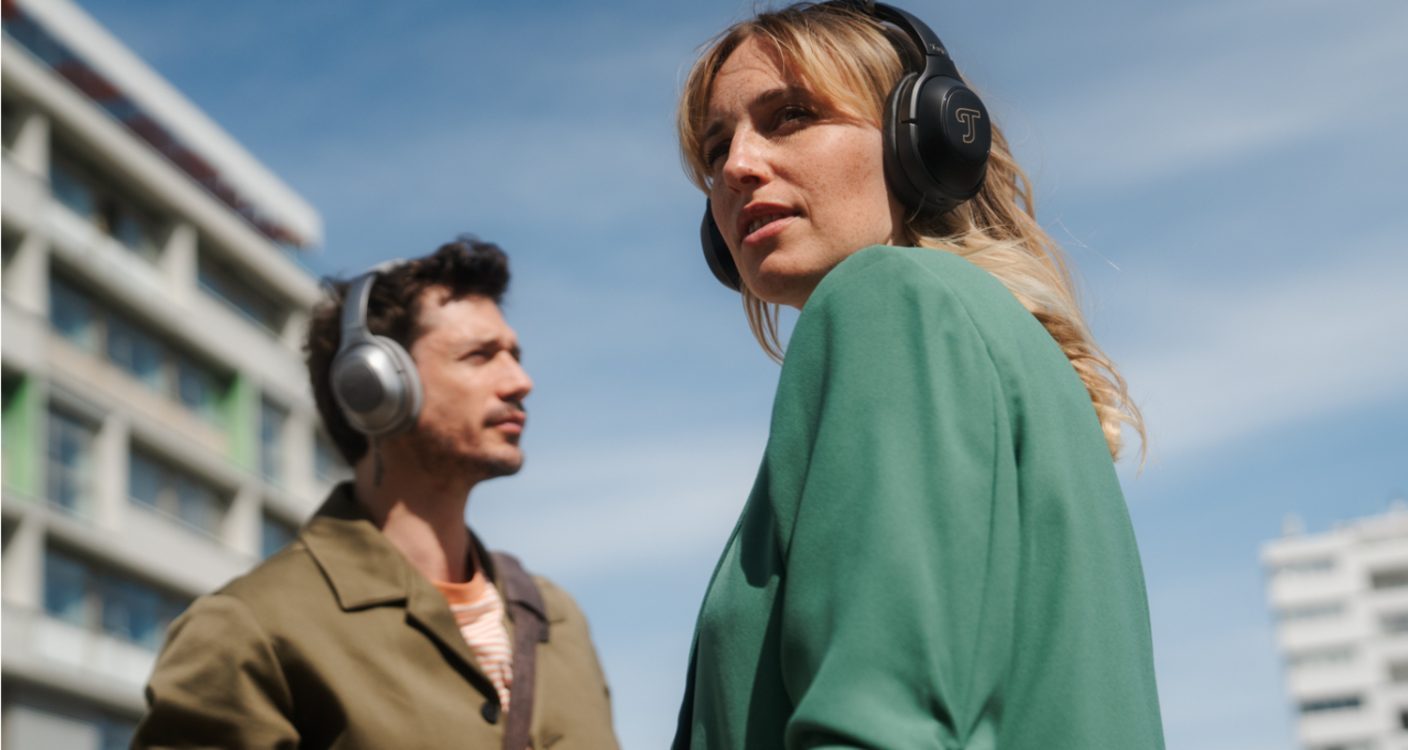 Built around very deep, powerful bass
Teufel Blog: What kind of sound image can our listeners expect thanks to the huge 44-mm linear HD drivers?

Sebastian: Among other things, the drivers have a very powerful neodymium magnet, and a relatively large diaphragm area (the standard is 40 mm in diameter), which was because the REAL BLUE PRO's drivers were built around very deep and powerful bass. Beyond that, the trebles come through very evenly, which we achieved using a double-layered diaphragm that dampens high frequency resonances. Such resonances make many headphones have varying trebles with high peaks. The can also lead to gaps, where some information is simply left out. One can quickly notice the quality of the drivers when listening using a cable. Passive playback (with a cable) is thus balanced and very natural.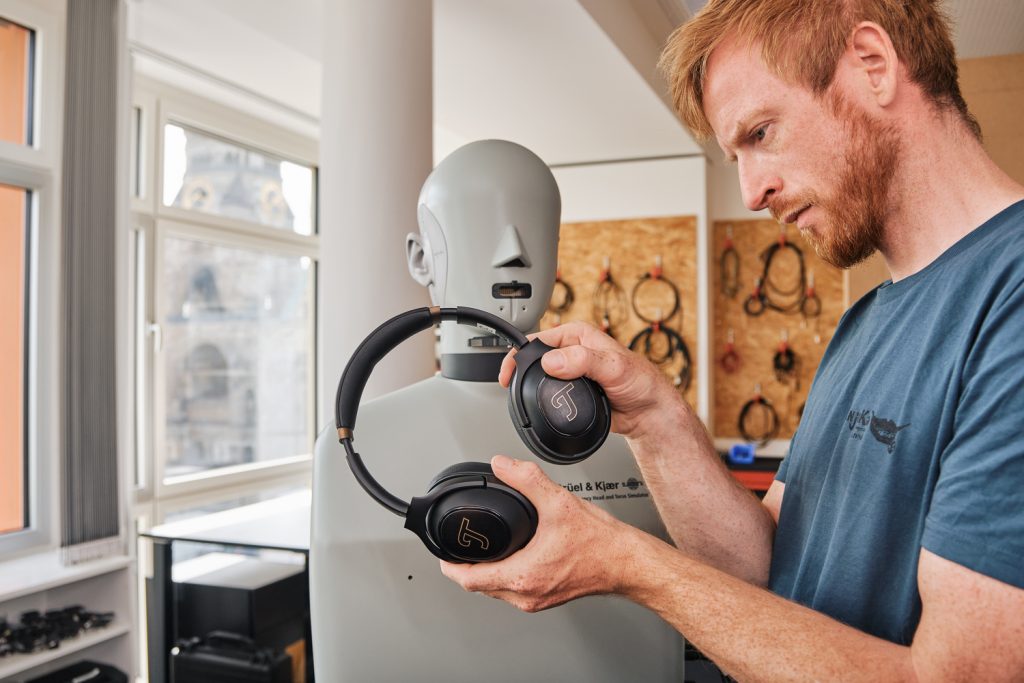 Teufel Blog: Which genres of music harmonize particularly well here? Or do the PRO just work for everything?
Sebastian: That's a tough question for me because we try to optimize the sound for every kind of music. You could look at them like a very high-quality set of speakers that can ideally play everything exactly how the acoustic engineer wanted it to sound. In reality, small inconsistencies in the sound only become apparent during development when you test all possible genres and thus optimize even the most minute details in the frequency response curve.
Multi-level ANC for maximum flexibility
Teufel Blog: The REAL BLUE PRO comes with the latest in Active Noise Cancelling technology, offering three different levels. Which use cases are the three levels meant for and how were you able to implement that during development?
Sebastian: From an acoustic perspective, the three ANC modes and Transparency Mode are a smooth transition. We went with four main modes for maximum flexibility, however the straightforwardness of the options was decisive. The most powerful ANC mode is going to be what most people use most of the time, pushing the components to the absolute maximum.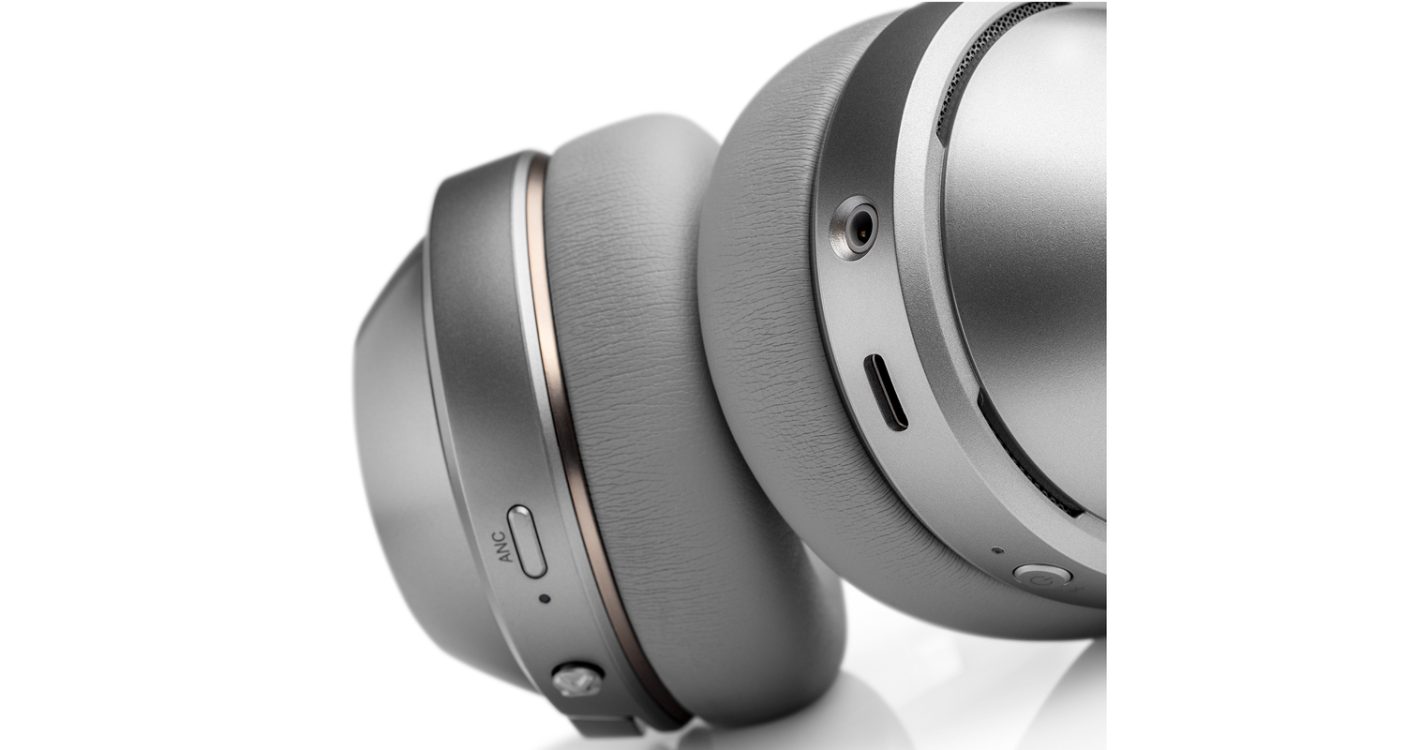 The two other ANC modes let more sound in from the outside world and reduce the inherent ANC noise. That means you can choose the perfect mode for any situation you might find yourself in (the office, street traffic, shopping, etc.). I for example appreciate being able to turn on ANC mode in the office without being totally isolated from outside noise, which makes the inherent noise of the headphones nearly imperceptible. In transparency mode, it feels acoustically almost like you're not wearing any headphones at all.
Teufel Blog: What are the improvements made to the built-in Transparency Mode compared to previous models?
Sebastian: For one, the tuning was strongly pushed toward natural sound. We wanted it to feel as much as possible that a person could just leave their headphones on while talking to someone else. For comfort reasons, we further filtered the low-frequency sounds that make up a large component of the noise in planes or loud trains, but are not present in human speech. Another special feature is that there's a directionality to the pass-through signals. Voices come through a bit louder from the front than from the sides or the back, which is based on the way natural hearing works.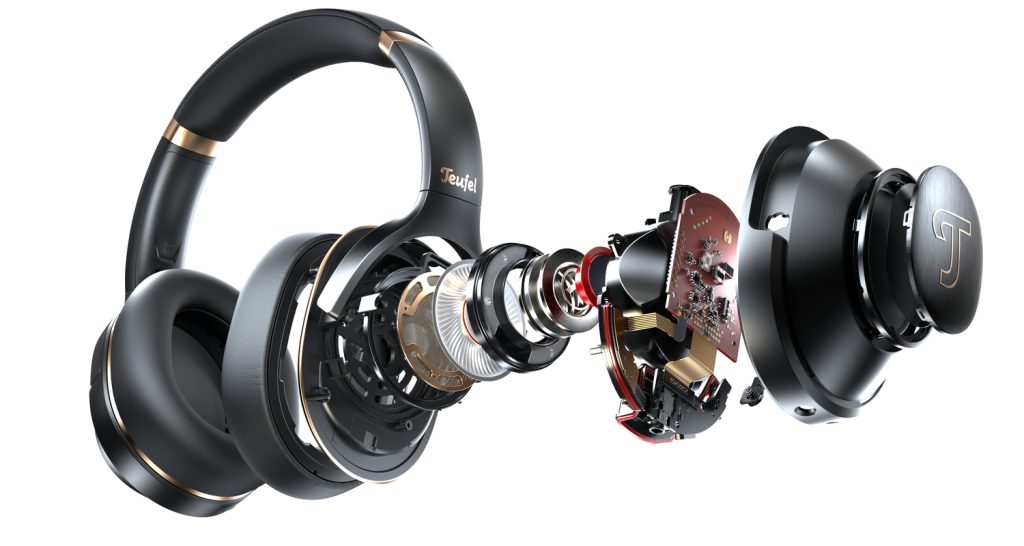 Dynamore Headphones goes a totally different direction
Teufel Blog: Unique in its class is Dynamore Headphones. What can our listeners expect from that?
Christoph: Dynamore Headphones builds on our successful Dynamore technology, which we've implemented in a large number of speakers already. The goal was to offer an additional feature that goes beyond standard EQ. One problem with listening on headphones is the "in-head localization" of strongly correlated signals. That mostly has to do with voices or instruments in mono – in other words exactly the same volume in the left and right ear. Fundamentally, however, that is a deeply unnatural way for humans to listen, because we usually hear everything binaurally and not with just one side per ear like with headphones. That can lead to a narrow sound image with no stage, which can be tiring.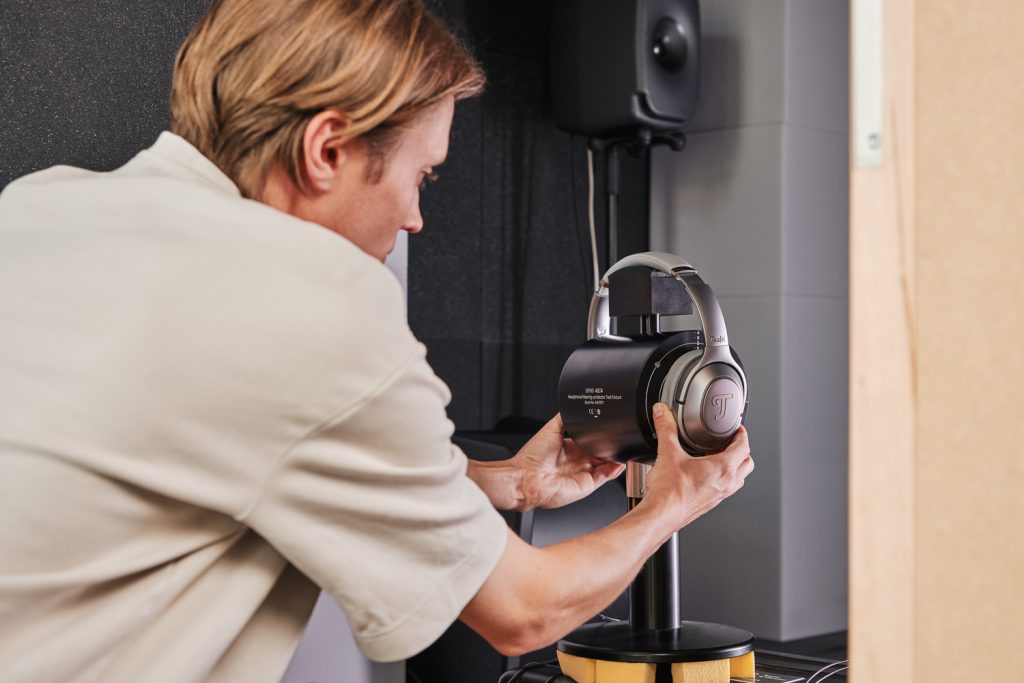 What is often sold as "room sound" in modern times, and which is meant to counteract that problem, doesn't really create a proper soundstage. All it usually does is add coloration and reverb to the music. Dynamore Headphones meanwhile goes a totally different direction. We primarily work with psychoacoustic phenomena without significantly altering the headphones' audio character. Outside of that, bits of the music that are very broad and only get played in the left or right channel are nearly unaltered. That increases the natural feeling.
Headphones you'll never want to take off
Teufel Blog: The super-soft memory foam earpads offer very high comfort even for long listening sessions. What acoustic advantages do they provide?
Sebastian: It's also an acoustic advantage to have headphones you never want to take off. But kidding aside, they bring in the qualities of memory foam, which is a kind of padding that "remembers" its state. That makes the bass sound more even and simplified ANC tuning, which gave the ANC more robust, effective performance.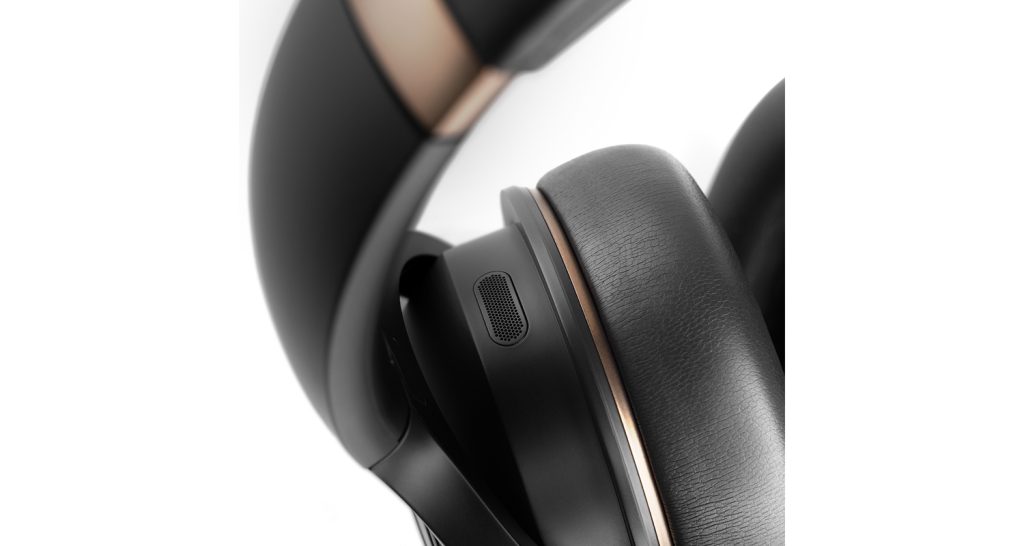 Dynamic Bass puts fun front and center
Teufel Blog: Toggleable Dynamic Bass is another new feature. What was the idea behind that?
Sebastian: This feature, to put it simply, means that the headphones' sound stays constant at lower volumes. You might have noticed that your favorite songs only sound really good when turned up. The idea of this feature is to be able to provide that same feeling at lower volumes.
Christoph: In a similar way, we use this feature in our smaller to medium-sized speakers. This is a feature that puts fun front and center. Purists will probably prefer the PRO's excellent sound without it, though. Still, I recommend everyone try it out.
Customize your experience in the Teufel Headphones App
Teufel Blog: The REAL BLUE PRO is of course also supported by the Teufel Headphones App. What are the additional acoustic tuning features you can access there?
Sebastian: On top of that, you can also tweak the headphones' sound using an equalizer. If you want the dynamics to be a bit different, you can change them there any time. The whole thing is very user friendly. Beyond that, the app has a sound personalization technology from our partner company Mimi Hearing. It lets you do a hearing test, then lets you pick a personalized audio profile based on the results. On top of that, the app has the ability to customize the sensor panels on both sides of the headphones. That way, you can turn Dynamore on and off easier without the app.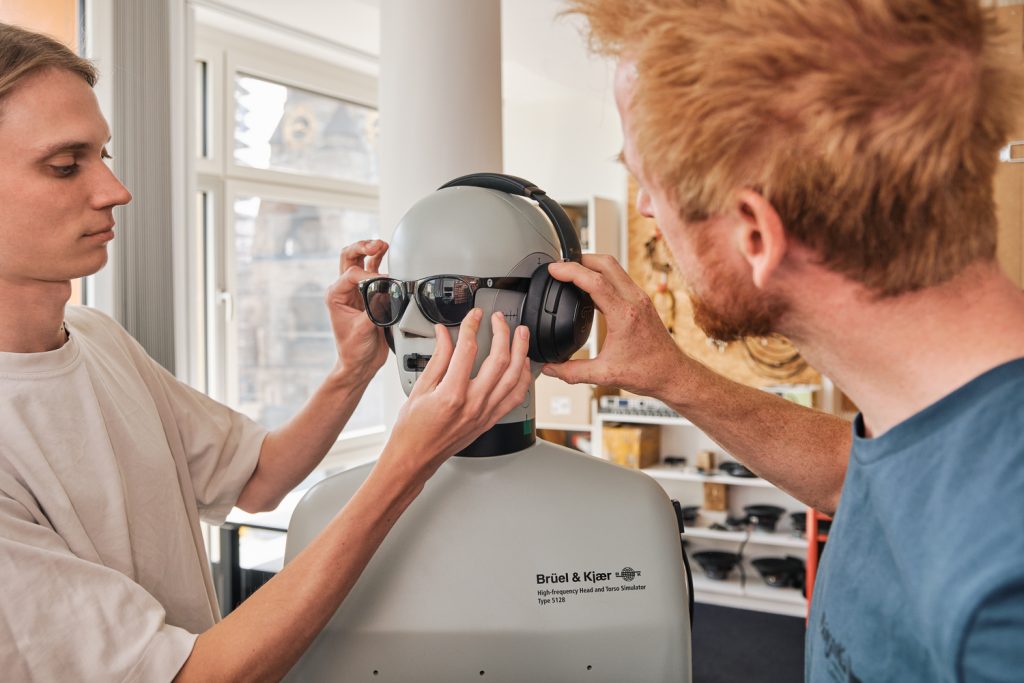 Christoph: In very broad terms, you can say that listening preferences vary a great deal more for headphones than speakers. That has a number of reasons: taste is shaped by genre, headphone shape, ergonomics, bone conduction, or hearing loss. While Mimi lets us smooth over physiological differences, the only thing that can smooth over taste differences is the EQ.
The most natural sounding vocals possible
Teufel Blog: What does the REAL BLUE PRO offer in terms of audio for people who work in offices or work from home?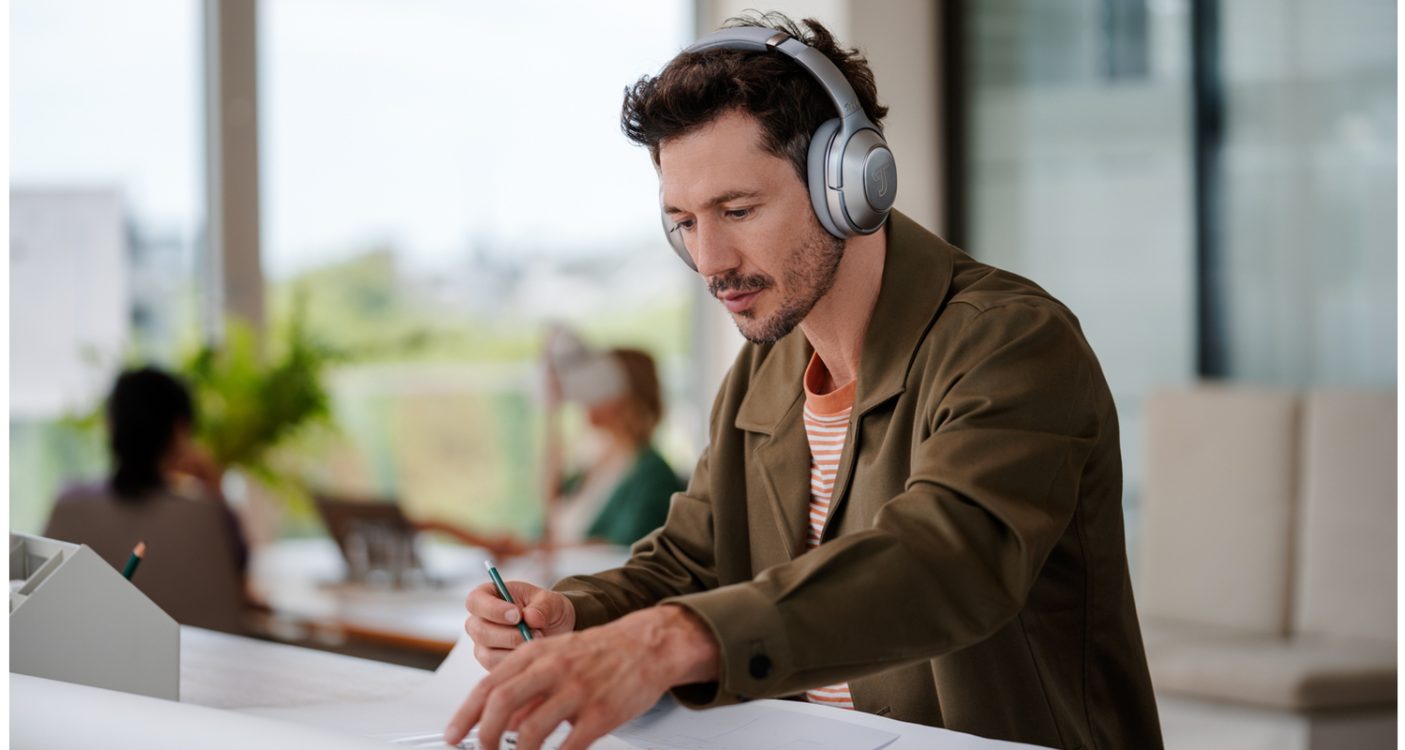 Sebastian: A special algorithm uses a number of microphones for telephone calls to both eliminate outside noise like wind, and provide the most natural sounding vocal signal to the person you're talking to. If you're using Bluetooth with a computer, be it in the office or at home, you can keep outside noises out of your meetings. That means your dear colleagues (or children) are effectively blocked out. Same for noisy streets outside. The biggest strengths over comparable products to me is in outdoor use when noise and wind come together because that way you can still be heard even in difficult conditions.
Teufel Blog: Thank you, Christoph and Sebastian, for the detailed look behind the scenes!