Anyone paying attention to our latest offerings will have noticed that Teufel is currently expanding its product palette in the area of electronics: Amplifiers, A/V receivers and pre-amps. The advantage for Teufel fans is clear: The ability to purchase a complete home theatre or stereo system from a manufacturer they know and trust. This means an end to painstaking research as to what amplifiers, decoders and A/V receivers work best with which speakers: Every complete system offered by Teufel was specially designed so that all components work together harmoniously and any questions can be answered by a single phone call to Teufel customer service. Read on to learn more about the DecoderStation 7 and AmpStation – a preamplifier/decoder and amplifier offered in many Teufel bundles.
The DecoderStation 7: The master of audio sources
DTS-HD Master, Dolby TrueHD, DTS, Dolby Digital, Doly Pro Logic – the list of audio formats supported by the DecoderStation 7 is long. The connection options on this little decoder/preamp are equally impressive: A full three HDMI inputs (1.4a), an additional HDMI connection that can be used as an in- and output thanks to ARC (Audio Return Channel), two gold-plated digital coaxial input plus one optical input (TOSLINK) and three gold-plated analog stereo inputs all await an audio signal for processing and playback on your Teufel speakers.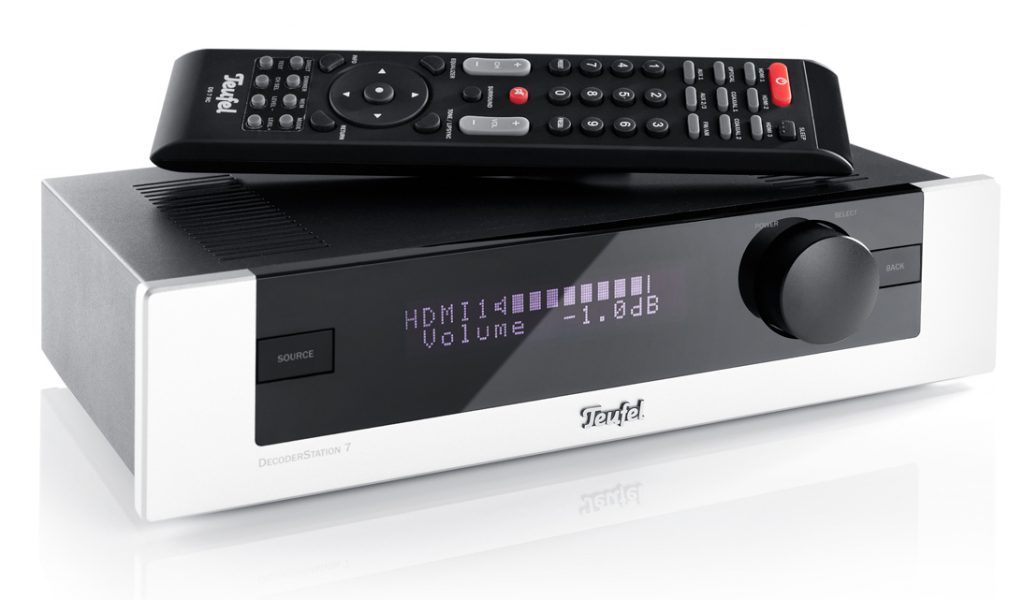 The DecoderStation 7 sends the audio signal to the amplifier via a 5.1 analog cinch output. Additional features like a headphone connection, FM/AM radio with RDS function, remote control, easy-to-read dimmable display as well as a wide range of setting possibilities via the screen's user interface round out the device's feature set.
Simon Schiessl, head of our electronics development team was in charge of creating the DecoderStation 7.
The DecoderStation 7: Key features at a glance
•    Ultra-compact high-definition A/V control unit/preamplifier
•    For use with all 5.1 and 7.1 multichannel active subwoofers (such as Teufel's US 2110/6, US 4110/6, US 8112/8)
•    Digital and analog in- and outputs including HDMI and 3D support
•    Decoders for DTS-HD Master, Dolby TrueHD, DTS, Dolby Digital, Doly Pro Logic as well as additional formats
•    FM/AM radio with RDS function and remote
The AmpStation: An unassuming powerhouse
The AmpStation is an uncompromising high-end amplifier for use with systems that do not include active subwoofers. Up to eight individual loudspeakers can be supplied with up to 100 watts power output per speaker – enough for truly impressive, high-impact home theatre and music playback in even larger rooms. The AmpStation nimbly responds to quick level changes and conjures finely detailed, lively and warm playback with stereo and home theatre systems.
The AmpStation is not only powerful, it sports an innovative, fanless design making the AmpStation very quiet when in operation. The use of heat sinks instead of fans also allows the device to be much smaller than its rivals. Christoph Klug, senior electronics engineer at Teufel explains the AmpStation's passive cooling design as "based on a principle much like the moving of a stream of air through a chimney." The following picture shows the development of this clever cooling concept that allowed Teufel developers to pack so much technology into such a small space.
The best materials, newest technology and well-thought-out features
The goal when developing the AmpStation was clear: The creation of superb sound. This led to a 'no frills' design that expresses itself on the device's restrained look: A solid metal enclosure enhanced by an aluminium front. The connection panel is gold-plated in order to ensure optimal signal transmission. Once the signals are received by the AmpStation, they are processed by an integrated high-performance chip (IC) from Texas Instruments.  An extra broad frequency response ensures that the entire signal is transmitted to the speakers without loss.
As the cross section shows, the inside of the AmpStation also reflects the care and planning that went into the device – there's not a trace of unnecessary space or cable chaos. Everything's in its place.
The AmpStation has more than enough power at its disposal to bring out the best in any current or earlier Teufel loudspeaker system. You can expect incredibly transparency and distortion-free dynamics.
The Complete 7: The DecoderStation 7 and AmpStation working together in perfect harmony
The combination of the DecoderStation 7 and AmpStation is the equivalent of a premium high-end A/V receiver, the heart of any home cinema system. The AmpStation is also a real insider tip for prosumer uses such as smaller recording studios, hobby bands or a wired multi-room solution.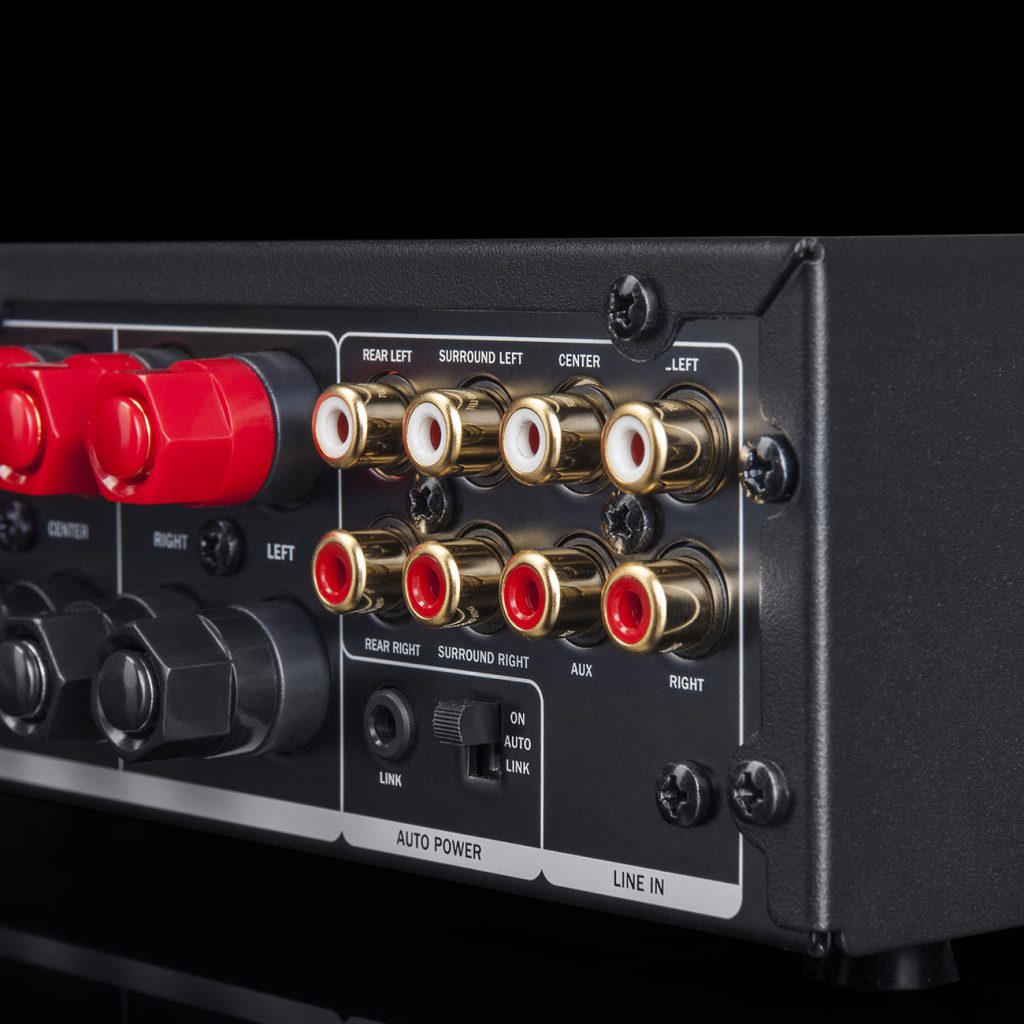 AmpStation: Key features at a glance
Ultra compact dimensions
Sophisticated design with flexible placement options
No fans for noiseless operation
Technically and physically separate preamp/decoder and amplifier for excellent overall performance
Works perfectly with all Teufel speakers sets for easy setup and optimal sound
All cables are included: Setup can be accomplished in under 10 minutes
The DecoderStation 7 and AmpStation: Key features at a glance
Transforms 5.7 and 7.1 loudspeaker sets into plug-&play complete HD systems
High-end A/V receiver with preamp (DecoderStation 7) and amplifier (AmpStation)
All-in-one system even comes with a premium cable set
800 watt maximum performance from a compact desgin with fanless, silent operation
High-end class D amplifier from Texas Instruments with excellent performance values
Digital and analog in- and outputs including HDMI with 3D support
Decoders for DTS-HD Master, Dolby TrueHD, DTS, Dolby Digital, Doly Pro Logic plus others