Our lives are never constant and future needs can't always be cared for. The key – the ability to adapt to the coming and unending changes. And to help keep you better equipped, we're going to tell you all the dos and don'ts when you want to extend a loudspeaker cable. A vital skills to help you stand against the winds of time.
The creative solution – extend a loudspeaker yourself
If you recently re-built your sound system and looking for more space between the amplifier and speakers, you could combine multiple loudspeaker cables together. Advantage: You save on money needed for a longer cables. Disadvantage: If not done properly, dodgy cables could affect the quality of the sound.
To extend a loudspeaker cable follow these steps:
The first step is to expose the ends of the sheathed cables by about 1 cm, preferably with a special stripping tool – if necessary, a cutter knife can do the same.
Make sure that the cables you want to connect have the same cross section size (more info below).
Turn the ends of the stripped cables counterclockwise. Then all the cable threads should be together
Now connect the two cable ends with each other, either by soldering and shrink tubing or with a luster clamp.
Many of us should recognise the method of using a luster clamp from fixing a light on the ceiling. All you need is a small screwdriver. In order to solder you need a soldering iron kit. You can easily find these online or in hardware stores for a little amount of money. If you've never soldered before, it's perhaps best not to experiment with your loudspeakers cables. The shrink tubing is there to protect the cables once they have been connected.
The following videos shows you how the soldering process works:
Importance notice: Pay attention to use the correct amount polarity when you connect a loudspeaker cable via a solder kit. The polarity is marked by the colour of the cable casing. Otherwise it's easy to incorrectly connect the cables, and then no signal will be sent via the cables.
Teufel's own cables and plugs
The shopping solution: buy a new cable
If it's too much hassle to extend a loudspeaker cable yourself and you want to ensure the best quality, then perhaps it's worth it to shop around. You can read our blog article on connecting loudspeakers to learn more about cables.
Here are the important things to consider when buying a loudspeaker cable:
The cable threads
When you're on the look out for the right cable, you have to consider the size of the wire. It's measured in square millimeters (mm²). Typical sizes are  0,75 mm², 1,5 mm², 2,5 mm² or 6 mm². The higher cable size represents how threads are used. And more threads means better quality, and less sound loss. Make sure to double check before you buy anything to check what is the maximal cable size your set can work with.
The length of the loudspeaker cable 
With each meter of cable you lose a bit of the signal. So make sure you're cable is only as long as it needs to be. With a length of 20 meters you won't be able to hear any sound loss. But if you're looking to turn your shed into the next great disco, the cable could be longer, causing sound loss. The best thing to do in this case is to take the cable with a thicker thickness than recommended (for example, instead of 1,5 mm²  go for a 2,5 mm² cable).
Tip for a better sound: If you're a sound perfectionist, make sure the cable length between the amplifier and the speakers the exact same is to all the speakers, so the beat is played at the exact same time (yes, this is super picky, but perhaps interesting to some).
Loudspeakers from Teufel for the best sound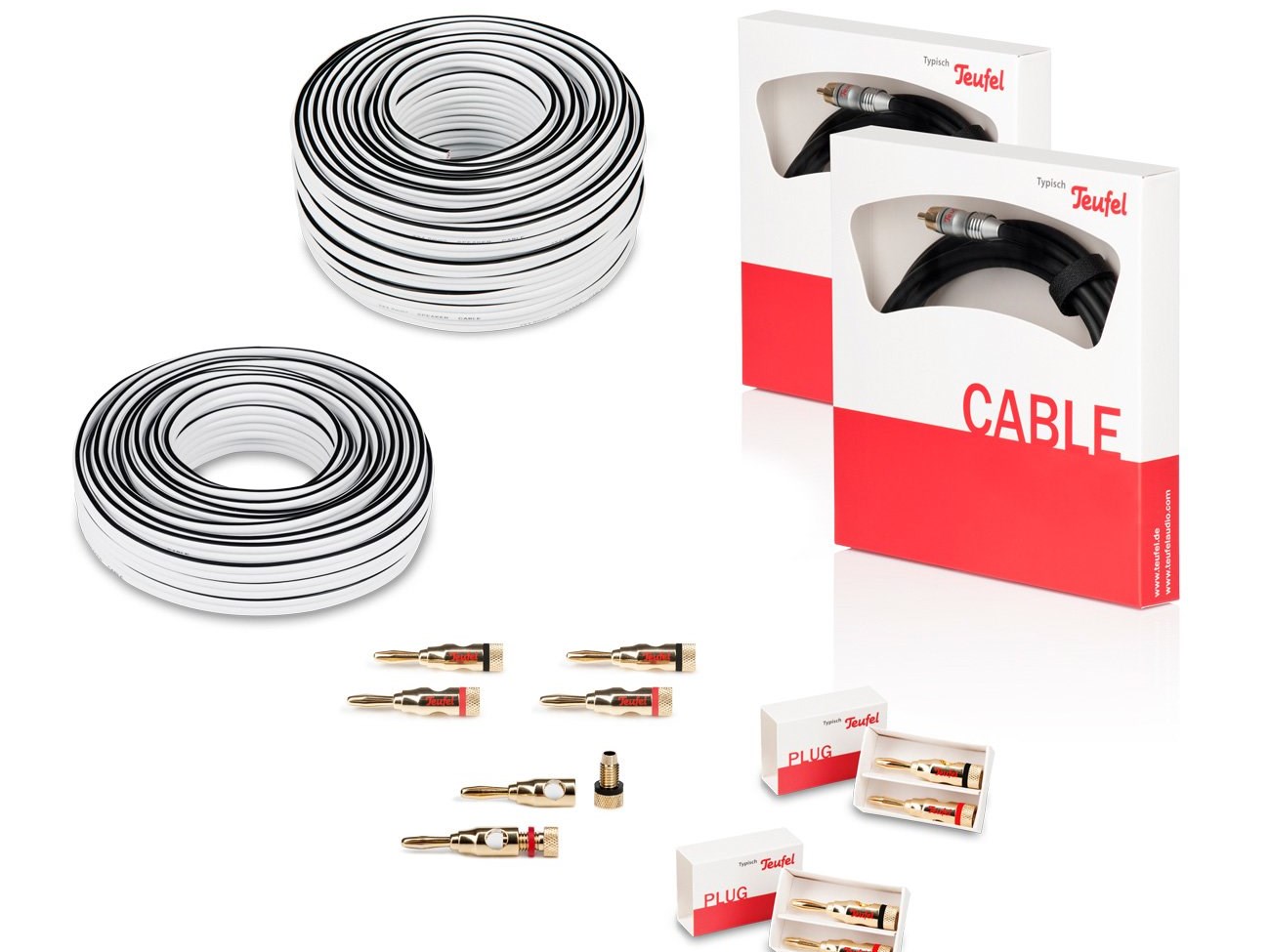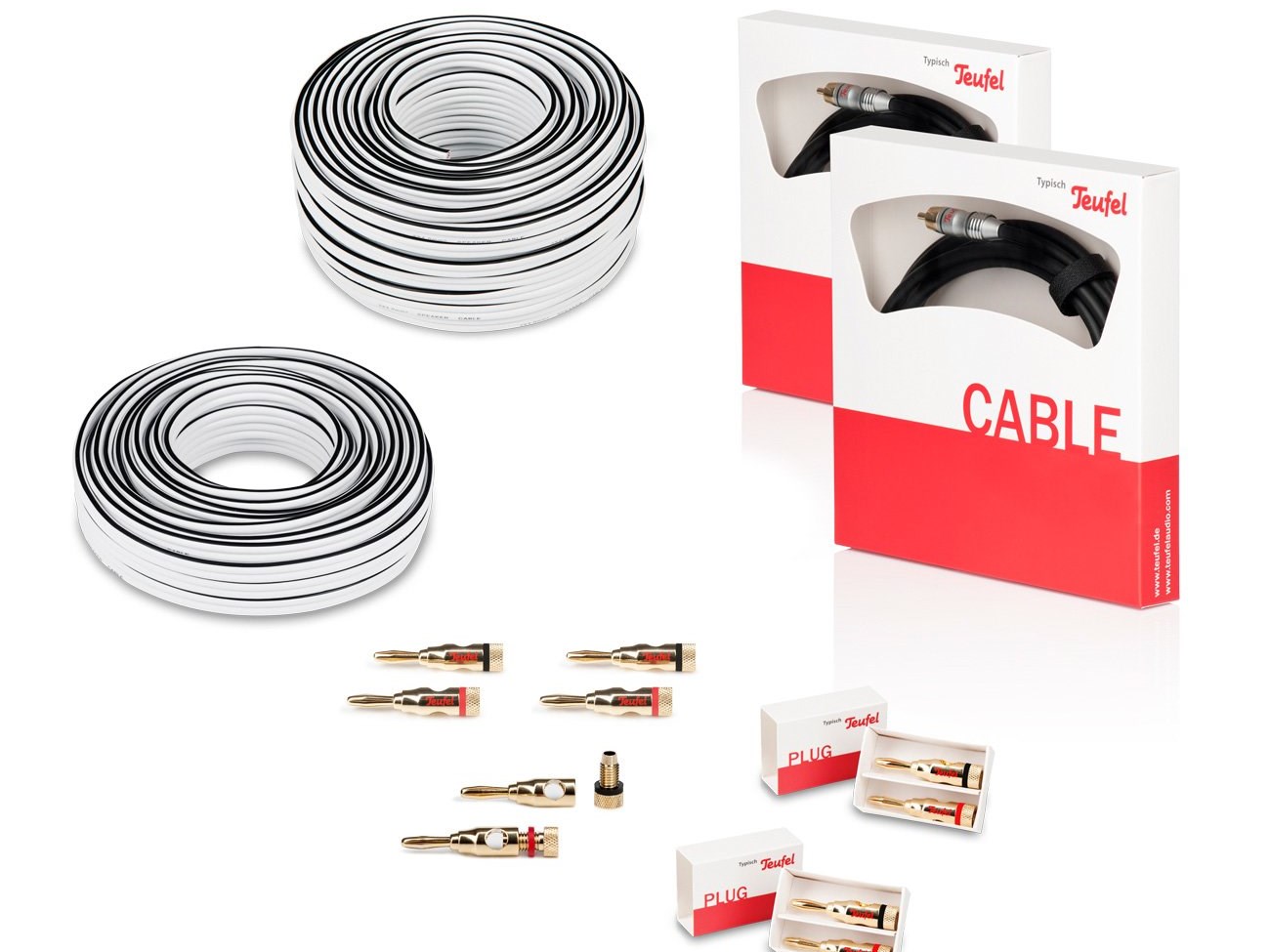 ▶ 5.1-Home cinema set "Standard": Teufel offers great quality cables at fairs prices. Extremely clean, fine copper and a high-density of threads per cable doesn't have to cost a fortune. You can always rely on the quality of our products.
▶ 5.1-Home cinema Set "Performance": When you've invested in a high-end sound system, the cables should be able to carry the power. With our Performance Sets you get everything, as well as the opportunity to connect for subwoofers for a heavy sound.
The adapter solution: Lengthen connecting cable
If a HDMI or cinch cable is too short, rather than a new shop you can simply extend two older, shorter cables using a coupling to connect the two cables. Couplings can be hard to find, best to order online or head into your local electronic store.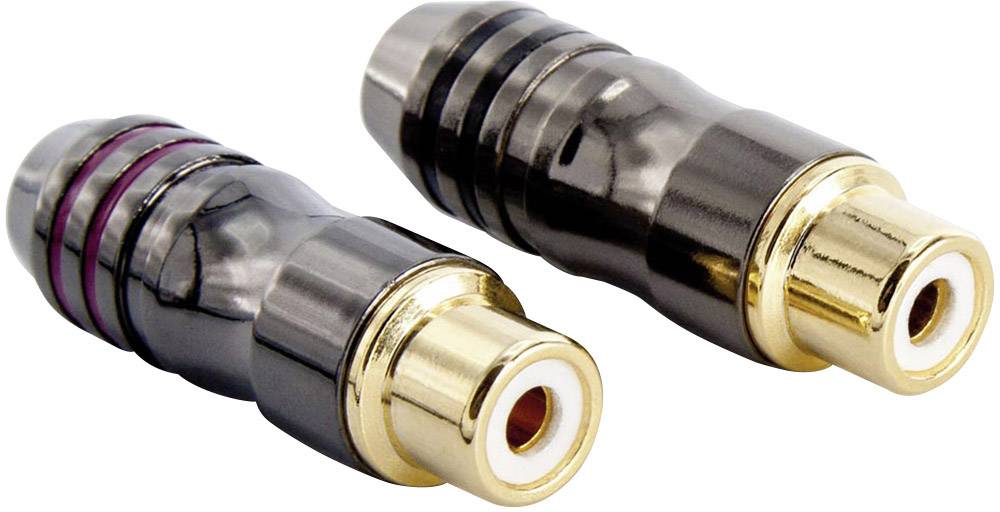 Loudspeakers from Teufel
Conclusion: it's possible to extend your own cables
Whoever doesn't want to say goodbye to their own cables, can just connect multiple cables to make them longer.
Soldering delivers the best sound, but you really need experience with the craft.
Whether buying new cables or lengthening old ones, pay attention to the cable quality to ensure the best sound.
Cheap couplings available from electronic stores offer an easy and safe way to extend cinch or HDMI cables.