Since its founding in 1980, Teufel has had its own in-house customer service. What started out as a hi-fi enthusiast with a rotary dial phone has expanded over the years into a team of 100 customer service professionals with the latest technology at their disposal. What hasn't changed is the level of expertise Teufel team members bring to their jobs coupled with a sincere desire to help people experience the best possible sound.
"Teufel Audio customer service, how can I help you?"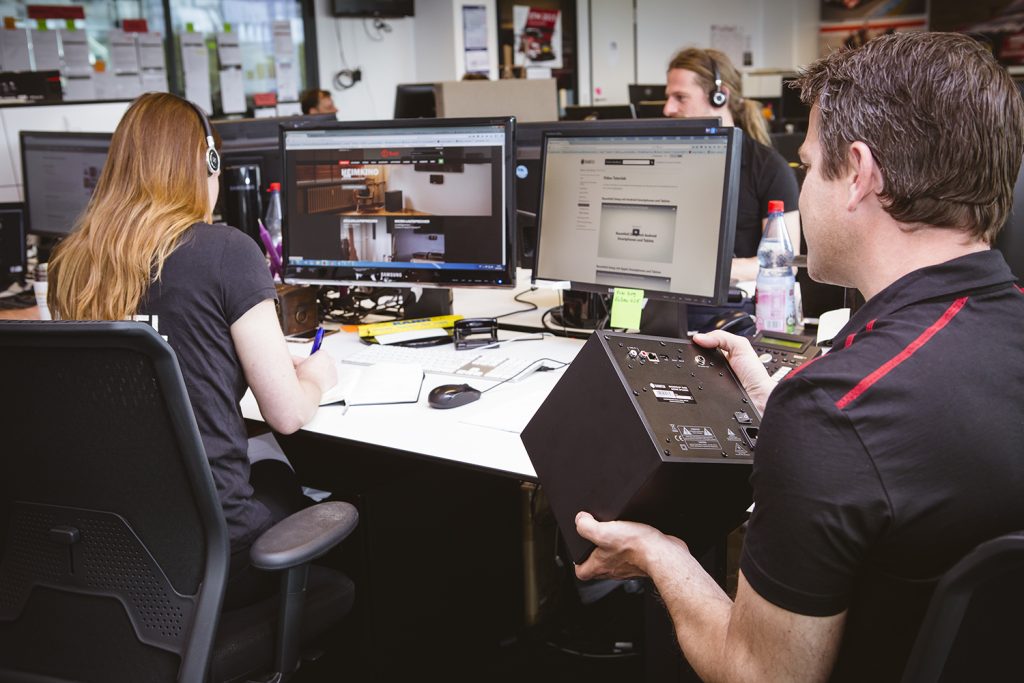 Another thing that hasn't changed is the central position occupied by the Teufel Customer Service Team. Teufel's customer support offices are still located in the same building as the company's developers and acousticians. Sharing a common space offers clear advantages: More difficult problems regarding technical matters can be quickly brought to the attention of the those responsible for creating each system. This leads to quick solutions for customers as well as constant feedback for improvements. Many times, customer feedback inspires new product developments or new features.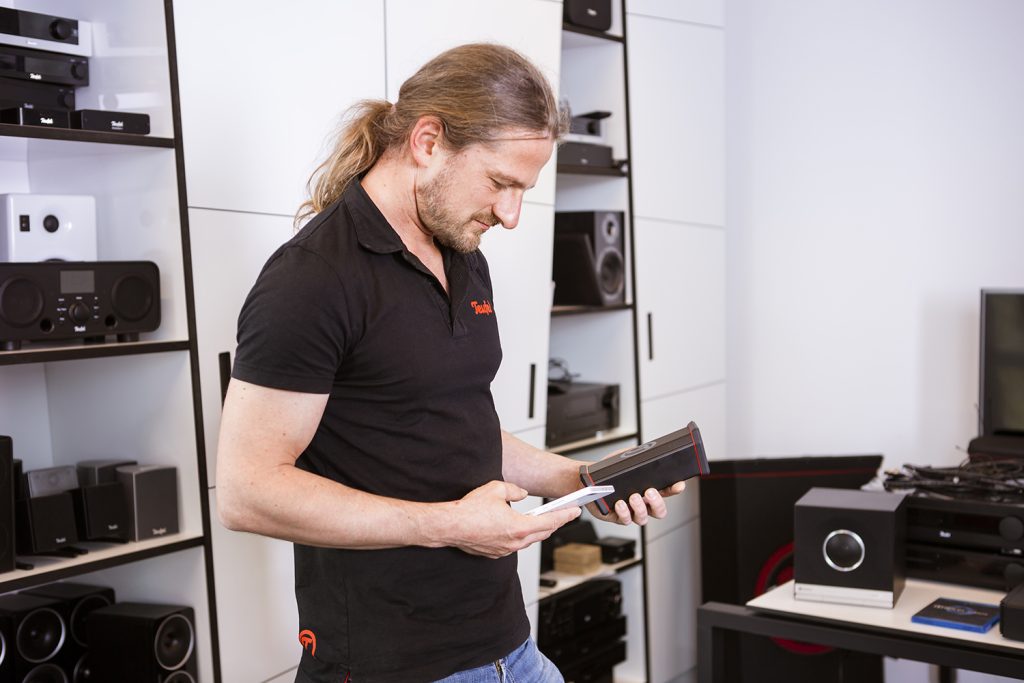 Customized solutions for individual needs
When it comes to presale consultations, the Teufel Audio customer service team focusses on customer needs. According to Tim von Gimborn, General Manager of Teufel Customer Services:
"Our number one goal with product recommendations never changes. We simply try to find the perfect solution for each customer. This often means coming up with individual offers."
For instance, the Teufel webshop only offers the surround sound column speaker set, the LT 4, with either four long columns or two short and two long columns. A Teufel customer service representative, however, can create an order for an LT 4 set with four short columns. A loudspeaker set comprised of speakers from different series can also be created in consultation with Teufel customer service. One possible combination is Definion 3 Surround set with dipoles from the Theater 6 series for the rear instead of the Definion 3S bookshelf speakers.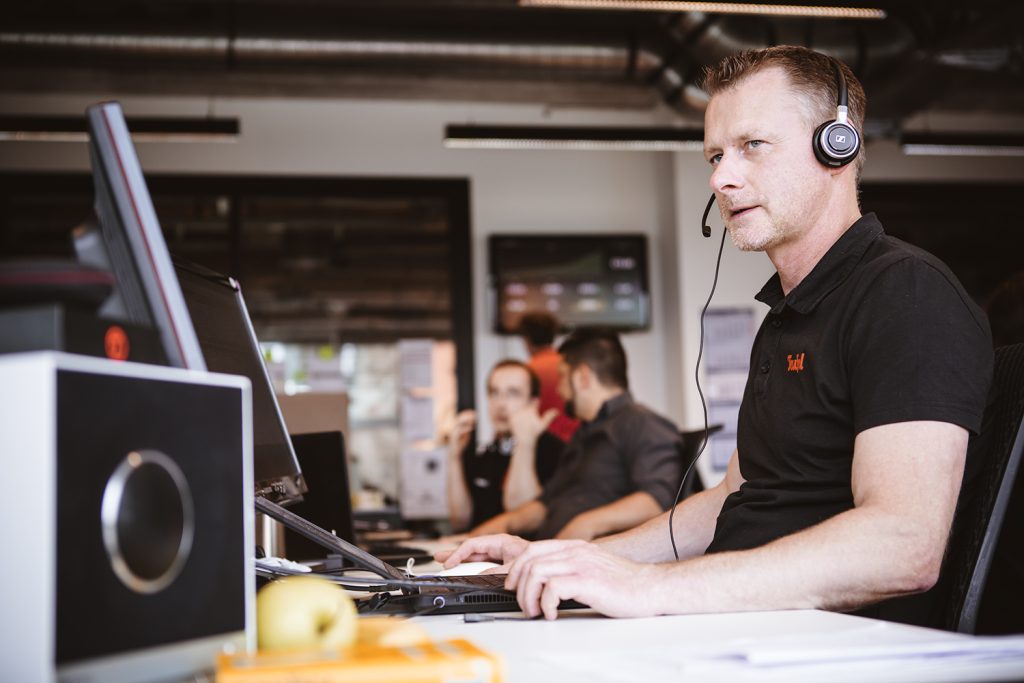 Sometimes a customer just needs a bit more oomph. One person even ordered an additional subwoofer to supplement the refrigerator-sized sub that comes with Teufel's largest speaker system, the System 10 THX. (We sincerely hope that this person lives in a sparsely populated neighbourhood in a well-insulated house with good, sound flooring.)
Other times, the issue is aesthetic. Some customers, for instance, might want a black subwoofer to go with their white speaker set. Again, this is not something that can be configured in our webshop, but the order can be easily placed by a customer service representative. Teufel Audio's specialist team at the company's Berlin headquarters is ready to fulfill even unusual customer wishes on the phone or per email. In addition, a chat option is planned for summer 2017.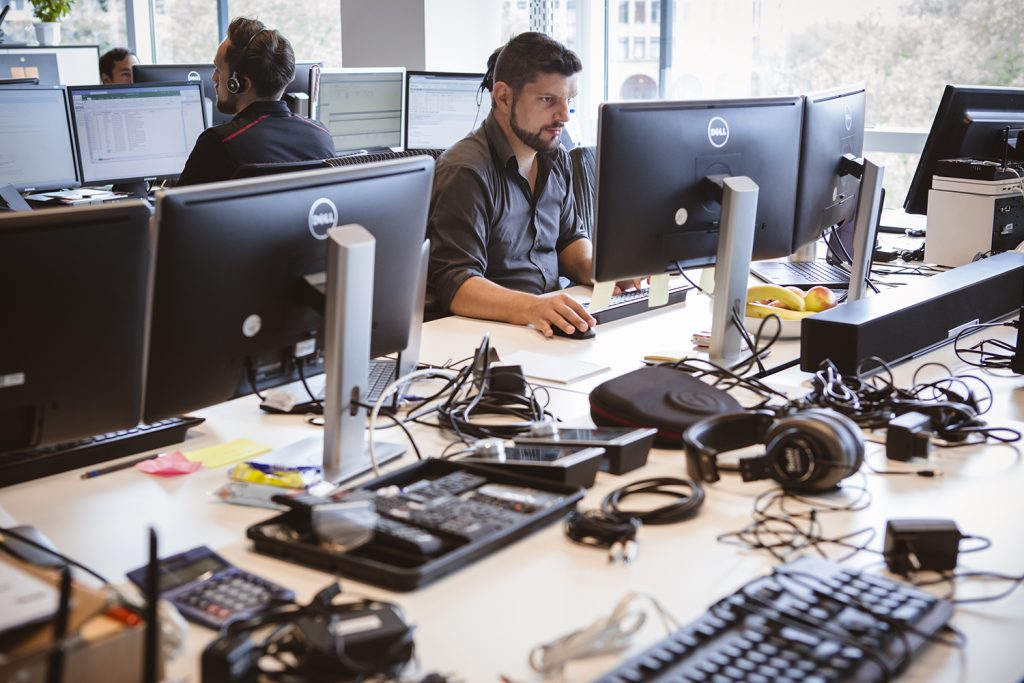 Excellent after sales service
Of course, consultation before a purchase is only part of what the Teufel Audio customer service team does. Setup advice and technical trouble shooting are also part of a day's work. And because no manufacturer is immune from the odd defect, our team helps customers when things don't work as they should. This includes free pickup and repairs or replacement for problems that fall within the warranty period. For defective products for which the warranty has expired, Teufel's service professionals can arrange for the product to be delivered to our workshop for a repair assessment at a minimal fee.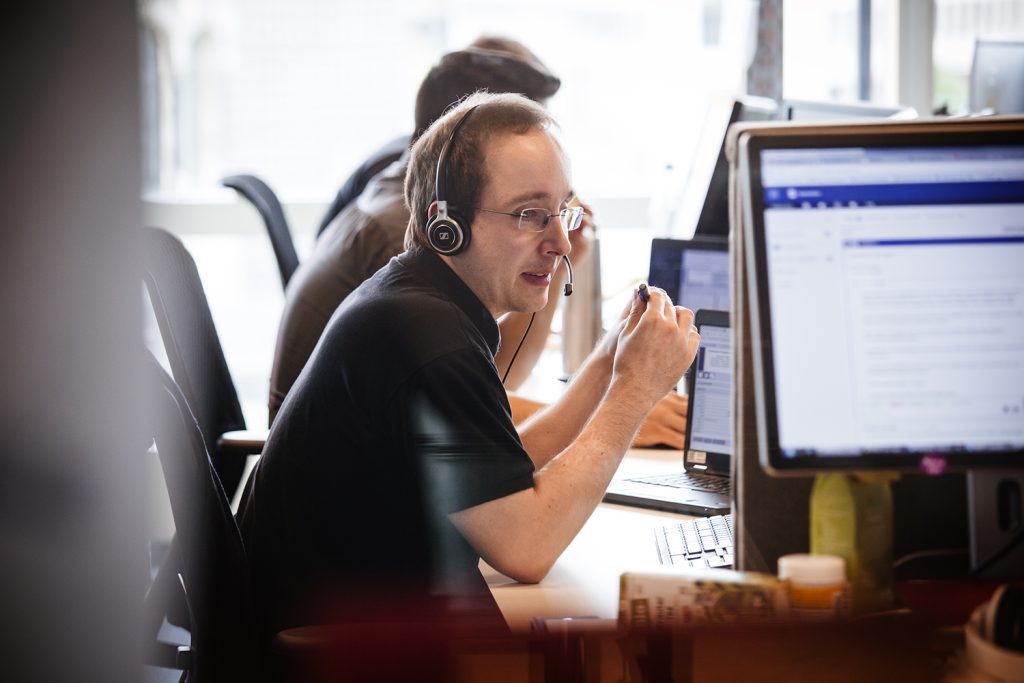 The team even has answers for customers calling about legacy products. The shelves in the customer service office are full of older or discontinued products and many on the team have been with the company long enough to remember each product in detail. In this way, even questions regarding products no longer offered in our webshop can be answered.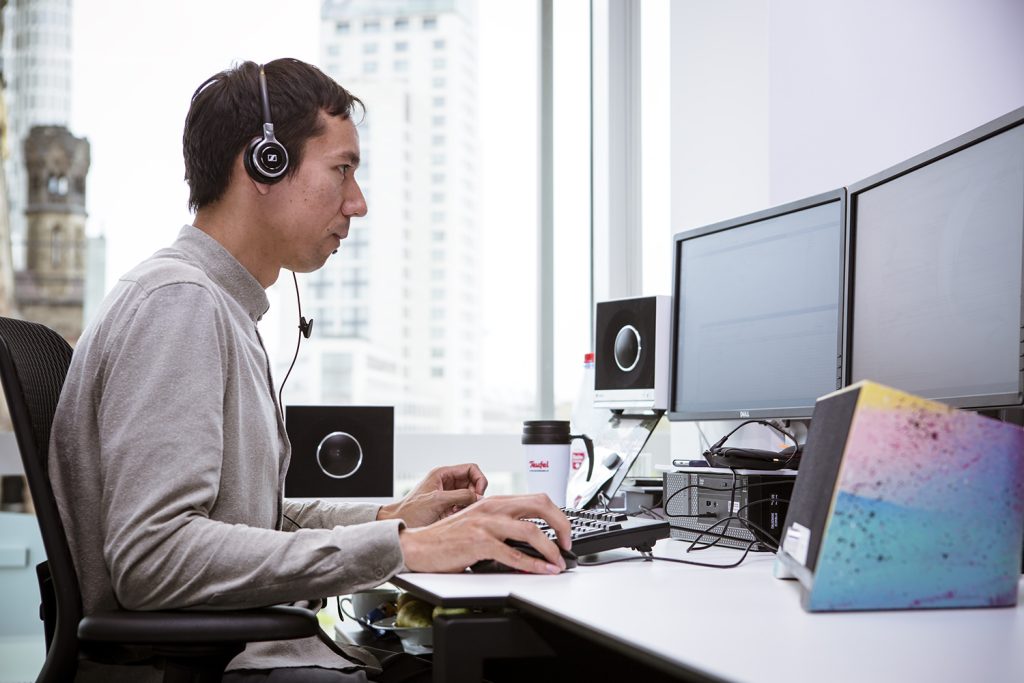 Customer service professionals and audio experts
All members of the consultation team came to their jobs as audio enthusiasts and are supported by regular practical product training courses. This ensures that each consultant is up on the latest audio technology and knows the Teufel range including the newest items. As Tim von Gimborn explained:
"Many customers have a product in mind when they call. They're just not sure if their choice is the correct one. My colleagues in the service team can help find the right solution based on the customer's expectations and room size. Our systems are often underestimated, so we actually often recommend smaller loudspeaker sets. A satisfied customer is more important to us than additional sales from a more expensive product. The large number of repeat customers we have proves to us that this is the right mindset."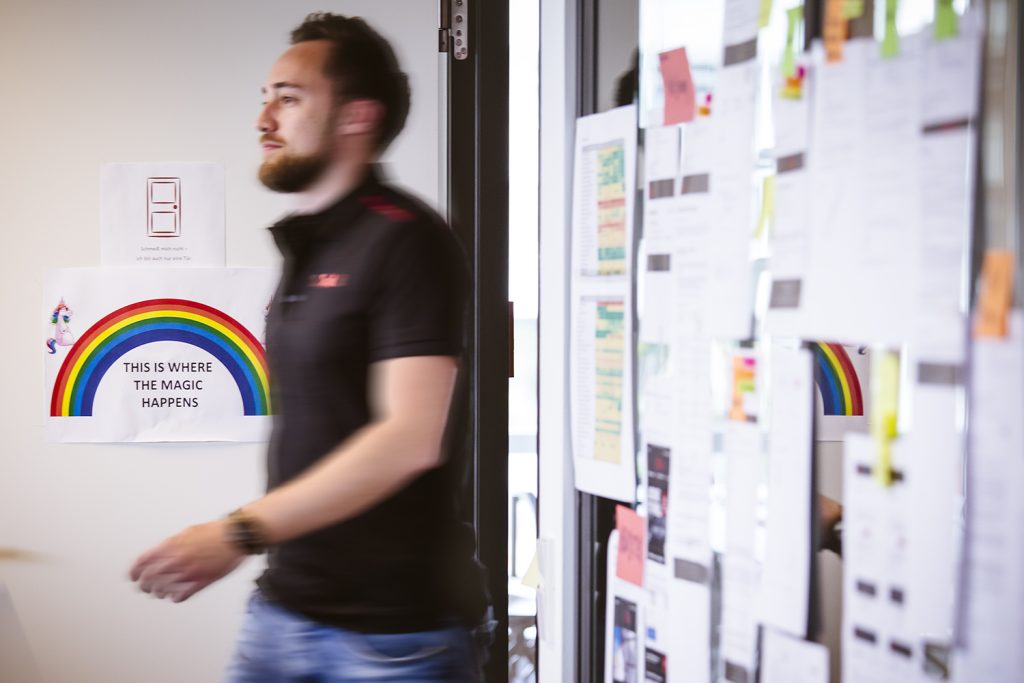 Listen with your own ears
Teufel's customer service is available Monday through Friday from 8 a.m. to 10 p.m. Central European Time and on weekends from 9:30 a.m. to 6 p.m. The consultants can even book appointments for listening tests in the Teufel Flagship Store for those who plan to be in the Berlin area. The team of store experts will have the system you're interested cued up and ready in one of the store's presentation cinemas. The showroom is also a fun place to try out Teufel's many headphones and smaller portable products as well as stereo systems and the incredible ROCKSTER. Come with your favorite tunes on your smartphone and hear for yourself how the music you know and love sounds on our systems.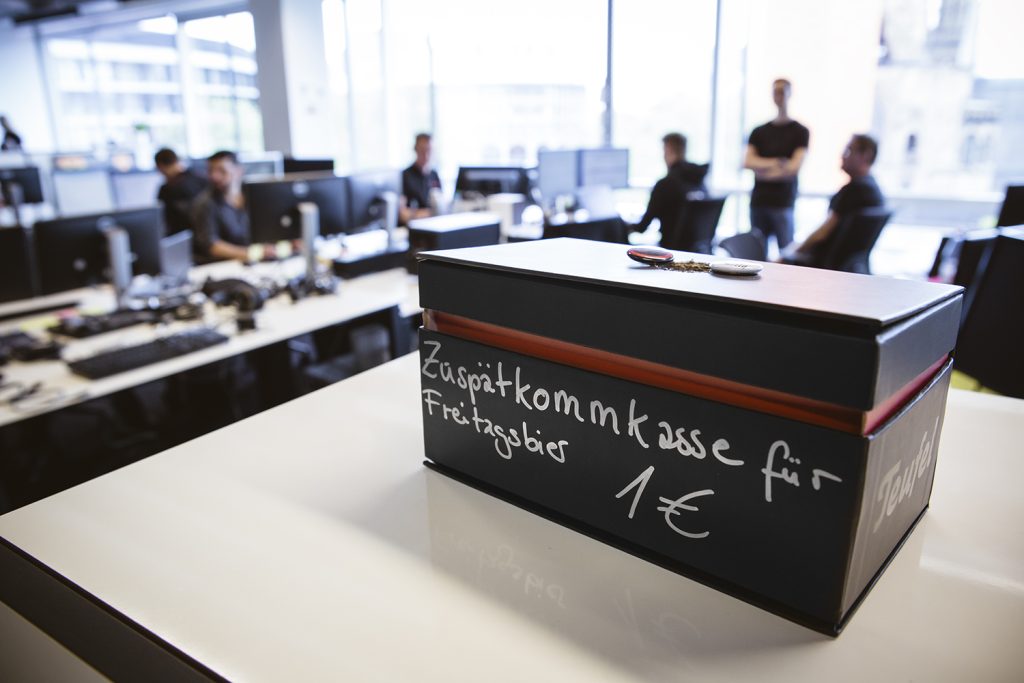 All pictures: Property of Teufel Audio