This soundbar is easy on the eyes and ears. The Cinebar Lux is the ultimate bridge between design and technology with the aim to achieve the best sound for home cinema and music streaming all tied together into an elegant design, making it the ultimate multi-use soundbar.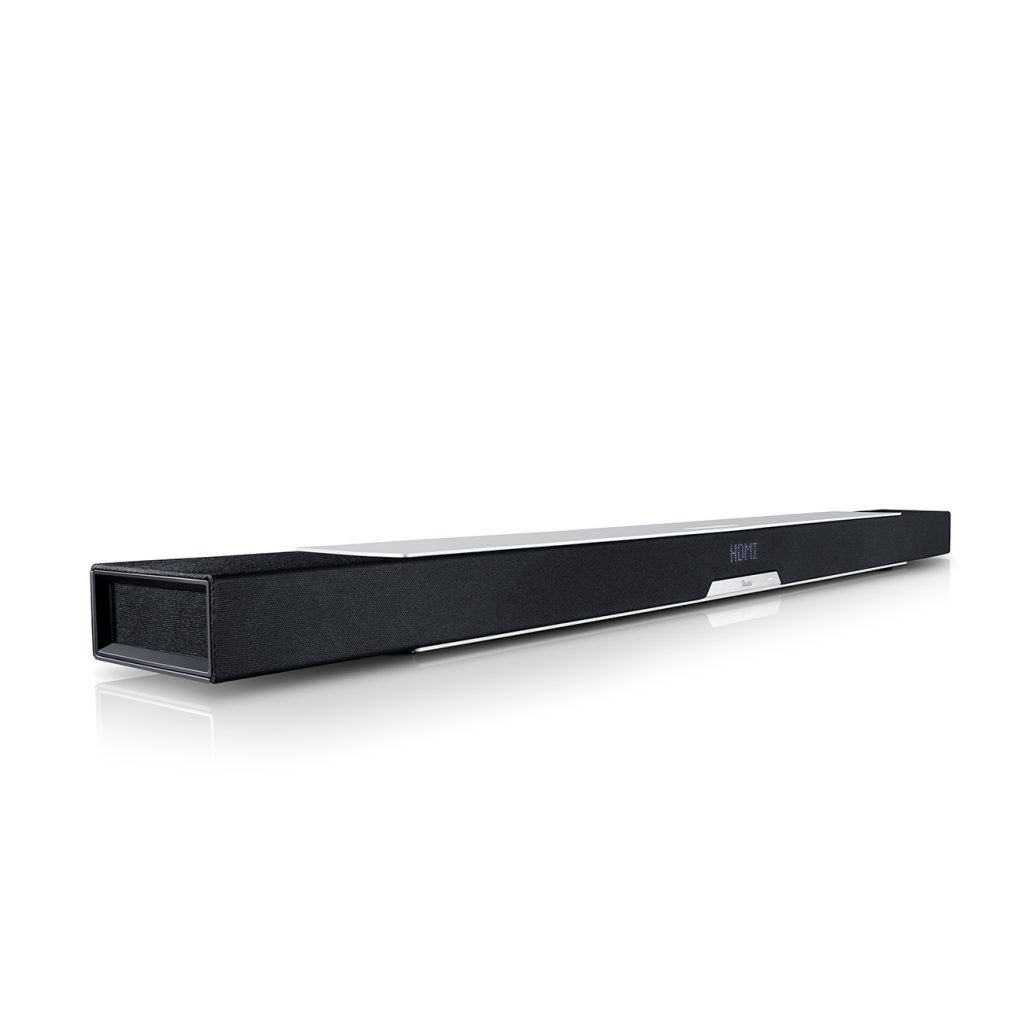 Master design? Massimo, acoustic and Robert, design, have the answers
The design and the acoustic team of the Cinebar Lux project worked closely together to find solutions so that they could create a product that highlighted the best of their abilities. The blog team spoke with Massimo responsible for the acoustic side of things and Robert who worked to achieve the smooth design.
Blog team: Thanks for taking the time to speak to us about the new Teufel soundbar – the Cinebar Lux. We're excited to be some of the first to learn more about this incredible soundbar. Could you start by introducing yourselves to our readers:
Robert: I am a senior designer at Teufel, have been working here for four and a half years and I am responsible for the complete product design of our streaming products. I take care of product design from the first sketch until it's ready for the market. We handle the entire process in-house at Teufel.
Massimo: I am an acoustics engineer with many years of experience in the field of consumer audio products and I am part of Teufel's acoustics development team. My main tasks include prototyping, design of audio systems, electro-acoustical measurements, sound tuning of products.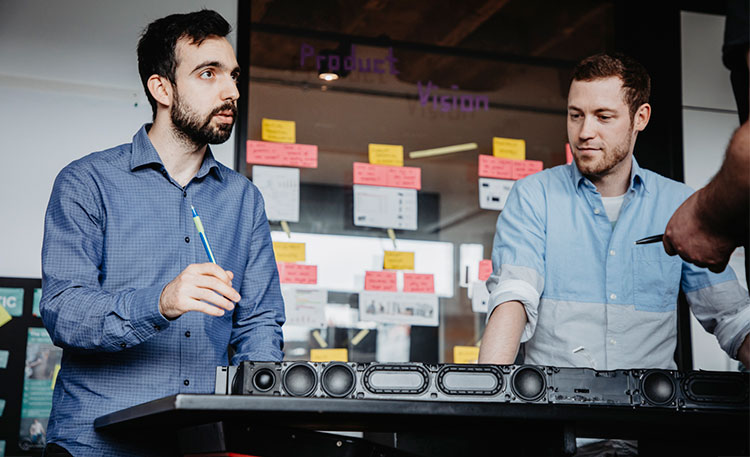 The objective: A soundbar with full sound without the need for a subwoofer
Blog team: Let's start with the design. Robert, can you tell us about the requirements of the design from your point of you? What were the main challenges?
…we wanted to develop a very flat soundbar that doesn't require a subwoofer because it already offers full sound without one.
Robert: As with all projects, we first tried to find out what a person needs and wants at home. The first considerations about what a design should be are always based on these demands. With the Cinebar Lux, we wanted to develop a very flat soundbar that doesn't require a subwoofer because it already offers full sound without one.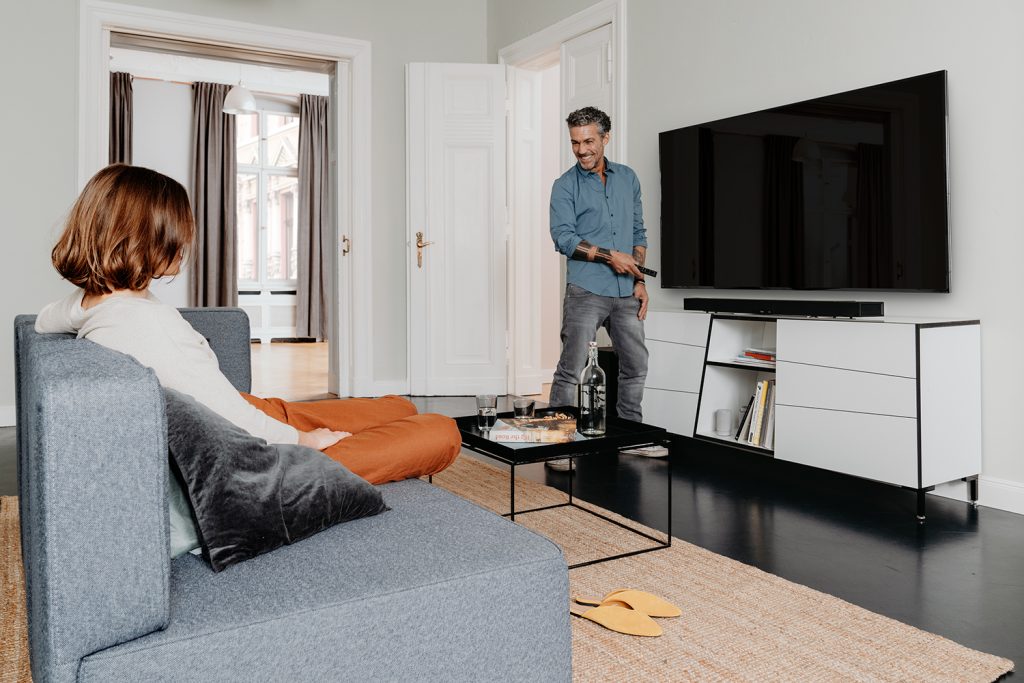 The development criteria were to create a flexible, versatile soundbar with a simple, easy-to-use operation and to ensure it didn't take up too much space in the living room.
We are aware of the demands of our customers not only for an excellent sound but also for a well-thought-out and high-quality design. Therefore, the visual integration of the product in the living room was particularly important to us. Right from the start, we wanted to create a product that was as flat and compact as possible, which could be easily positioned at the bottom of the TV without taking up too much space.
The execution of the project was a bit like playing Tetris.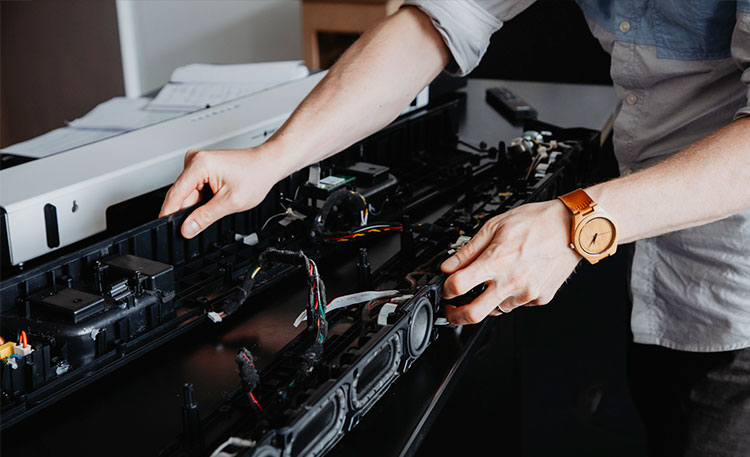 The acoustic concept for the Cinebar Lux
Blog team: Massimo, now to the acoustic side of things. Please describe the acoustic concept of the Cinebar Lux. How long did it take to tune the Lux and what was the biggest challenge in the implementation?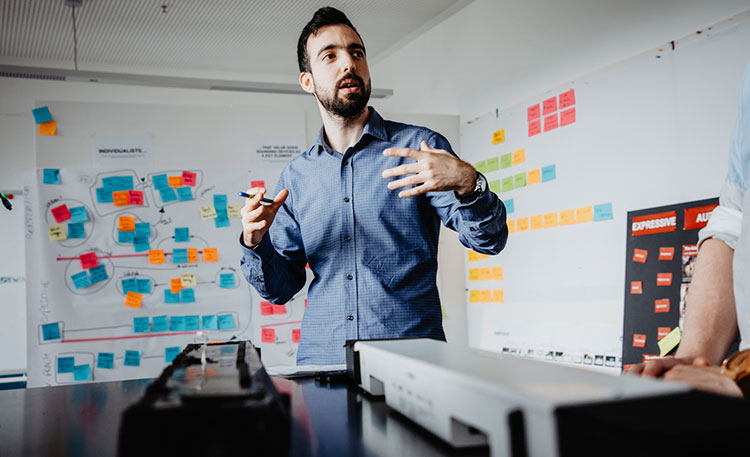 Massimo: The Cinebar Lux is a multi-channel soundbar, featuring 10 full-range drivers, 2 front-firing tweeters and 4 front-firing passive radiators in a compact and sleek enclosure. Among full-range drivers, 6 are for the front channels (left, centre, right), 2 are side-firing and 2 are up-firing.
One special feature of Cinebar Lux is its modularity: you can use the soundbar alone, but you can also add an external subwoofer and/or Effekt wireless rear speakers.
Thanks to 9 individual amplifier channels and a powerful DSP processing, all the drivers work in perfect synergy to deliver an impressively broad and immersive sound.
One special feature of Cinebar Lux is its modularity: you can use the soundbar alone, but you can also add an external subwoofer and/or Effekt wireless rear speakers. This gives maximum flexibility and can suit a wide variety of use cases.
Considering the very complex nature of the system, sound tuning was one of the biggest challenges. It required months of careful implementation, endless measurements and listening tests.
Rich sound, no subwoofer needed
Blog team: You mentioned that the Cinebar Lux can produce heavy sound without the need for a subwoofer. Can you tell us more about how this is achieved? And if someone's looking for heavier sound, what can they do?
Massimo: The Cinebar Lux was specifically developed to reproduce a rich and deep bass, without the need of an external subwoofer. This is possible thanks to a careful acoustic design, employing custom-designed components: 10 long-throw full-range drivers powered by strong amplifiers, together with 4 long-throw passive radiators, that ensure the reproduction of deep bass. But if desired, it is also possible to add an external subwoofer (either wireless or wired) to extend the frequency response even deeper.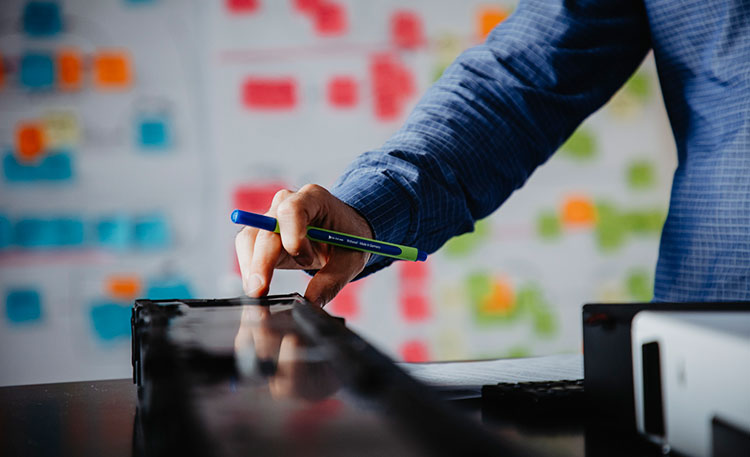 Blog team: The Lux is intended for HD TV sound; how does it work? And what else can the Lux do?
Massimo: The Cinebar Lux can be connected to TV or other multi-channel sources with HDMI and optical connections and can decode 5.1 discreet channels: then the signal will be processed by Dynamore 3D algorithms and delivered to all available speakers on the soundbar (and Effekt wireless rear speakers if connected) enabling full 3-dimensional sound to be enjoyed.
Music will also sound great on the Cinebar Lux with a stereo source, the 3-dimensional rendering is fully operative.
For maximum flexibility, other sound modes are provided. Purists will appreciate a Stereo-only mode that deactivates all additional processing and mutes side-firing and up-firing drivers. Voice mode is included for use cases when a focus on dialogues is desired. And finally, it has a night mode that reduces the bass to avoid disturbing your neighbours.
A Teufel soundbar first: up-firing driver
Blog team: The Cinebar Lux is our first soundbar with an integrated, up-firing driver. What does this have to offer?
Massimo: Sound waves emitted by the up-firing drivers are reflected by the ceiling, so the effective sound source perceived by the listener is actually placed near the ceiling: this, in combination with Dynamore 3D algorithms, allows a considerable expansion of the sound field in the vertical dimension. Together with the side-firing drivers, it is then possible to generate an immersive and spacious sound stage, delivering an intense and engaging cinematic experience from a single device.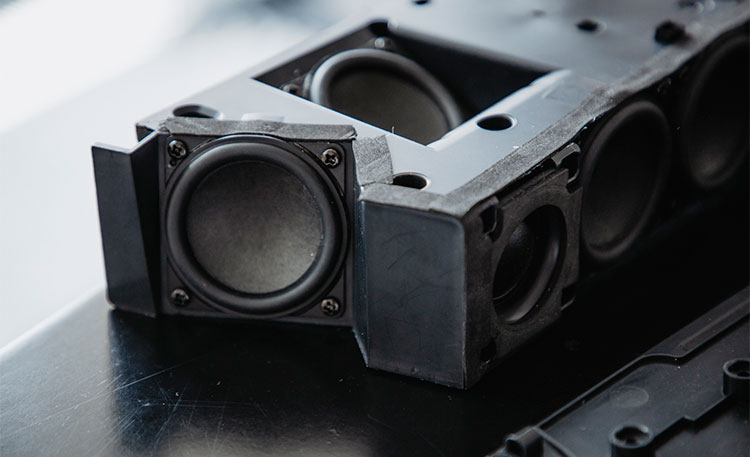 Blog team: The design of the Lux really earns the name Luxurious. In addition, it has a slim design – a contrasts to its powerful sound performance! How was it possible to integrate the 12 drivers and generate such a sound pressure level into a small model?
Massimo: A long activity of mechanical optimization was necessary to fit all components in the compact, yet sturdy enclosure; additionally, all drivers are custom-designed for high power handling. Careful fine-tuning through DSP was another key factor to ensure stable and clear sound in all conditions and squeeze the maximum performance out of the system.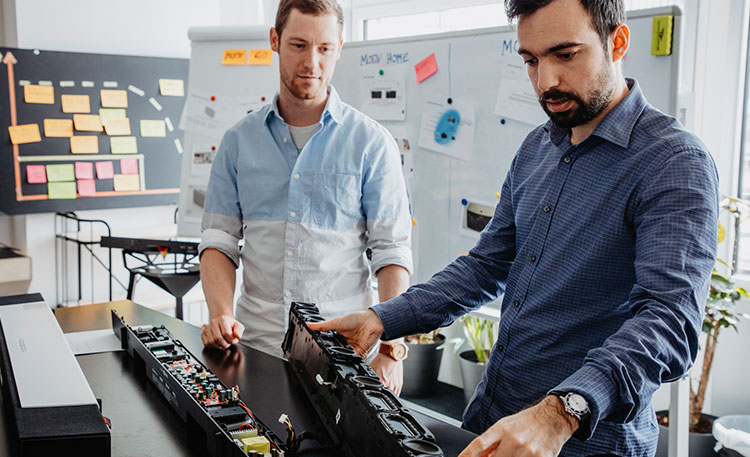 Blog team: What challenges has the bridging between the ideas of a compact design and the strong enveloping sound led to?
Robert: If you look at the final construction height of just 7.5cm, you can imagine how disciplined we had to work to make the soundbar not a millimetre larger than necessary. We really looked at which drivers we were using and how we were using them. Ensuring these can ultimately be integrated into an elegant and purist design.
So it's a huge success for the whole team that they managed to integrate this strong sound into such a compact and visually appealing soundbar. Not to forget that the Teufel Streaming Module for Raumfeld is also integrated in addition to the acoustics.
Blog team: Robert, you just mentioned that the Cinebar Lux can also stream Raumfeld music. So if I'm looking for a multi-room system, can I use the Cinebar Lux?
Robert: Yes, the soundbar can easily be connected to existing Raumfeld multi-room setups. So all products from the Teufel Streaming series.
Who is the Cinebar Lux designed for?
Blog team: What type of user is the Cinebar Lux perfect for?
Robert: For the Cinebar Lux, I see a listener with a high demand on sound, who likes watching movies, but also wants the option of music streaming and who is also open for multi-room systems.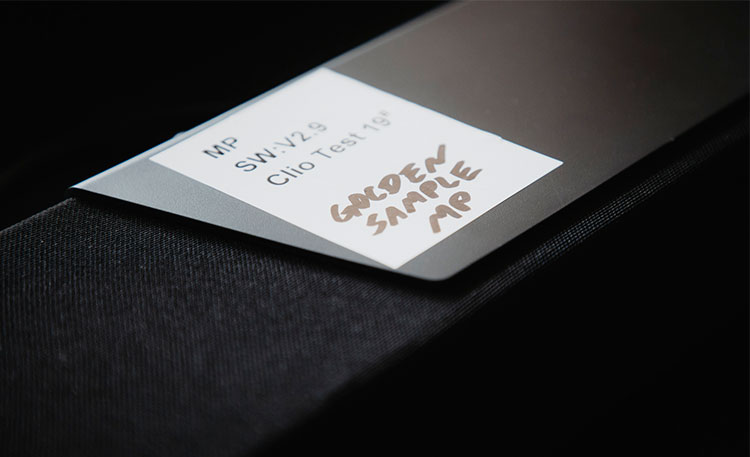 Blog team: Is the Cinebar Lux really the all-in-one sound solution??
Massimo: Yes, it could be. We've integrated special sound modes so that the purist soundbar can only play pure stereo, can play an extended sound stage with Dynamore 3D, and can also play an extended dialogue for any daily TV show. So it can be used in many different ways, and since you can extend it with other products, the use case increases. So it's definitely going towards an all-rounder, but with excellent sound for movies.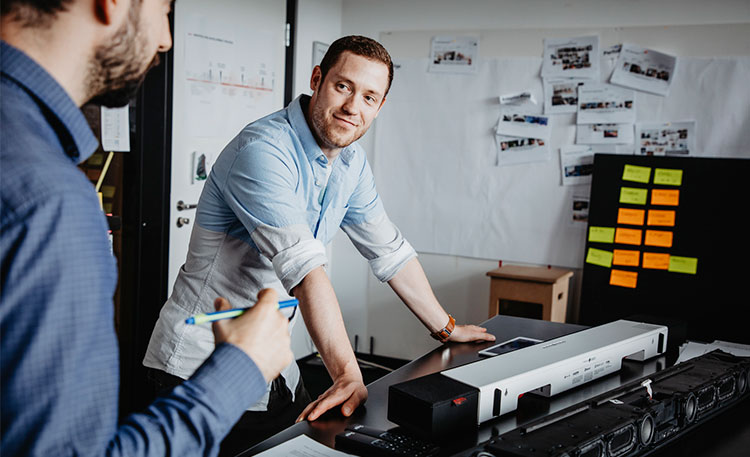 Blog Team: Thank you for your insights into the development of the product. We're excited to see this soundbar in action and release it to the Teufel fans. Thank you for the interview.