If you haven't seen any of his videos yet, what are you waiting for? Extreme freerider Fabio Wibmer has made a name for himself on the scene and beyond with spectacular footage of his fast-paced mountain bike rides. For years, he's been using Teufel sound to power him through his stunts. Now the affable Austrian is ready to reveal the limited BOOMSTER Fabio Wibmer Edition, a collaboration redesign between his team and Teufel's engineers in Berlin. For him, it's the perfect partner: with big sound and long battery life, it's just as unconventional as Fabio himself. We recently sat down with Fabio for an interview.
Where creativity meets courage: pushing the limits of the possible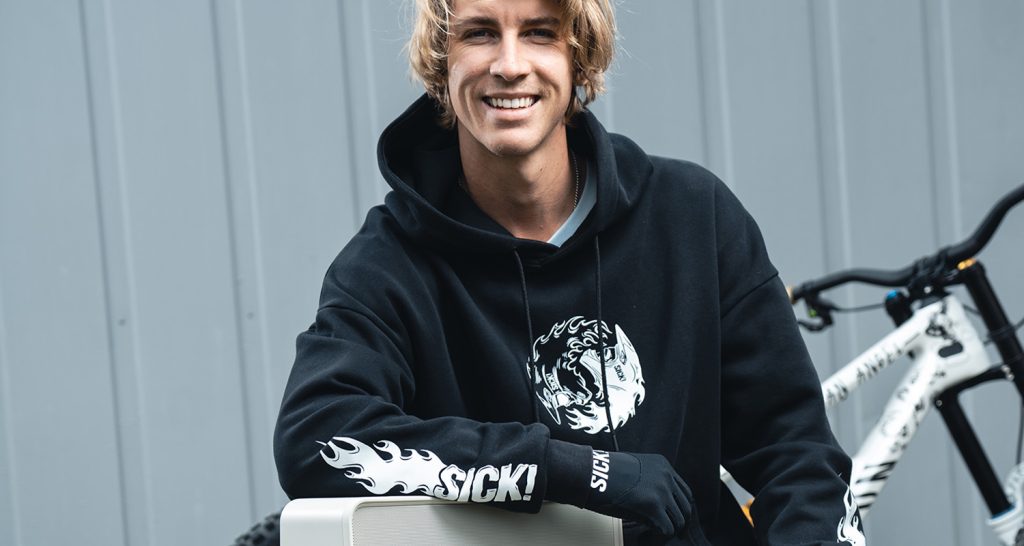 Fabio has been astounding fans with creative and daring projects since 2016. In a recent YouTube video, he takes on the role of a main character in a GTA game.
His downhill runs on a granny bike also went viral, cementing his creativity and bravery.
Out Of Mind – downhill on a granny bike
He also shot a few spectacular scenes in Paris and Lyon. Be sure to check out Fabio's YouTube channel and don't forget one important tip: sound on.
The BOOMSTER is one of my favorites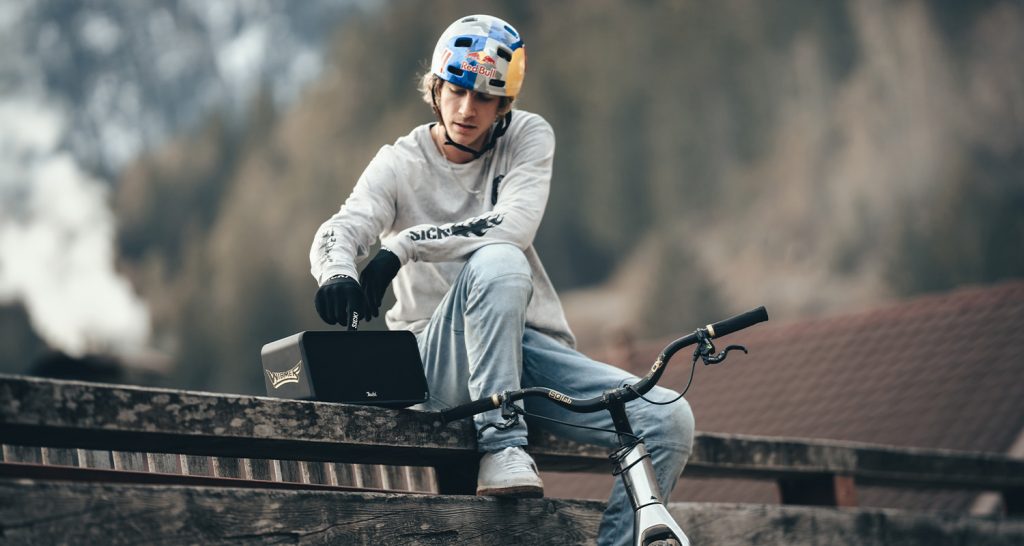 Teufel Blog: How did you get the chance to redesign a Teufel product?

Fabio: I've been working with Teufel for a few years now, starting with a video project we did together in Berlin. When they asked if I'd be interested in putting out a signature stereo, I was in right away.
A look back at 2021: our video for Teufel's The Beat of the City campaign
Teufel Blog: What made you pick the BOOMSTER?

Fabio: It wasn't an easy choice, because I am a regular user of a couple different Teufel products. But the BOOMSTER is one of my favorites. It has a lot of power, a super sweet design, and big flat areas that made it easy to add a personal touch.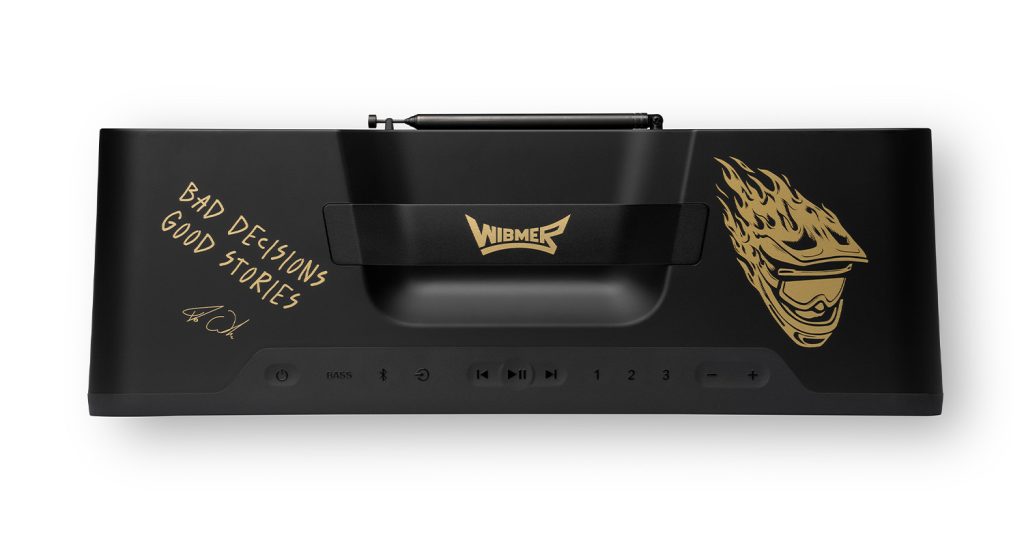 Teufel Blog: What were your criteria for picking the design? Did you have any help?

Fabio: I had lots of help from my team, especially my designer Fabian. He drew all the graphics (by hand!) and decided where to put them. The graphics have been used before in a couple of my projects, and on my clothes, bikes, etc.
Teufel Blog: Do the individual graphics have any personal meaning? Like the burning helmet on the top, your signature on the top and sides, or the stylized yin-yang on the right side?

Fabio: Basically, the designs were inspired by a bunch of random stuff. I've been getting back into metal/rock recently, which played a big part in the design process. Like my Wibmer logo is a play on that. The yin-yang graphic was another fun idea that Fabian made look amazing.
Discover now: BOOMSTER Fabio Wibmer Edition
A limited Fabio Wibmer Edition Bluetooth stereo with powerful sound for in- and outdoor use
The black and gold prints were applied using a high-quality environmentally friendly process that makes them resistant to both impacts and abrasion, ensuring they keep looking good for a long time to come.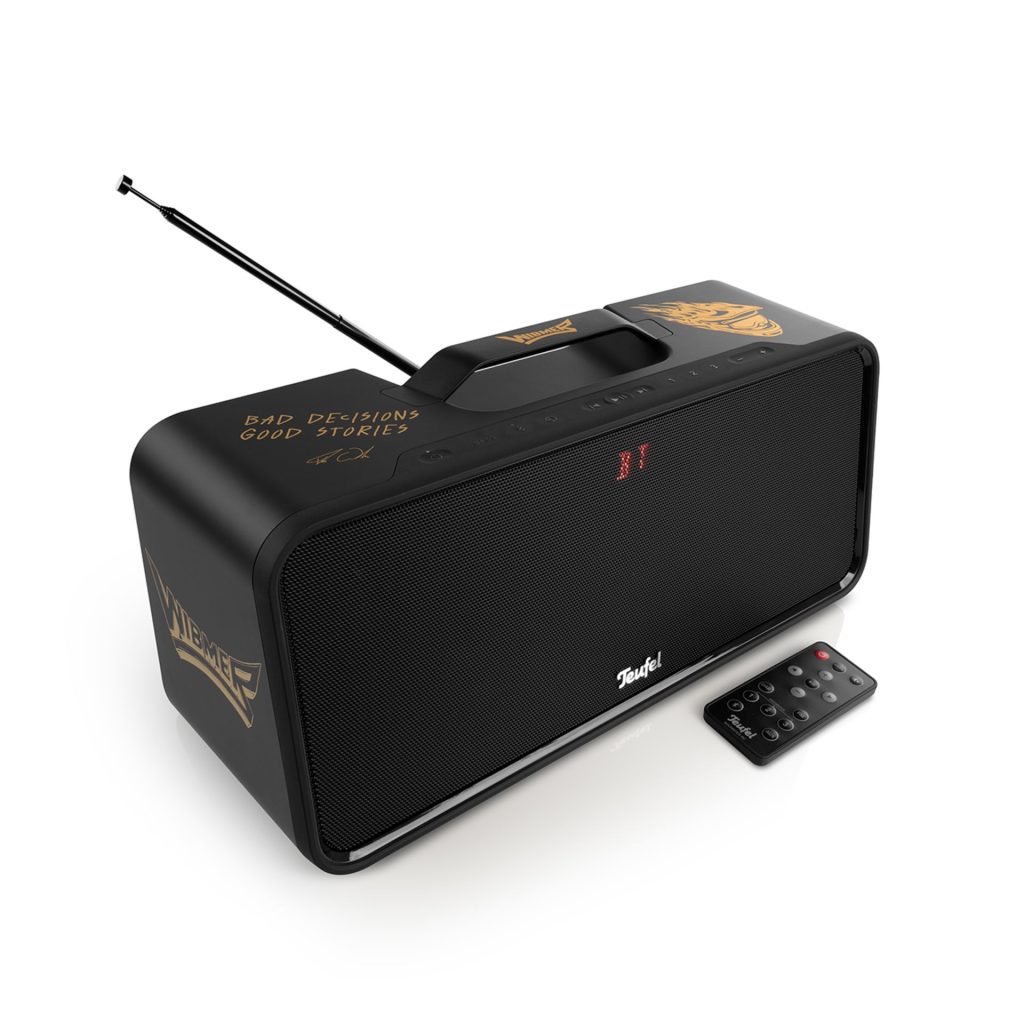 Bad Decisions Good Stories: taking the best out of everything
Teufel Blog: You placed the slogan Bad Decisions Good Stories prominently on the top of your BOOMSTER. What does it mean to you? And which decision of yours led to the best story?

Fabio: We also put it on one of my hoodies, and I've been a fan of it ever since. To me, it just means not to overthink things too much and to take the best out of everything you do. My best decision was when I started filming myself biking.
Teufel Blog: Your Special Edition's campaign is running under the slogan Unleash the Beat. What beats push you to go harder?

Fabio: To me, the beat has to fit the situation. And when I'm biking, I like rock/metal the most.
I don't do anything I can't control.
Teufel Blog: How do you keep control over your bike during your stunts? Is it all really as unpredictable as it looks?

Fabio: No. I don't do anything I can't control. I think my level of control comes down to the many hours I've spent on a bike.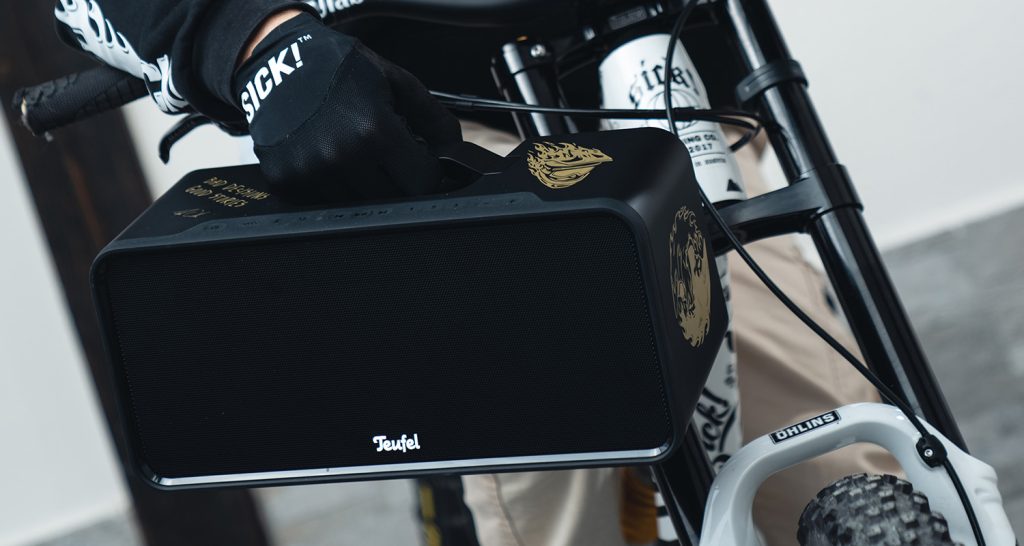 Teufel Blog: Working on any new challenges?
Fabio: Oh, yeah. A lot. I'm always looking for new challenges. Tricks nobody has done before. Spots people say can't be ridden. But also creative projects like my videos that keep pushing me forward into new ways of thinking and new concepts.
 
Teufel Blog: When is great sound especially important to you?

Fabio: Pretty much all the time! But the right music is really essential for biking and long road trips!
Teufel Blog: Are there any songs that bring you back to important milestones in your life?

Fabio: Judas Priest – No Surrender. It's a song that always helped me conquer new challenges. But also the music in my videos. Most recently Iron Maiden – Run to the Hills was featured in a new video.
Teufel Blog: How do you hope people will use your BOOMSTER?

Fabio: Hopefully wherever they need great sound! It will definitely get a lot of use at my place in Monaco, but also the Fabio Wimber Edition would be cool to see at all kinds of street sessions!
Teufel Blog: How do you listen to music at home?
Fabio: Honestly, all kinds of ways. Most of the time, we fire up our stereo system – a Teufel 5.1 Surround Sound system connected to the TV. It sounds pretty good through the whole house, which is pretty epic. If we have a party outside in the summer, or if I'm outside sunbathing, I often use the BOOMSTER. It's portable, but I don't have to sacrifice great sound quality.
Teufel Blog: As a biking pro and influencer, you must travel all the time. How do you listen to music on the go?
Fabio: Yeah, your little portable Bluetooth speaker, the ROCKSTER GO is something I don't leave home without. It doesn't take up too much space, but provides good sound. When I have to fly somewhere, or the crew goes on a big road trip, music is always important to think about.
Products you may be interested in:
Fabio's Playlist to get in the groove
Check out what music Fabio is listening to here in one of his favorite playlists:
More on Fabio Wibmer
YouTube: youtube.com/fabwibmer
Instagram: instagram.com/wibmerfabio
Facebook: facebook.com/wibmerfabio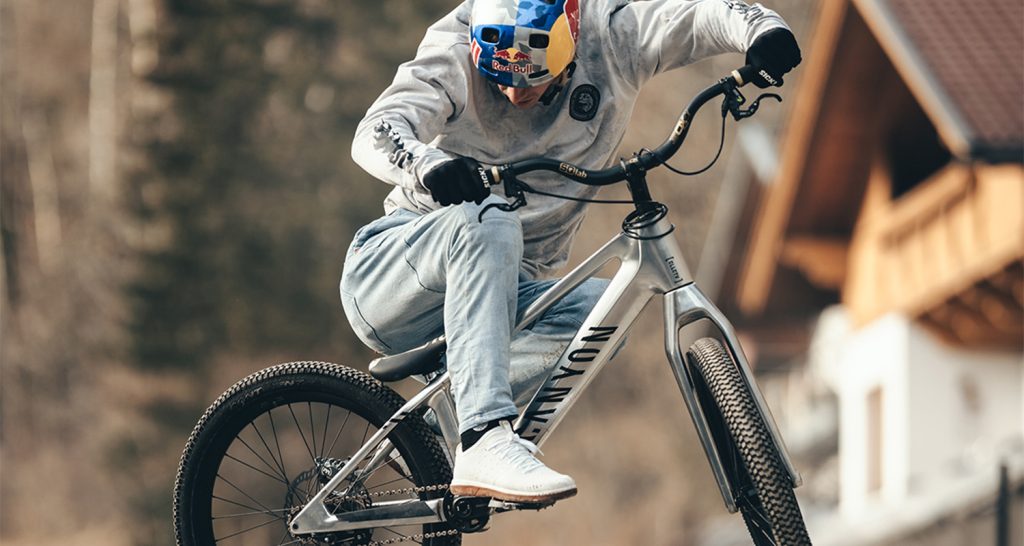 Photo credits: © Hannes Berger