Get ready once again to watch the most iconic of music competitions: the Eurovision Song Contest is almost here! And once again, millions of fans will sit at rapt attention for five nights in hopes of seeing as many "deuze points" as they possibly can. Admittedly, our home country of Germany has been hard up since Lena's 2010 victory at the Eurovision Song Contest. But even if we don't have a great year in Liverpool on May 13th, we'll be looking forward to plenty of incredible (and bizarre) acts at this year's ESC.
Hard guitar riffs: the German contestant brings a new sound to the Eurovision Song Contest
Heavy riffs, a catchy chorus and an over-the-top dark style. If this isn't your first Eurovision Song Contest, this year's German entry, "Blood & Glitter" will certainly remind you of Finland's 2006 contender, hard rock band Lordi. Fronted by singer Chris Harms, German band Lord of the Lost are the polar opposite of last year's German ESC entrant Malik Harris, who got just six points for his performance putting him dead last.
Lord of the Lost play hard, uncompromising dark rock with strains of metal and industrial, and have amassed a devoted fan base over the last few years both here in their homeland of Germany and abroad. Among other high-profile appearances, they toured the US in 2014 and opened for Iron Maiden around 20 times. But will this be enough to do well at the Eurovision Song Contest 2023? If the buzz is to be believed, no. By all accounts, Germany is expected to place relatively low this year.
ESC in Liverpool: More entries and favorites
While Lord of the Lost is a definite black sheep in an otherwise pop-heavy lineup, other entries strike a much softer note. For instance, the Dutch entry from Mia Nicolai and Dion Cooper with the song "Burning Daylight." Italy's emotionally charged ballad "Due Vite" by Marco Mengoni also breaks the mold.
France, represented by Canadian singer La Zarra on the other hand has put forward spirited funk-dance-Dua Lipa-esque pop number "Évidemment."
Spanish singer Blanca Paloma has scored a runaway hit with her entry "Eaea," in which the 34-year-old combines the traditional music of Andalusia with a modern pop aesthetic.
Poland, in contrast, is trying its luck with summery, easy-going tune "Solo" by singer Blanka.
Clear favorites of the contest come from other nations. Betting agencies have given top billing to Sweden and Finland. Swedish singer Loreen in particular is favored to win for her northern European country coming off the back of her 2012 victory in the ESC. Her entry recalls ABBA, who won one of the first Eurovision Song Contests in 1974 with their now-classic hit "Waterloo."
Ukraine's entry is colored by war
Last year's ESC winner, Ukraine will send electronic duo Tvorchi to this year's contest in the hometown of the Beatles. Their song, "Heart of Steel," is dedicated to the perseverance of the Ukrainian armed forces and population, who live under constant threat of violence. Even their national preliminaries were marred by the devastating conflict. In order to protect attendees from possible Russian bombardment, the TV show was held in a Kiev metro station. There, Tvorchi put up an impressive showing, so a back-to-back Ukrainian victory seems far from out of the question.
The Eurovision Song Contest – an event steeped in tradition
The Eurovision Song Contest 2023 in Liverpool marks number 67 for the deeply ingrained tradition. In the 1950's, the first few years were predominated by "schlager" and "chanson" songs, but over time the ESC developed into Europe's single most prestigious song competition. With over 200 million viewers worldwide, the ESC (known in Germany is the Grand Prix Eurovision de la Chanson until 2001) is here to stay.
Teufel Speakers for your Home Cinema
FAQ: All you need to know about the ESC
Why isn't this year's Eurovision Song Contest being held in last year's winning country?
As winner of last year's ESC, Ukraine technically had the right to host this year's contest. However, the ongoing war led the European Broadcasting Union (EBU) to decide that it should be held in the UK.
How many countries are taking place in the ESC 2023?
A total of 37 countries will be taking part in this year's ESC. Some countries have withdrawn from the competition, such as Slovakia, Turkey, North Macedonia, and Hungary, some of them for the second time. As last year, both Russia and Belarus were barred from participation.
How are points awarded in the ESC finals?
Every country that took part in the Eurovision Song Contest has the right to vote in the final. Two sets of points are awarded per country (1 to 8, 10, and 12 respectively). The overall ranking is based both on a jury from each country and a telephone vote. No points may be awarded to one's own country.
Amazing Teufel sound for your ESC night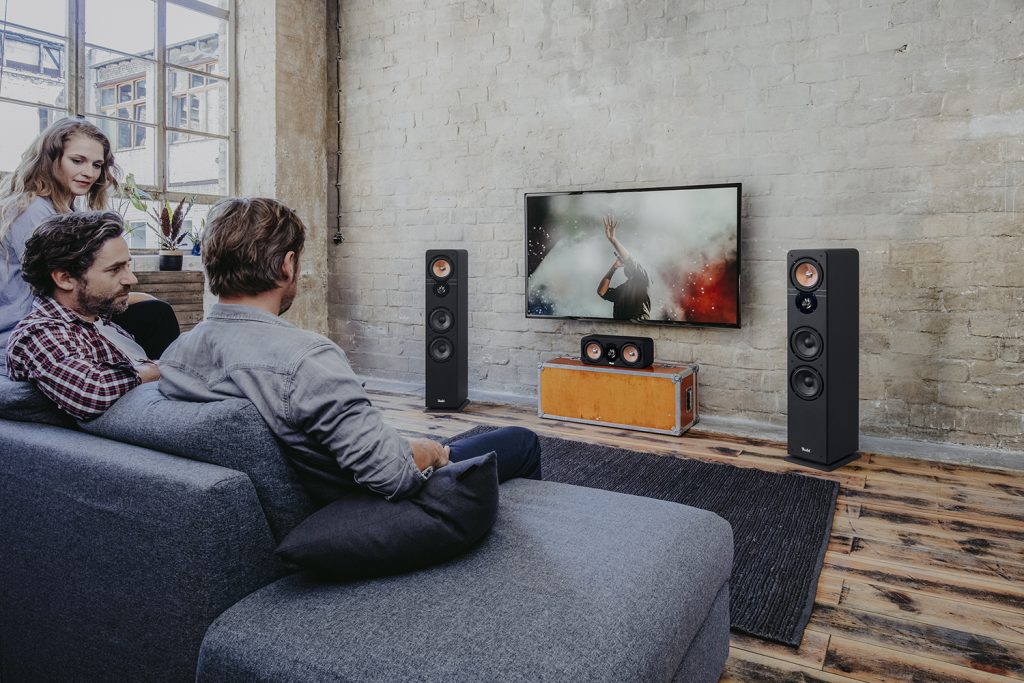 ▶ ULTIMA 40 Kombo: Teufels's ULTIMA 40 top seller makes a powerful team when paired with the KOMBO 62 CD receiver. The 3-way floorstanding speakers will spoil you with clear, heavy sound. Perfect for music, TV, radio and gaming.
▶ Cinedeck Surround "5.0-Set": This best-in-class soundbar will bring the ESC into your living room so much you'll be able to feel it in your bones. 9 high-performance drivers including a center channel and integrated subwoofer can deliver virtual Surround Sound from just one device. Paired with the Effekt rear speakers, you'll really be immersed in whatever you're watching.
More soundbars from the Teufel Webshop
Did you know? Three fun facts about the ESC
No animals allowed on stage. The striking performances might make you think anything goes at the ESC. but there is one hard and fast rule: no animals! This fact became well known only in 2016 when Belarusian singer IVAN was disallowed from performing with a pair of wolves as he originally planned.
Streaker alarm. In the ESC's long, colorful history, viewers have stormed the stage many times. But in 2010, Catalan streaker Jimmy Jump took it to another level when he inserted himself into the choreography of that year's Spanish entrant Daniel Diges in the final, dancing along and earning the Spanish a rare second chance to perform.
Not only European countries are welcome. Despite the name of the competition, ESC participants do not necessarily need to have territory on the European continent. Outside of Australia, Israel, Armenia, Georgia, and Azerbaijan, Morocco has also thrown it's name in the ring. In fact, invites are extended to all countries in what is known as the European Broadcasting Area, meaning future years could theoretically see performances from a range of other countries in the Middle East and North Africa.
No Autotune allowed. Because the ESC is also a singing competition, autotune and similar technologies are banned. Though there is talk this could change.
What are your favorite ESC fun facts, and who are your favorites this year? Give us a shout in the comments below!