Wireless sound quality has traditionally lagged behind that of a wired solution. This state of affairs, however, is rapidly changing. Wi-Fi streaming speakers along with Bluetooth 4.0 and the aptX codec have vastly improved the quality of wireless sound. Manufacturers are following suit, producing, streaming speakers with premium components. Today, there are even streaming tower speakers capable of hi-fi playback in addition to smaller, portable Bluetooth speakers — and everything in between.
There has never been a bigger choice when it comes to audio streaming. This large selection can, however, lead to confusion as to which solution is right for you, especially when it comes to the two main types of streaming, namely Wi-Fi and Bluetooth. This article discusses the main differences between Apple's proprietary Wi-Fi streaming technology, AirPlay, and Bluetooth.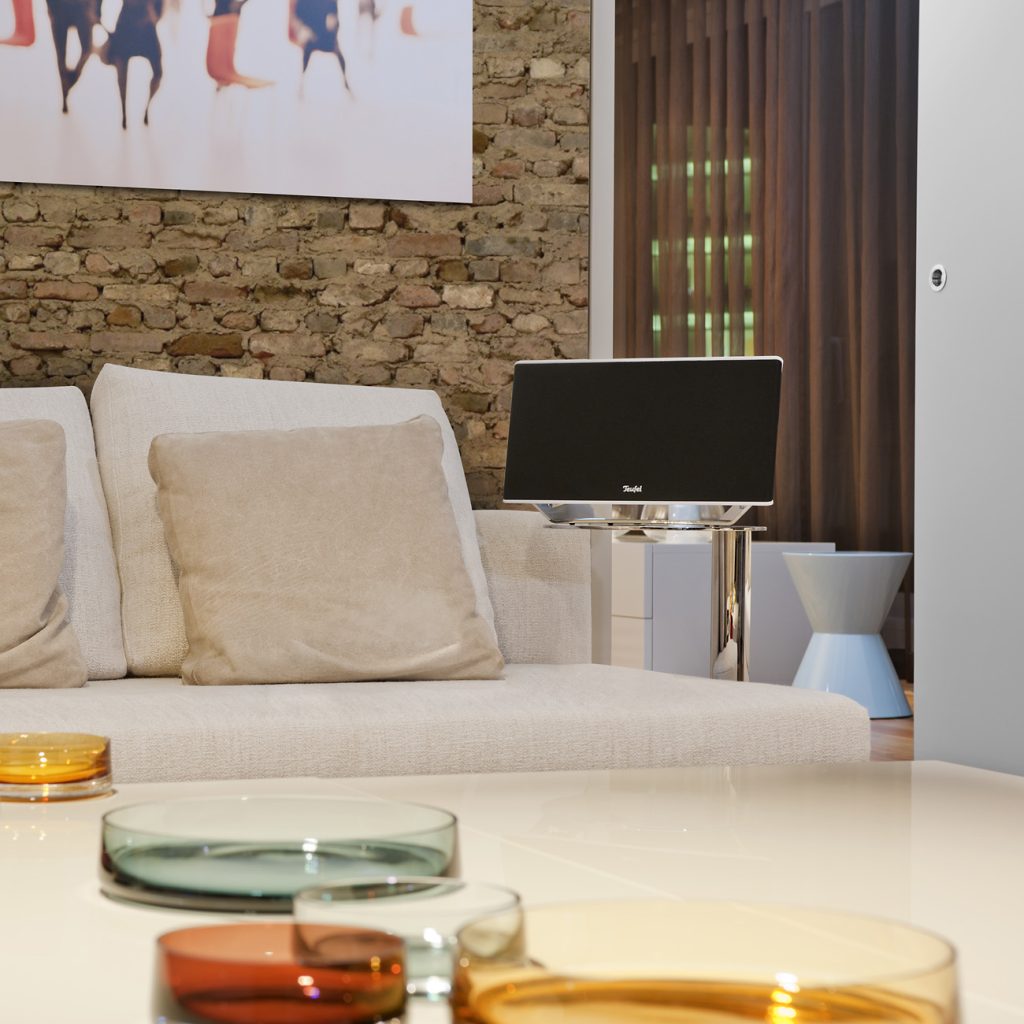 AirPlay vs Bluetooth: What are the differences?
The major difference between AirPlay and Bluetooth lies in how digital music files are transmitted from the source to the playback device. AirPlay uses a home Wi-Fi. This method places more bandwidth at AirPlay's disposal for supporting larger files for superior sound quality. AirPlay can even stream lossless files up to 16-bit / 44.1 kHz for CD-quality playback using the Apple Lossless Audio Codec, or ALAC. Source files are streamed from an AirPlay compatible device connected to the home Wi-Fi such as an iPad, iPhone, or Mac to an AirPlay compatible playback device called a "receiver" in AirPlay parlance. Audio from one or more sources can be sent to various receivers in different rooms for a multi-room experience. Audio is controlled with an AirPlay-enabled app.
Bluetooth, on the other hand, works between two devices – usually a mobile device and speaker – connected by a process called "pairing." A Bluetooth connection between two devices is completely independent of Wi-Fi. It consists of short wavelength radio waves which transmit data at lower transfer speeds than Wi-Fi. In order to compensate for less bandwidth and lower transmission speeds, clever compression codecs for Bluetooth like AptX make it possible to transmit music files at near lossless sound quality and with minimal battery drain. The quality level supported by Bluetooth is also perfectly sufficient for audio files stored on most smartphones which, due to space constraints, are usually lower resolution FLAC or MP3s. Controlling music playback with Bluetooth is easy, because after the devices have been paired, streamed music is simply controlled by the same audio software normally used – no separate interface is required.
Because Bluetooth can stream without a Wi-Fi connection, it's the perfect wireless data transfer technology for outdoor activities and traveling. A portable Bluetooth speaker and smartphone are all you need to play back all the music stored on your phone in good sound quality. It should be noted, however that the two devices – the playback and source device – cannot be more than 15 meters apart. More than that and the devices fall outside of each other's range. Wi-Fi connections are generally double this and are easy to expand using Wi-Fi extenders.
Advantages of Bluetooth
Portability: Two Bluetooth-enabled devices can stream independently of a Wi-Fi network – perfect for the beach or camping trips.
Cost: Bluetooth speakers tend to be less expensive that AirPlay-enabled speakers or other Wi-Fi streamers.
Flexibility: Bluetooth technology is managed by the Bluetooth Special Interest Group and made available to a wide range of devices across many brands and platforms. You can find a full Bluetooth product directory here.
The widespread use of Bluetooth makes it easy for your Sony, Samsung or Apple phone to communicate with any Bluetooth speaker.
Disadvantages of Bluetooth
Range: A Bluetooth speaker and source device can be no more than 10 to 15 meters apart.
Sound quality: Bluetooth 4.0 and especially devices using the aptX codec produce near CD quality sound but do not support lossless streaming. Also, one must ensure that both paired devices support aptX to enjoy the highest level of playback.
Multi-room is not possible: Bluetooth works by pairing two devices. It cannot send audio to multiple playback devices in different rooms.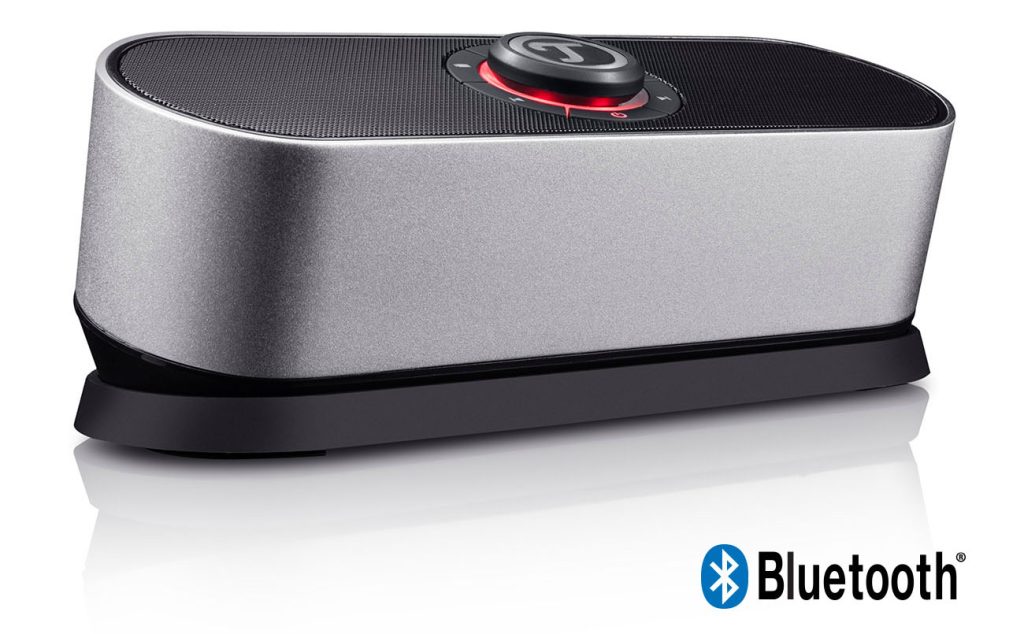 Advantages of AirPlay
Sound quality: As a streaming technology that piggybacks on a home Wi-Fi, AirPlay has more bandwidth at its disposal for streaming even lossless files.
Range: AirPlay speakers do not have to be in direct communication with a source device as long as both are connected to the home Wi-Fi.
AirPlay is well suited for home streaming and even supports multi-room coordinated music playback in every room in your home.
Disadvantages of AirPlay

Price: AirPlay devices tend to be more expensive than Bluetooth speakers.
Compatibility: AirPlay is a proprietary system that only works with Apple software and devices from third party manufacturers which have licensed the protocol.
Coda: No cables, plenty of choice & great sound quality
Since the introduction of Bluetooth 4.0, Bluetooth streaming has become an inexpesive, practical and easy way to stream music in very good sound quality. And while Bluetooth speakers were once of a lower quality, many audio companies have begun producing a range of Bluetooth-enabled speakers with premium components capable of an extremely high level of playback. Bluetooth headphones have also come a long way in this regard, having been freed from the battery life restraints of earlier Bluetooth protocols. Teufel's Bluetooth headphones, the AIRY, for instance can be played at medium volume for up to 20 hours.
For those who don't have a home Wi-Fi or who want to use their systems in environments where no internet is available, Bluetooth offers a way to connect devices and enjoy private music collections stored on Bluetooth-enabled smartphones and tablets. If a device is also connected to the internet, audio from apps like YouTube can even be wirelessly played back via Bluetooth making it a very flexible technology. Since Bluetooth is so wide-spread, users can avail of a wide selection of players and select the one that best matches their budgets and quality expectations.
Those who aspire to hi-fi sound quality or who want a multi-room system are better served by AirPlay speakers. Private music collections are fully supported in CD sound quality. This makes AirPlay the better choice for playback on larger speakers where differences in quality can be discerned.
And for everyone who simply can't decide between the practicality and flexibility of Bluetooth and the premium sound quality of AirPlay, there are speakers that support both such as Teufel Audio's iTeufel Air Blue.