On the occasion of World Television Day, we would like to point out something the nostalgic among us won't want to admit: Things weren't always better in the past. In many ways, television was never as good as it is today and it's all thanks to new TV series. To be clear, by "TV series" we don't mean the mini-series or sitcom format. No, we're referring to that addictive modern phenomenon that has completely changed the television landscape, leading people around the world to binge watch in record numbers.
The first TVs & network broadcasters
The first device we would recognize as a television was produced by a German company with the groovy name "Telefunken" in 1934. It was only in the 1950s, however, that television ownership really became a widespread phenomenon. From that time, however, there's been no turning back.
Large network broadcasters like NBC and CBS quickly sprang up, offering short teleplays that would grow into beloved genres like the sitcom and soap opera. Broadcasters were funded by commercials, otherwise known as that time when most people turn down the volume of their set and grab a snack.
Then, in 1972, a new model of subscription-based television began operating in the United States: Home Box Office, more commonly known as HBO. This model paved the way for more freedom in terms of the type of content that could be shown. Whereas networks needed to be highly responsive to the opinions of their advertisers who were eager to maintain a family-oriented, squeaky clean image, HBO only needed to worry about what its paying customers wanted to watch.
The birth of the TV series
HBO became one of the top television innovators, the first to use satellite to broadcast a television signal (the legendary fight between Muhammad Ali and Joe Frazier) and began showing original movies in 1983. Its big moment, however came in 1999, when the American director and script writer David Chase came to HBO with the idea for a different kind of show. His little story, called "The Sopranos", had already been rejected by America's four major television networks: ABC, NBC, FOX and CBS. No one wanted to touch the gritty tale of a ruthless mobster living in a mundane New Jersey suburb. The concept of a man who regularly killed to advance his business only to return to a typical American domestic scene was considered too weird, too edgy. But HBO decided to run with it and television was reborn: The TV series had arrived.
Not that there hadn't been serial television shows in the past that captured our attention. Just look at Seinfeld, MASH, The X-Files or Friends. In 1998, HBO ran another trail-blazing show, called "Sex and the City" to great critical and popular acclaim. But the new TV series was different, having more in common with movies than the television programming that preceded it. Clever and intricate story lines, sweeping narrative arcs, realistic dialogue, great cinematography, exotic locations, fantastic casting, unconventional themes and – last but not least – amazing soundtracks place them in a class by themselves.
Imitation is the sincerest form of flattery
The Sopranos became a runaway success which HBO carried over into other shows like "The Wire", "Boardwalk Empire" and "Game of Thrones". Showtime, another popular premium cable channel, copied HBO's winning formula with original series of its own like "Dexter", "Homeland" and "The L Word". Networks like Fox would later get on the bandwagon with the series "Gotham".
Then everything changed once more thanks to Netflix. Originally a company that offered DVD rentals per mail, it was quick to realise that solid storage mediums would soon become a thing of the past. Unlike its rival Blockbuster, Netflix began to offer video on demand over the internet. This grew into a highly successful business that allowed customers to stream from their vast video library for a monthly fee. But this wasn't enough. Netflix set its eyes on creating its own series and achieved this aim in 2013 with the highly successful "House of Cards".
What does this mean for sound systems?
Surround sound system were originally designed for the enjoyment of movies on VHS, DVD or Blu-ray disc. Now, the concept of home cinema has grown to include TV series as fans seek to intensify the experience of their favourite shows. Thanks to the incredible quality of today's series, it pays to invest in TV speakers that can do justice to the high-quality intro music and sound effects.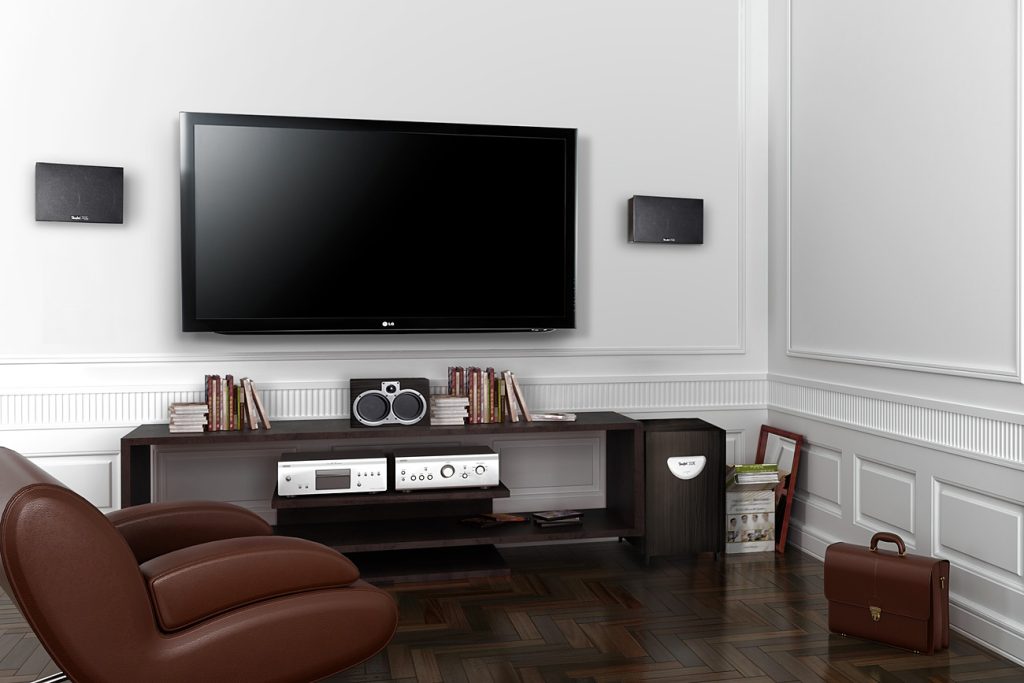 It should be noted that the highest level of surround sound quality will still be attained via Blu-ray disc. However, Dolby Digital Plus is increasingly being offered by streaming services. Based on Dolby Digital, Dolby Digital Plus technology makes it possible to transmit HD-quality surround sound across devices and via streaming. The adoption of Dolby Digital Plus and the general high quality of the soundtracks used in today's TV series makes investing in a quality sound system for your television more attractive than ever. Check out the Teufel Audio webshop for a wide range of options including compact surround sound systems, THX certified home cinema sets, 2.1 systems and soundbars. For those who watch their favourite series on a computer or tablet, Teufel offers a large number of PC sound systems and portable Bluetooth systems. No matter how you get your TV series fix, Teufel Audio can enhance the experience with the perfect sound system.

Title picture: By Takkk (Own work) [CC BY-SA 3.0 (http://creativecommons.org/licenses/by-sa/3.0) or GFDL (http://www.gnu.org/copyleft/fdl.html)], via Wikimedia Commons
All other pictures: Property of Teufel Audio