In the 1980s, boomboxes were symbols of urban culture. Entire genres of music and dance grew up around these big, bulky, yet portable and LOUD music players that let people enjoy popular music absolutely anywhere. Starting in the 90s, however, digital music began to shrink portable music players. Personal music systems have now come to rule the street (which has become a much quieter place). Yet as amazing as MP3 players and smartphones/headphones combinations are, they leave out one thing – the social element to music: The desire to take your tunes into the world, and blast them for everyone to hear.
Here at Teufel, we wanted to help  fulfill this basic human need with a truly powerful and portable system that offers the sort of sound that people have come to expect from Teufel – clear, detailed and with plenty of boom.
Because portable doesn't always mean small
The BOOMSTER's high-gloss minimalist exterior is sleek enough to complement any living room or bedroom, yet robust enough to withstand a lot of handling. In addition, covered inputs, a rechargeable battery plus discreet carry handle allow you to take the BOOMSTER along on your next camping trip or garden party. We even designed the BOOMSTER for normal battery use so that if the rechargeable battery runs out, a couple of AA batteries are all you'll need to keep the fun going.
Thanks to Bluetooth and FM radio, the system can access an inexhaustible range of music. You can even save your favourite stations on the control panel's three touch buttons. The wire antennae can be tucked away in its own compartment or unfurled for strong reception so you don't miss the game no matter where you are.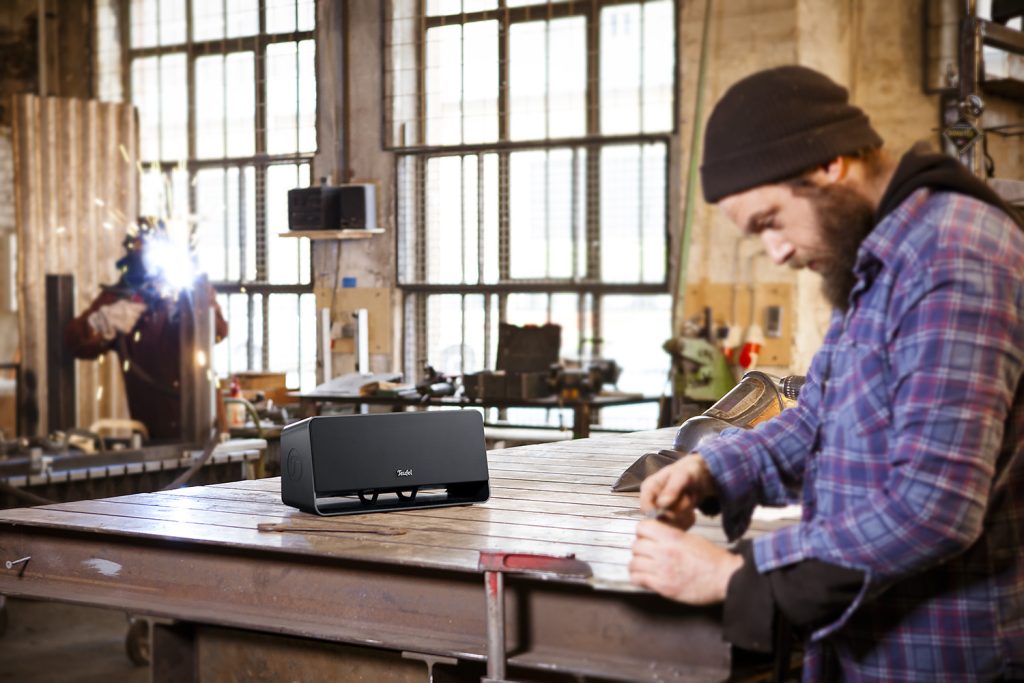 Boombox feel, true stereo sound
While the BOOMSTER is a boombox in spirit, it's a cut above when it comes to sound, because – let's face it – the boomboxes of yesteryear weren't known for their high-end playback. But blasting thrilling sound is where the BOOMSTER excels. A separate downfire subwoofer gives the system superior bass as part of an authentic 3-way driver arrangement that includes two tweeters and 2 midrange drivers for top sound quality. A high-end class D amplifier fires the system to high levels free from distortion.
Bluetooth 4.0 & NFC for the best wireless experience
In order to make full use of this sophisticated audio hardware, the BOOMSTER is equipped with Bluetooth 4.0 for high-quality wireless audio transmission with all Bluetooth-enabled mobile devices. This means that you have access to all of your music and streaming apps like Spotify and YouTube plus Internet radio. Don't have a smartphone or have one that doesn't support Bluetooth? No problem! The BOOMSTER also has a 3.5 mm stereo jack socket for connecting external playback sources.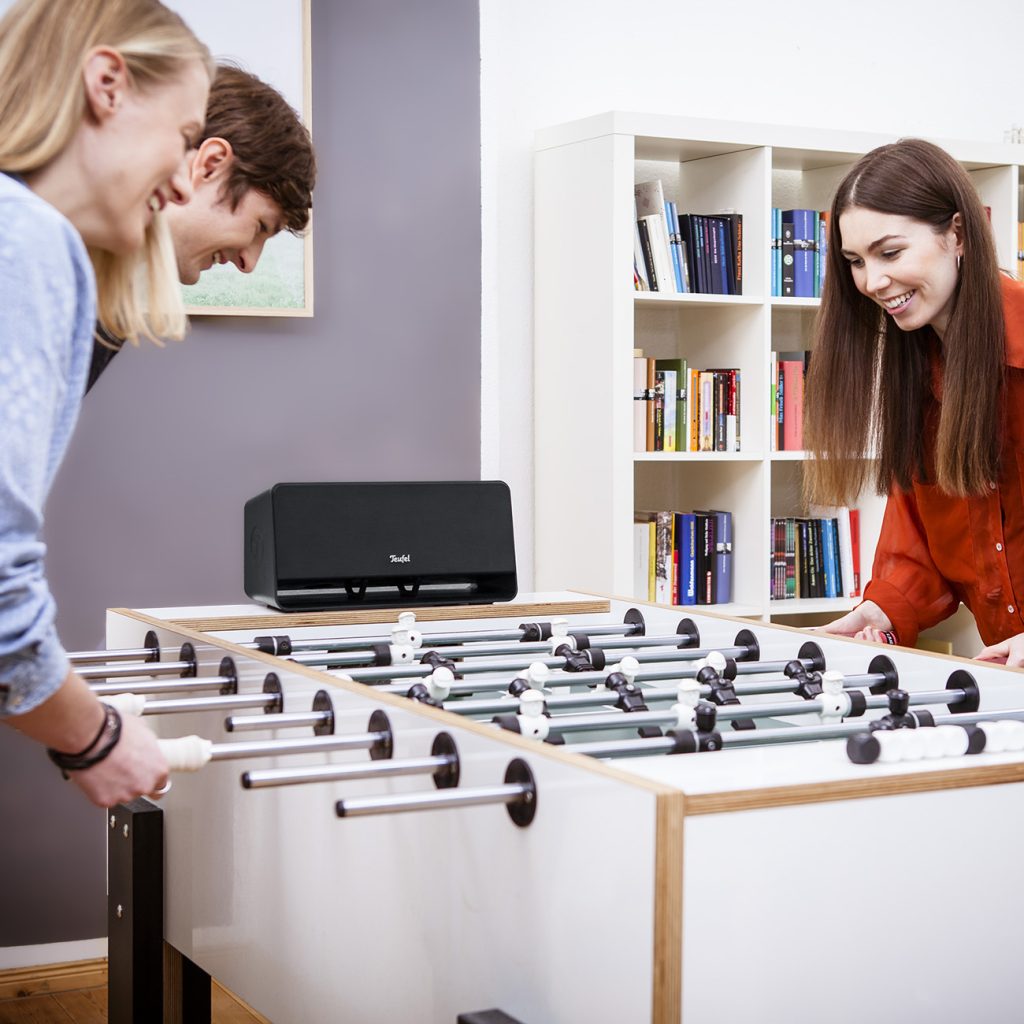 For super-fast and convenient communication between the BOOMSTER and source devices, we've also endowed it with the latest NFC technology. All that's required for the BOOMSTER to communicate with another NFC-enabled device is that the device be held next to the NFC interface on the upper right side of the BOOMSTER for a few moments. This avoids the standard pairing procedure that is normally required for two devices to communicate via Bluetooth. No settings menus need be opened, nothing selected. In this way, it's literally possible to get your music going with your eyes closed. The BOOMSTER's NFC system memory can store up to 6 different devices.
Coda: The BOOMSTER lets you enjoy powerful Teufel sound anywhere
So while the BOOMSTER isn't small, it certainly is portable and was built to perform well in a range of conditions indoors and out thanks to the following features:
Removable rubber covers protect back connections
LED-lit touch buttons allow the system to be easily controlled, even in the dark
Sturdy materials make worry-free transport possible
Robust carry handle made from brushed aluminium makes the system easy to carry
Metal front grilles protect the drivers
USB port charges smartphones when away from mains power