Dolby Atmos isn't just for commercial cinemas anymore. Teufel Audio plans a special product launch in its new flagship store during the Consumer Electronics Trade Show 2014: A high-end home cinema system designed to support the new 3D surround sound format, Dolby Atmos.
Bringing a third dimension to surround sound
Special upwards radiating full-range drivers on Teufel's new LT 5 Atmos are used to reflect sound off the ceiling. This replicates the effect of additional ceiling speakers found in commercial theatres with Dolby Atmos thereby rendering these difficult-to-install components unnecessary.
"Dolby Atmos has been thrilling cinema-goers since 2012," explained Teufel's chief sound engineer Christoph Winklmeier. "Atmos' ability to more realistically position objects in a sound field really makes them come alive for the viewer. As Dolby launch partners, we're very proud to be able to bring three dimensional surround sound to home cinemas."
LT5 Atmos: Five loudspeakers, nine sound sources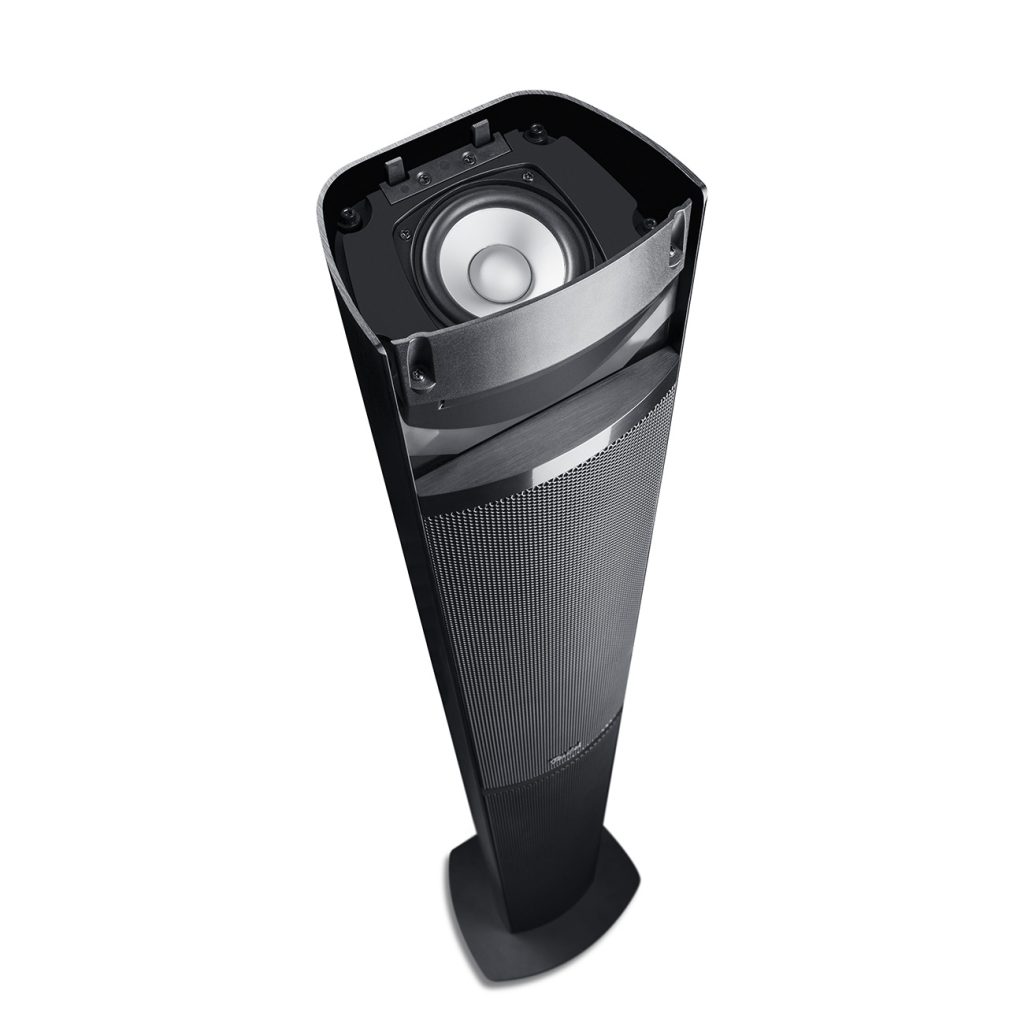 The LT5's elegant massive aluminum column speakers contain specially designed 8 cm full-range drivers directed towards the ceiling at a 20 degree angle. This targets the reflections back towards the listener. The advantage of this system is the creation of sonic effects in three dimensions without the need for additional speakers on the ceiling. The difference can be immediately heard: Echoes resound in caves from three directions, airplanes roar overhead, and rain patters down from above.
The LT 5 Atmos was based on Teufel's popular 5.1 loudspeaker set, the LT 5. The LT 5's four solid aluminum columns and centre are all identically equipped with five drivers in a three-way arrangement and complimented by a 250 watt subwoofer. This classic 5.1 surround sound system was expanded into a 5.1.4 system with the addition of 4 upwards radiating full-range drivers in accordance with Dolby Atmos' specifications. Thanks to these four cleverly-integrated additional speakers, Teufel is able to fulfill Dolby's promise of three dimensional sound. A lifelike sonic field with well-defined objects in which sound can be heard coming from all directions is what you can expect.
More about Dolby Atmos
Dolby Atmos is a surround sound technology that premiered in theatres in 2012 that employs up to 63 independently guided loudspeakers in commercial theatres. When applied to a high-end surround sound systems for home use, Dolby Atmos employ 7 to 11 loudspeakers plus subwoofer.
Dolby Atmos makes good on its promise to deliver a three dimensional sound field with the additional channels that radiate sound downwards to the listener. Large cinema installations generally achieve this effect with ceiling-mounted speakers, but drivers on the main speakers can replicate this immersive sonic field by radiating the sound upwards. The sound indirectly, but effectively, reaches the listener after being reflected from the ceiling. Dolby Atmos audio signals are included in standard Blu-ray discs and are downward compatible.
All pictures: Property of Teufel Audio