Loudspeakers, subwoofer, amplification and control devices along with all necessary cables: Teufel Complete Sets live up to their name and deliver the best home cinema sound in their price class — in a single stress-free purchase.
With Teufel's new Complete series, all components from the loudspeakers to the electronics required to power and control them come from the same manufacturer and were specially designed to work together as a single unit. Expect the incredible convenience of getting a complete home theatre system with a single purchase along with the fantastic sound and build quality people have come to expect from Teufel at a very reasonable price.
Loudspeakers, amplifiers, A/V control systems and cables are included
The name "Complete" was well chosen for the new line of systems. In each set, Teufel fans receive everything they need to begin enjoying high-impact, immersive home cinema sound right away. All they need to do is unpack the components, connect them and turn the system on. There is no need to research what amplifiers and control systems are compatible with the loudspeakers – everything was designed to work together perfectly. A flat high-speed HDMI 1.4 cable is included with each Complete set as well as enough loudspeaker cable to position your speakers anywhere in the room. An added benefit: With each Complete system, you'll save over the purchase of individual components; and as with all Teufel products, all Complete sets come with an 8 week trial period. If you're not completely satisfied, simply send the system back for a refund.
Teufel Complete sets for every room and budget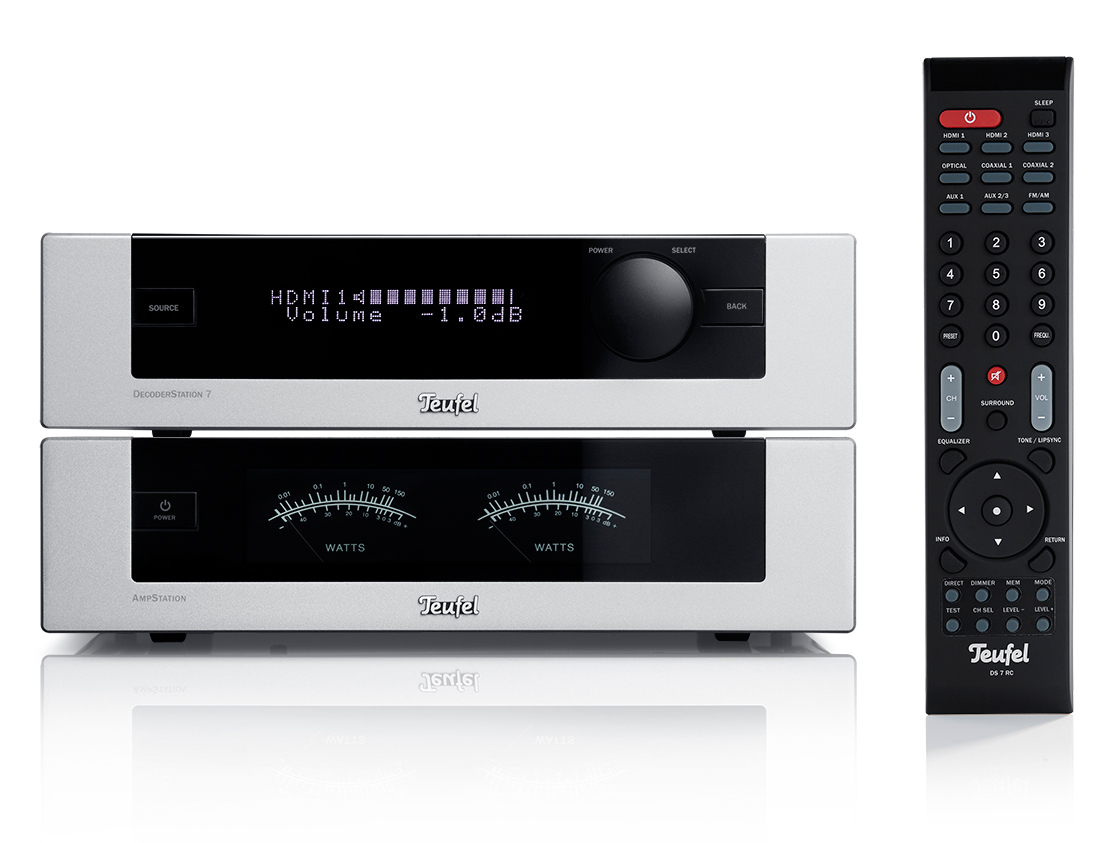 Teufel Complete sets are available in every imaginable size and price range. The Consono 35 Complete and Cubycon Complete consist of compact satellite speakers. Those who prefer the look of column speakers can choose between the Columa 300 Complete and the LT 5 Complete. It's even possible to create your own bespoke Complete set together with our helpful sales professionals.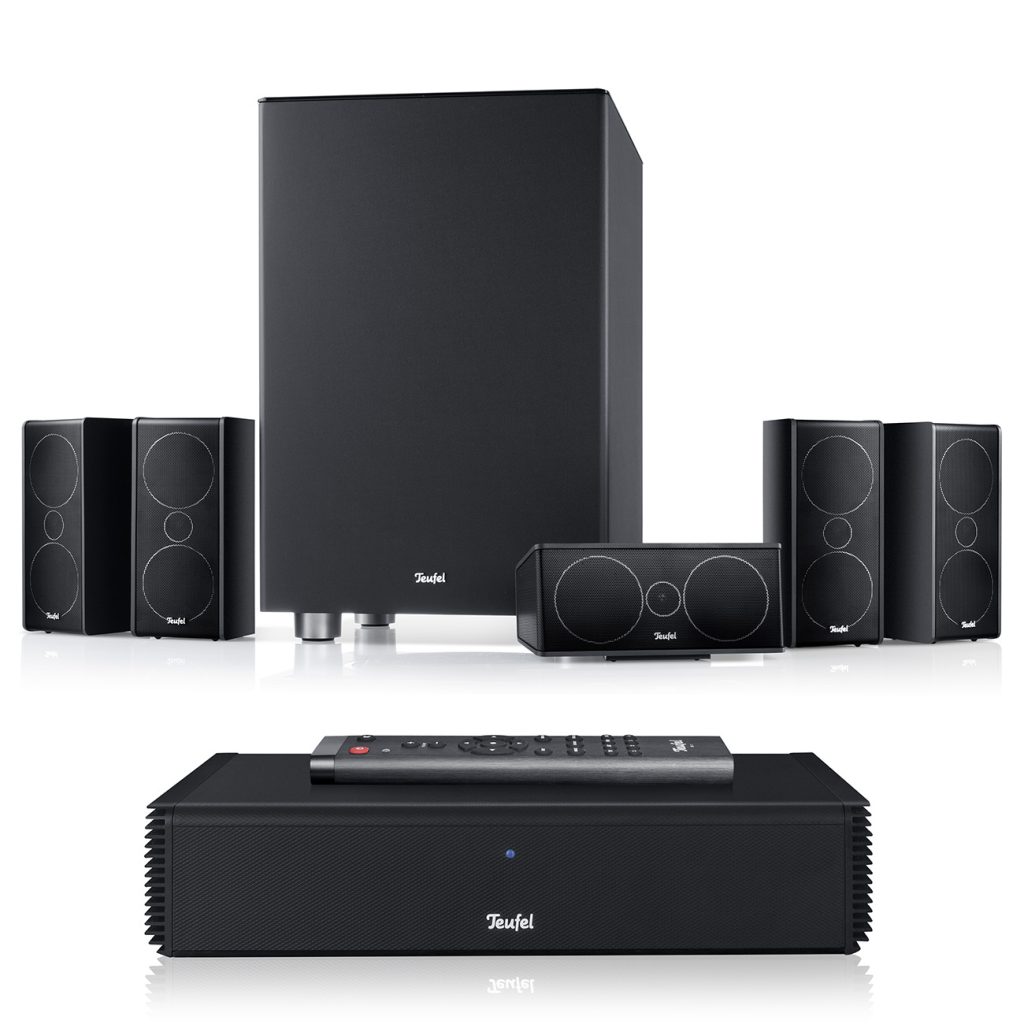 Advanced electronics: High performance &  easy controls
The Consono 35 Complete compact surround system offers an unbeatable price/performance ratio
With the new DecoderStation 6, CoreStation and DecoderStation 7, Teufel is able to equip its high-performance surround speakers with electronics capable of getting the most out of each system.
The DecoderStation 6 is included with sets for which the 6 channel amplification is already integrated in the subwoofer. Together with an active subwoofer, this compact control and decoding device is all you need to enjoy the ultimate home cinema experience. In addition to four HDMI inputs, there are four digital and three analog inputs for connecting a range of source devices. In addition, a radio with RDS function is included as well as Bluetooth 4.0 with aptX codec ensuring the highest quality Bluetooth transmission from mobile phones and tablets.
The CoreStation is an A/V receiver that cools without fans – an innovative design that allows the device to be much smaller than its rivals without sacrificing performance or features. With four HDMI inputs, three digital and analogue inputs as well as Bluetooth 4.0 with aptX codec, the CoreStation is well equipped. The system is controlled via handy remote, a convenient feature that also allows the device to be stowed out of site in a drawer while in operation. It's even possible to mount the CoreStation behind a television via VESA brackets.
The LT 5 Complete includes a powerful electronic duo: The DecoderStation 7 and AmpStation. Along with countless connection possibilities (3 x HDMI, 3 x digital audio, 3 x analogue audio), the little DecoderStation 7 is able to process the HD audio signals HD Dolby True HD and DTS HD Master Audio. An 8 channel amplifier called the AmpStation with a stylish aluminium front is equipped with a high-end Class D amplifier from Texas Instruments. An 800 watt maximum power performance is achieved in spite of the device's compact dimensions thanks to the use of heatsinks instead of fans – a design that also serves to make the AmpStation wonderfully quiet. Die-hard home cinema fans even have the option of connecting a 7.1 system.
Teufel plans to offer even more Complete sets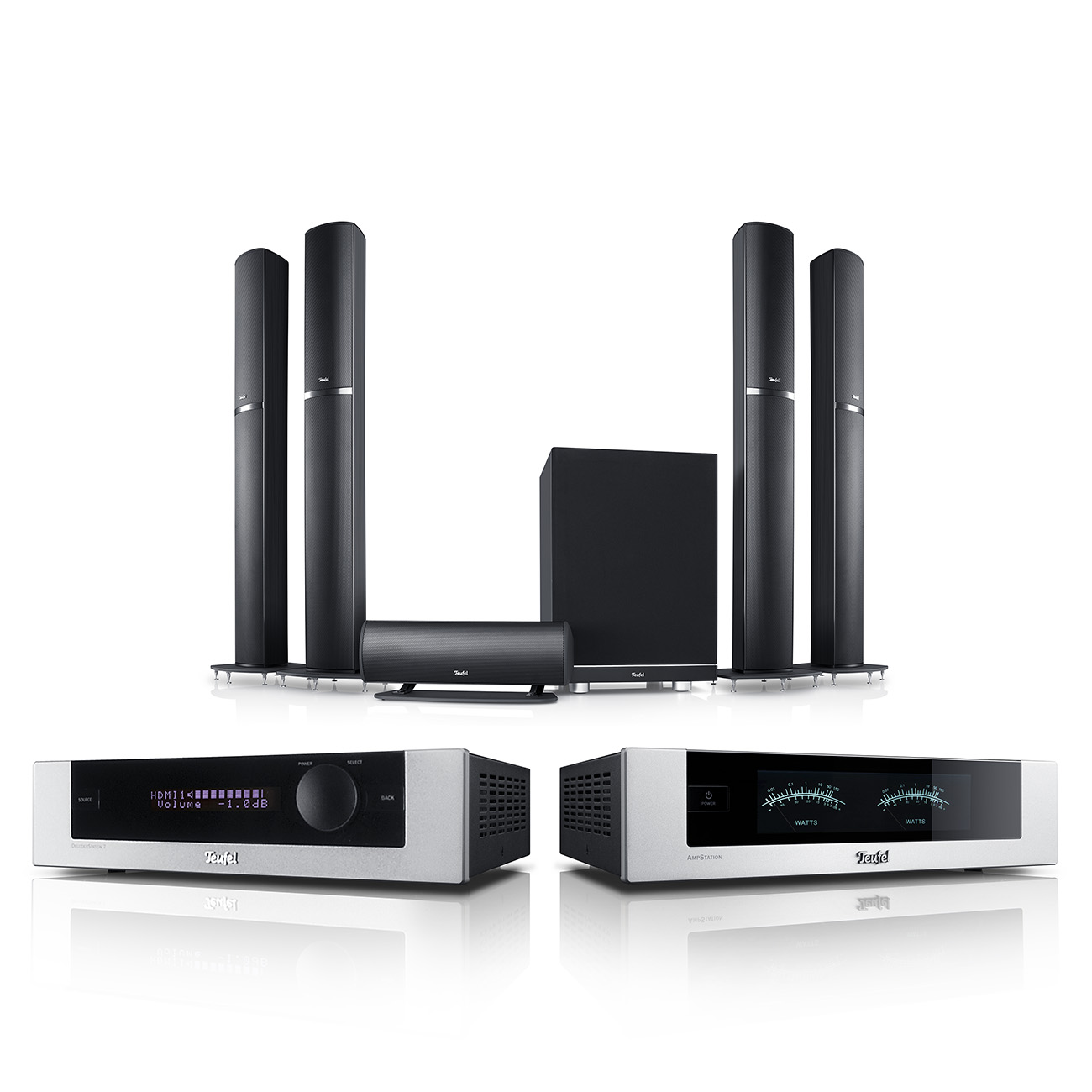 The Complete systems presented here are just the beginning. "We want to be able to offer every customer the perfect system," explained general marketing manager Sebastian Drawert. "To this end, we plan to expand our offering of all-in-one sets to include the much-loved 'Theater' and 'System' series."
An overview of Complete Sets currently offered by Teufel
Affordable & incredibly compact with powerful sound
Consono 35 Complete: € 1,149.99
Plug-&-play 5.1 system with compact hi-fi satellites
Active subwoofer with integrated 6 channel amplifier
DecoderStation 6 A/V receiver with 4 x HDMI in & HDMI ARC plus Bluetooth
Affordable surround with tower speakers
Ultima 40 Surround Complete: € 1,599.99
Plus-&-play 5.1 system with stereo towers
Powerful 150 watt downfire subwoofer with 250 mm woofer
CoreStation ultracompact A/V receiver with 4 x HDMI in and HDMI ARC plus Bluetooth, wireless remote and 360 watt class D amplifier from Texas Instruments
Superior sound with easily placed satellites
Cubycon Complete: € 1,599.99
Plus-&-play 5.1 system with micro loudspeakers made from aluminium – available in black or white
Wireless flat subwoofer disappears under the sofa
CoreStation ultracompact A/V receiver with 4 x HDMI in and HDMI ARC plus Bluetooth, wireless remote and 360 watt class D amplifier from Texas Instruments
High-end column speakers
LT 5 Complete: € 3,799.99
Plug-&-play 5.1 system with elegant 3-way aluminium columns for exceptional playback
180 watt subwoofer with 300 mm woofer for enthralling bass
DecoderStation 7 + Ampstation: High end A/V receiver with HD preamp and amplifier
Can be expanded into a 7.1 set
All pictures: Property of Teufel Audio