Internet savvy audiophiles and those who enjoy listening to music on the go are long familiar with the streaming service Spotify. Spotify offers an exceptionally large and diverse music catalogue including major labels like Sony, EMI, Warner Music Group, and Universal along with lesser known artists. On top of this incredible selection, Spotify offers many handy and fun features that allow users to share their favourite songs, make playlists, and discover new artists.
The Spotify App is also an incredibly well-designed and user-friendly interface that provides easy access to the service from any iOS or Android mobile device. For instance, Spotify users can create public playlists, share these on social media or tell their friends what they've just listened to. Many artists also share their personal favourites on Spotify. Spotify makes it easy to discover who else is listening to your favourite song and what other music they like, music you may enjoy as well.
Starting now, all Raumfeld devices can play back this incredible range of audio content and can even be controlled via the Spotify App. The following will walk you through the details of what you can expect.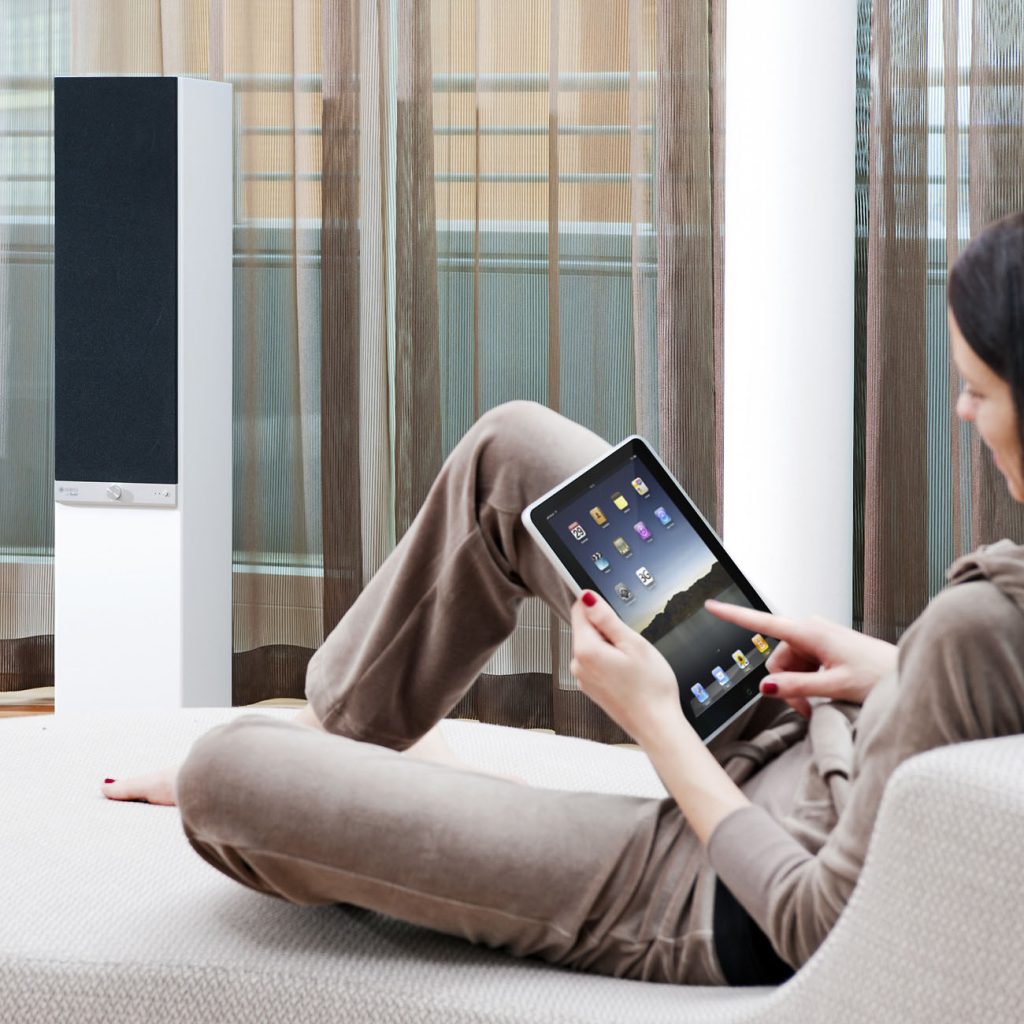 Amazingly easy to control: The Spotify Connect function for Raumfeld
In order to stream via Spotify, Raumfeld uses a version of Spotify that was specially designed for use with streaming systems: Spotify Connect. Spotify Connect is a premium service that syncs your music with the cloud, making your audio selections instantly available to your mobile devices and compatible streaming speakers. With this function, Spotify can now be easily played back on most Raumfeld devices. One example: The music that you enjoyed on your morning run can be instantly switched to Raumfeld speakers in your kitchen while you pour your first cup of coffee. With Spotify Connect and Raumfeld, the soundtrack of your life no longer has to fall silent just because you've gone into a different room or left the house. Where you are, your music is.
Accessing Spotify Connect is easy. Simply open the Spotify App, select "Spotify Now" and then tap the Spotify Connect symbol (depicted as a loudspeaker within a circle). A selection menu will appear in which all streaming-enabled loudspeakers on which Spotify can be played back will appear. You now only need to select the speaker closest to you and the music you're listening to on your headphones will be instantly played back without any interruptions on the speaker of your choice.
Using the Raumfeld App with Spotify? But, of course!
In order to give Spotify users the best possible experience with their Raumfeld devices, Raumfeld has even made it possible to directly select Spotify from the Raumfeld App. Simply choose "Spotify" from the list of streaming services and the Spotify symbol will immediately appear on the screen of your mobile device. Using the Raumfeld App, it's still possible to skip a track, go forwards or backwards in a song, or stop playback entirely.
How to set up Spotify Connect in a few easy steps
1.    Update the Raumfeld firmware on all Raumfeld devices as well as the Raumfeld App
2.    Install the Spotify App on your smartphone / tablet
3.    Open Spotify on the Raumfeld App or directly via the Spotify App on your mobile device
4.    Select "Spotify Connect" from "Spotify Now Playing"
5.    Select your desired playback speaker
6.    Enjoy Spotify on Raumfeld
For more information on the firmware update, check out the online Raumfeld handbook.