Together with ROCK HARD magazine, Teufel Audio is proud to present the top 3 heavy metal albums for the month of April, 2017. The albums were selected by ROCK HARD experts and are presented exclusively here on the Teufel Audio blog.
1st place: "Amber Galactic" by The Night Flight Orchestra
Release date: 12 May 2017 by Nuclear Blast/Warner
Reviewed by Boris Kaiser (ROCK HARD)
His Richter Scale Rating: 8.5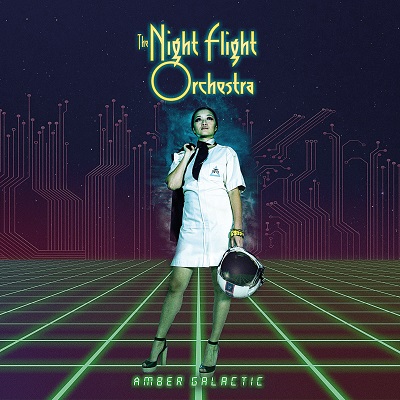 Things got off to a good and relaxing start with "Amber Galactic" this morning. By this, The Night Flight Orchestra's third album, the is groove built-in. Soilwork besties Björn "Speed" Strid und David Andersson along with Arch-Enemy/Spiritual Beggars bassist Sharlee D'Andelo have once again recorded a flawless AOR/melodic/classic rock assemble that shows the same dedicated understanding of music that characterised the first two albums as well as Horisont's "About Time" — which has been highly (and justifiably) praised over the past few months.
In other words: Whoever puts together songs like the relaxed rock disco anthem "Star of Rio", the Toto inspired "Domino" or the Europe-esque slower paced number "Jennie" (no, not "Carrie") will have done his homework over many years. It's not enough for mom to have had an old scratched-up Journey LP in the closet. Aside from this – and this also connects this Orchestra album with Horison – in depth interpretations and reviews are not necessary. At the ROCK HARD Festival, Speed and Co. will show everyone where the sun shines, so that even the most misanthropic dark metal head will spontaneously crack the odd silly smile or two through his body paint. We're looking forward to it, Mandy!
The Night Flight Orchestra discography
Internal Affairs (2012)
Skyline Whispers (2015)
Amber Galactic (2017)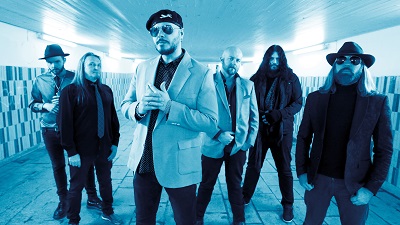 The Night Flight Orchestra line-up
Björn "Speed" Strid (v.)
David Andersson (g.)
Sebastian Forslund (g.)
Sharlee D´Angelo (b.)
Richard Larsson (keys)
Jonas Källsbäck (dr.)
2nd place: "The Symbol of Death" by Disbelief
Release date: Already released by Listenable/Edel
Reviewed by Andreas Shiffmann (ROCK HARD)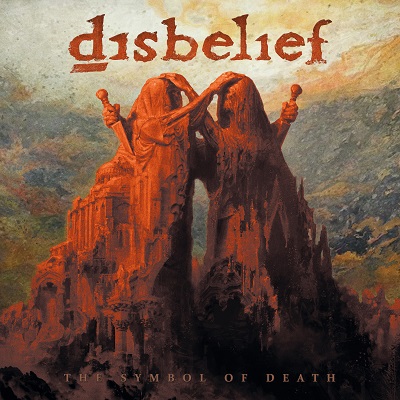 Disbelief never turned out dreck during the first phase of their carrier. Still, one can easily maintain that the temporary break before their comeback did the band good. On the one hand, "The Symbol of Death" sounds like the band has never been gone (the only permanent members were anyway only ever the bassist Joe and monster vocalist Jagger) and is at the same time fresher. The extensive song material is notable in so far as it doesn't let up over the course of over one hour. The natives of Hessen, Germany remain one of the most effective and believable audio therapists out there, where the expression of pain and frustration in metal is not infrequently reduced to a pose. Not only due to the stirring "The Unsuspecting One", the waltz "One by One" or the epic "Shattered", one hopes with all one's heart that the band finally finds enduring and wide-ranging success – more or less on their second time around.
3rd Place: "Darkness Remains" by Night Demon
Release date: Already released by Steamhammer/SPV
Reviewed by Boris Kaiser (ROCK HARD)
His Richter Scale Rating: 8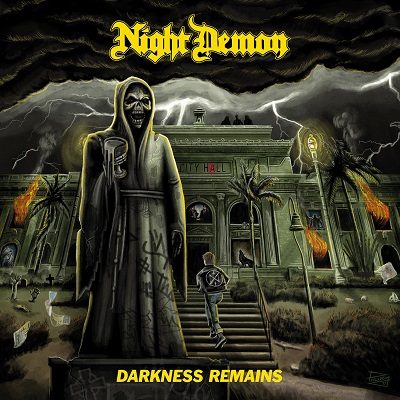 After the self-titled 2012 EP, 2015's full-length debut "Curse of the Damned" was the second sign of life from the Ventura boys whose frontman Jarvis Leatherby has meanwhile taken on additional jobs as the bassist for Cirith Ungol and singer (!) for Jaguar. It reanimated the positively penetrating NWOBHM-worshipping England '81 (Matthias: "It never died!") and polished a heavy-hitting sound that batters one from the front with a savage sweetness. In "Darkness Remains", the road dogs, who have already been touring with Raven, Diamond Head and Anvil and who are due to hit the ROCK HARD Festival at the beginning of June, succeed always and most strikingly when the bass really rumbles like Steve Harris and the pace is set to mid-tempo. "Life on the Run", "Dawn Rider" and "One Your Own" really shine, but my album favourite is "Hallowed Ground". I especially like Rocky (sort of Night Demon's version of Eddie) who, as the cover shows, is too stupid to hold a chalice of beer (German Kellerbier, unfiltered) upright, whereby the unpretentious production quality doesn't automatically position itself as underground but at the same time gives off a pleasant analogue feel so that the stylistic homogeneity is never driven to absurdities.
Night Demon discography
Never Machine (EP, 2016)
The Doomsday Kingdom (2017)
Night Demon Line-up
Niklas Stålvind (v.)
Marcus Jidell (g.)
Leif Edling (b.)
Andreas Johansson (dr.)
Get more (head) bang for the buck with Teufel's Kombo 500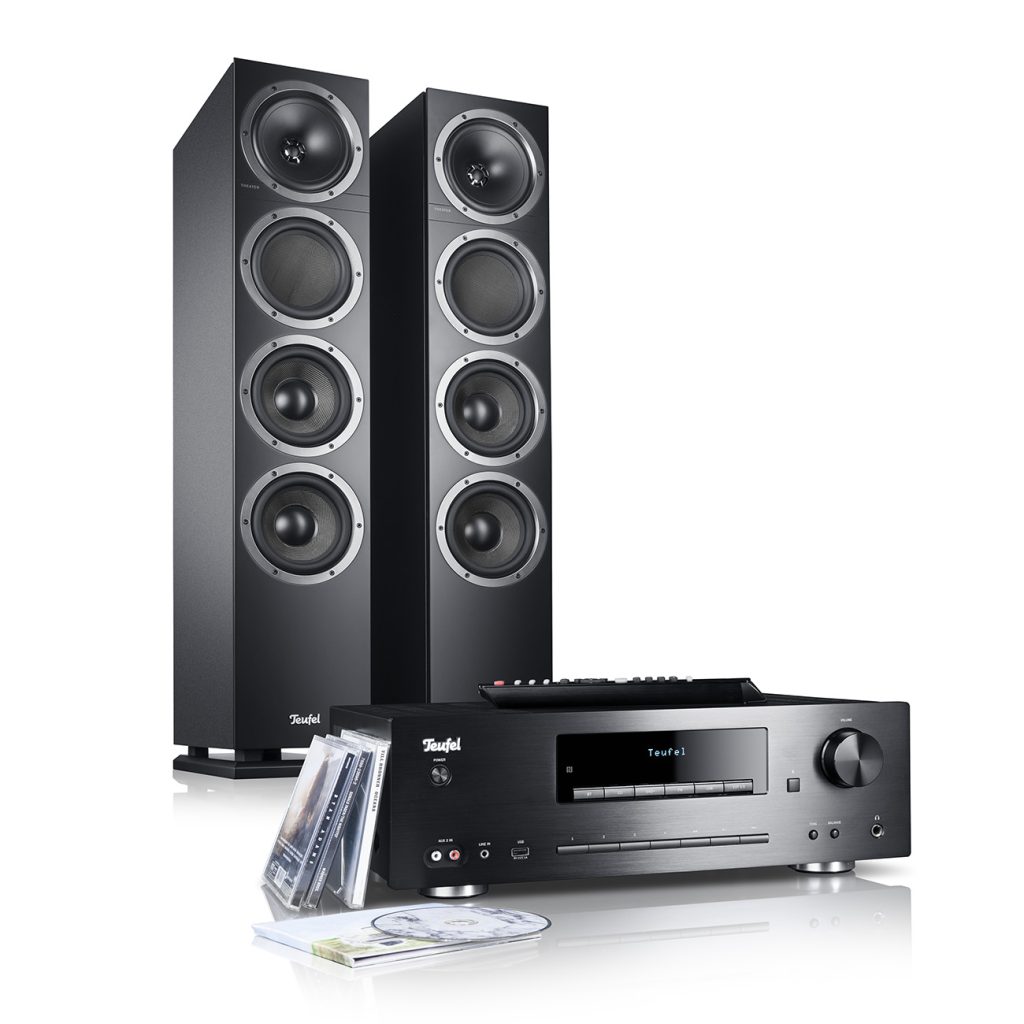 Are you a hard rock or heavy metal fan? Then you might want to consider a speaker system worthy of your music's powerful riffs, soaring vocals and relentless drumming. The Kombo 500 is just such a system. Two powerful stereo towers plus a CD/MP3/Bluetooth receiver transmit the full intensity of your favourite bands into your living room. The Theater 500's premium audio components reproduce music with incredible realism for a live concert feeling at home – pure adrenaline!
About ROCK HARD's Richter Scale
The Richter Scale is a monthly selection of 3 top newly released heavy metal albums selection by a team of eleven ROCK HARD experts. Each album is awarded a score from 1 (meh) to 10 (awesome). The three albums with the most points make to the list.
Product picture of the Kombo 500: Property of Teufel Audio
All other pictures: Published in cooperation with ROCK HARD