Compact in size, portable and full of sound: these are the main requirements for portable speakers. The miniature sound wonders manage to produce a powerful sound despite their small dimensions. But there are some differences in the world of portable speakers. From size to price to additional functions, you are spoilt for choice. We can help you find a portable speaker that really fits your needs.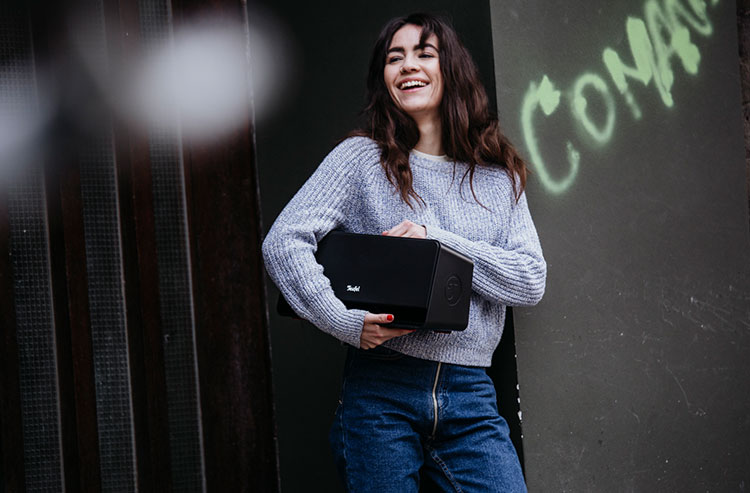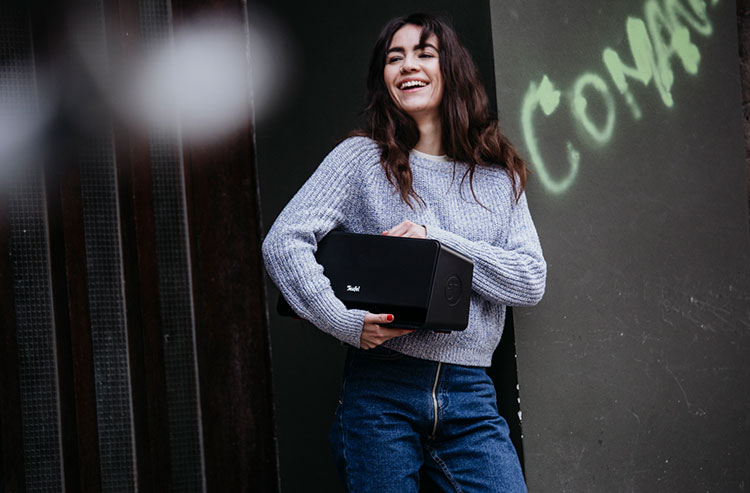 More than music: what portable speakers can do
Of course, speakers should sound as good as possible. But you have to differentiate what is good enough for your needs. Because despite high-quality materials and well thought-out workmanship, a smaller speaker body simply produces fewer booms than a large one. You can't expect a bass that you can feel in your bones from a mini speaker. For portable speakers, the focus is on flexibility. Many portable speakers offer more than a stable transmission of audio signals:
A long battery life guarantees constant availability even during long trips.
A small speaker can still create a party atmosphere with built-in coloured lights.
Some models can even act as a power bank for smartphones.
Robust speakers can withstand shocks, water splashes and dust.
Some speakers have an integrated radio and can also play music without a connected tablet or smartphone.
Connections
Portable speakers and Bluetooth are a dream team. You can connect your smartphone to your speaker with just a few clicks and get your favourite music playing just as quickly. There are no cables to chain the devices together, and always enough freedom of movement. Bluetooth is the standard for portable speakers.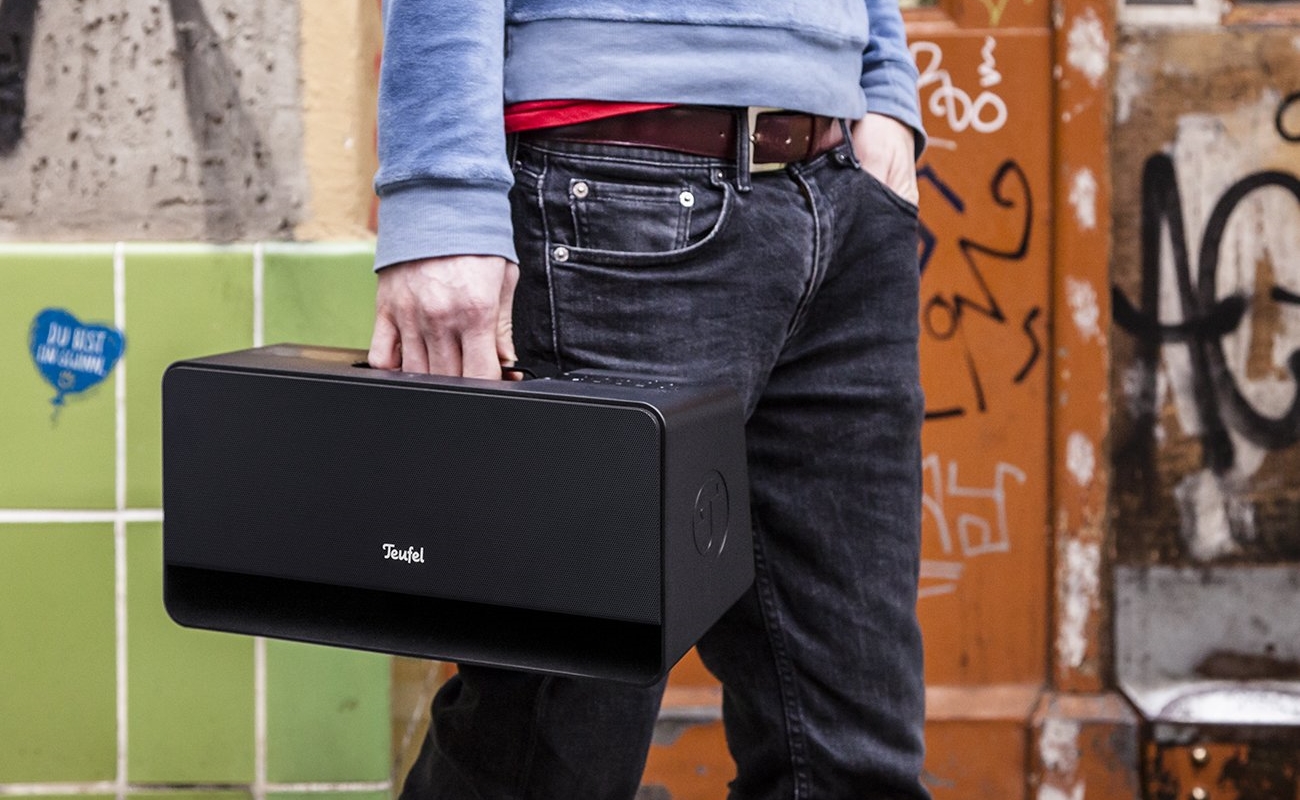 There are different generations of Bluetooth. The fourth generation is widespread and powerful. In combination with the aptX audio codec, which compresses the audio signals with low loss, Bluetooth 4.0 ensures the best sound in CD quality. The latest standard Bluetooth 5.0 makes no difference to audio devices and offers new possibilities for smart home and networking of many devices.
In order to be even more flexible, many mini speakers also have classic jack connections. With these you can connect it to different devices. Typically, portable speakers also have a USB port for charging the battery. Sometimes you can use it to connect a smartphone and charge it like a power bank.
Selection of portable speakers from Teufel
When less is more: what is the intended use?
Portable speakers can do a lot – the question is whether you really need all the functions. Sure, a built-in radio is great – but if you can't think of three radio stations right away because you never listen to the radio, you can save the money and do without this feature. If you want to carry the mini speaker around everywhere all the time, it should be as compact as possible. However, if you're a fan of a bit more volume at your barbecue party, the speaker should have a little more power.
So which is the right portable speaker for you? Take the test! With our quiz you can quickly find out which of our portable speakers suits you.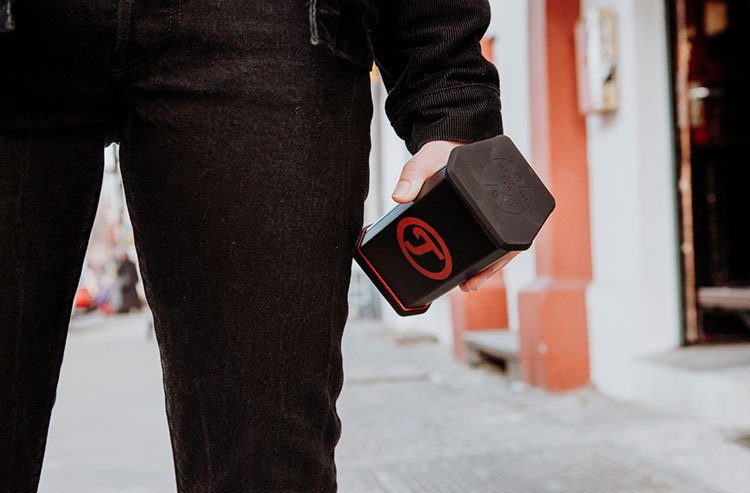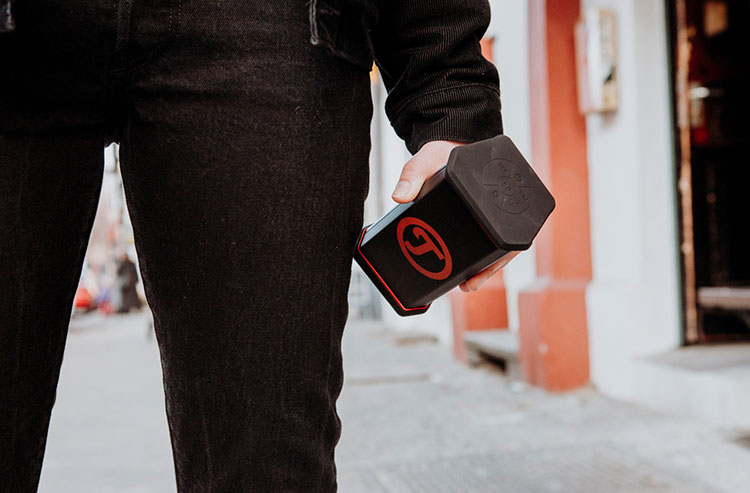 All-round talent: small but with a strong sound
Small portable speakers are simply practical: they don't take up much space, cost much less than a full-sized system, and you always have your music with you. Here are two of our smallest speakers that can easily fit into a backpack:
▶ BAMSTER: You want to listen to music – everywhere? The Bamster will be your constant companion in your own home. Whether washing dishes in the kitchen, in the study or tinkering at the workbench in the garage: simply take the Bamster with you. It is light, handy and always offers you the greatest musical enjoyment. And if you don't have a free hand, it also serves as a speakerphone.
▶ ROCKSTER XS: Despite its small dimensions, the XS sounds like a large speaker. You can take it with you in your backpack and show off in the park, by the lake, in the skate park and everywhere else. Whether standing up or lying down, the sound rocks. And because it is shockproof and water resistant, the Rockster XS is the ideal companion for any outdoor adventure.
Conclusion: Choose the portable speaker that suits your needs
You want to take your portable speaker with you anytime, anywhere? Think about getting one with smaller dimensions and a light weight.
You want to create a little private festival? Then the speaker body should be large enough and as robust as possible and protected against water and dust.
You always want to have your favourite music with you in your home and garden? You need a speaker that is easy to move, but doesn't necessarily have to be outdoor-ready. A built-in radio is also suitable for this purpose.
More mobile Bluetooth speakers – one size larger