Enjoying high-end stereo sound at home once meant purchasing a slew of expensive devices including amplifiers, CD or record players and – of course – stereo speakers and cabling them all together. The fully active Wi-Fi stereo speaker, the new Raumfeld Stereo M, represents a giant leap out of this quagmire of audio electronics. Obviously, the amplifier – all 350 watts of it – is integrated and endless streams of digital music can be accessed via Wi-Fi thanks to the system's high-end streaming components, but what about the sound?
A complete streaming loudspeaker combined with a 3-way system
As it turns out, the new Raumfeld Stereo M is no ordinary streaming speaker where the emphasis is all-too-often placed more on the "streaming" and less on the "peaker." A separate, long-throw driver is responsible for producing powerful bass playback whereas most streaming speakers offer only a midbass or broadband driver in a 2-way system for reproducing this important range. The Stereo M enclosure has also been optimized for bass playback thanks to Teufel's proprietary air stream bass technology. This means that no wind noise disrupts the playback even at high levels.
The upper ranges are produced by a dedicated midrange driver and tweeter in a coaxial arrangement which approximates a point source. This ensures an even dispersion of the sound. Instruments and voices are imbued with a vivid sound and are precisely positioned in the stereo image. The same technology is used in Teufel's popular Definion stereo speakers with outstanding results. Many reviewers have praised the even frequency response and clarity of the system.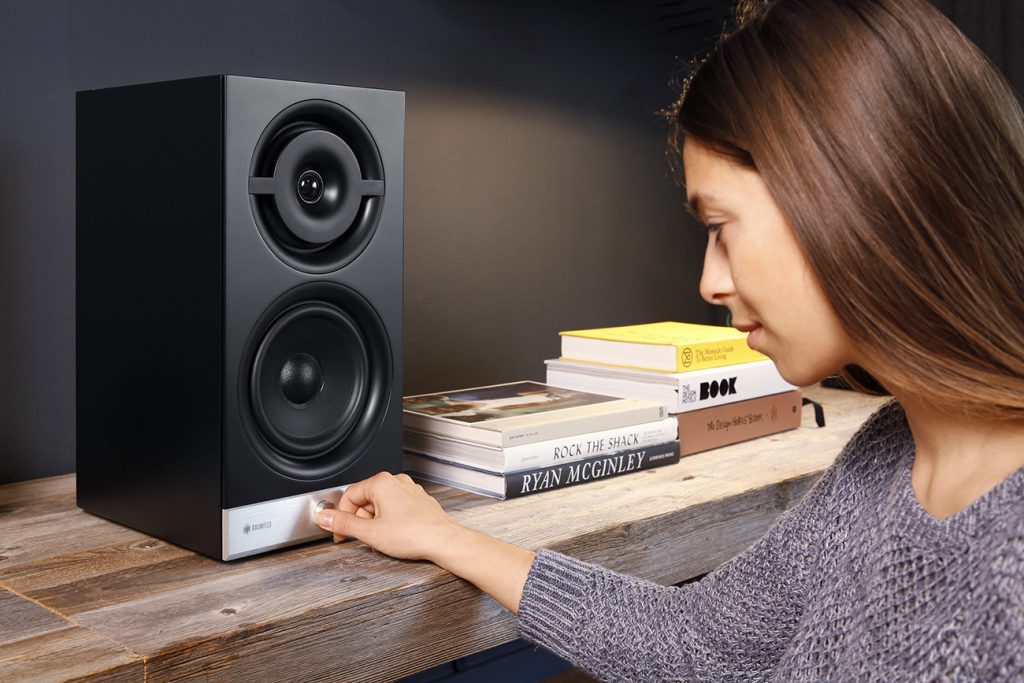 The Raumfeld Stereo M is controlled via free app
The free Raumfeld App for Android and iOS devices is much more than just an intuitive, easy-to-use control system. The app is your Raumfeld device's central nervous system. With it, you can access multiple streaming services and switch between them and Internet radio or your own private music collection at the flick of a finger. You can even create your own playlists. An equalizer function allows you to adjust the treble, midrange and bass. If you have more than one Raumfeld device, you can set different listening zones throughout your home and enjoy full functionality – song selection, EQ and volume control – in all zones. With the app, it's no problem to blast the same song on the Stereo M in your living room and the One S in your kitchen – utterly synchronously. Different music selections can also, of course, be selected for different listening zones.
The Stereo M Wi-Fi bookshelf speakers at a glance:
Authentic 3-way system produces natural playback across the entire frequency range
350 watts makes the Stereo M a match for most tower speakers
Large cabinets ensure deep, rich bass
Preset buttons allow instant access to your favourite streams
The Stereo M can be placed on a shelf or speaker stands
All pictures property of Teufel Audio