Many fans of Teufel's Raumfeld line of Wi-Fi speakers have asked us to integrate the streaming service Apple Music. We try our best to implement all customer wishes, even if some take a bit longer to integrate. At the present time, we're waiting for the essential interface (API) from Apple so that we can make this service part of Raumfeld's already extensive music offering.
Even though Apple Music is not integrated into Raumfeld at the present time, there's a reliable way to create a bridge between Apple Music and Raumfeld technologies.  All that's required is an AirPort Express. This clever little gadget receives tracks from Apple Music or iTunes and feeds them to the Raumfeld system via line-in, effectively transforming your Raumfeld device into an AirPlay speaker.
Not only will the Raumfeld device connected to the AirPort Express be able to access Apple Music, the signal received can be restreamed to all Raumfeld speakers in your home network. This means you'll only require a single AirPort Express to enjoy multi-room streaming with Apple Music or iTunes. The AirPort Express also makes it possible to control your Apple Music and iTunes streams from a laptop or desktop computer.
Enjoy Apple Music on Raumfeld via an AirPort Express
A: Connect the audio-out of the AirPort Express to the line-in of a Raumfeld speaker*
B. Play the music of your choice from Apple Music/ iTunes wirelessly via the AirPort Express by tapping on the AirPlay symbol and selecting the AirPort Express as the sink device.
C. If no other stream is playing, your music selection will immediately commence from the speaker attached to the AirPort Expressed.
D: The audio signal can be sent from the Raumfeld speaker with attached AirPort Express to all other Raumfeld devices in the home Wi-Fi network.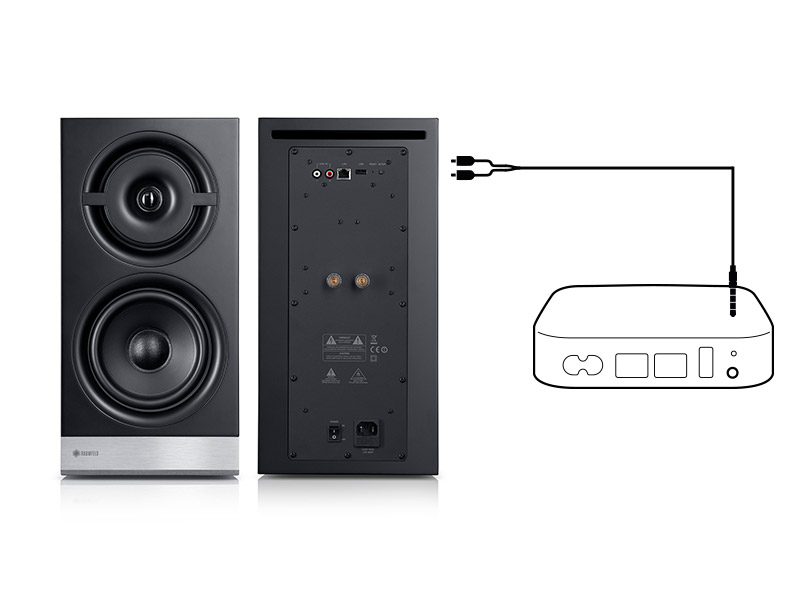 What does Apple Music cost?
Apple Music currently charges € 9.99 per month for its streaming service — a pretty standard rate. Family memberships are also available for € 14.99 per month. Contrary to what some people believe, Apple Music can be used on Windows PCs and Android smartphones.
The streaming service Spotify, which now also owns SoundCloud, offers an alternative to Apple Music with a nearly identical music library and features. Those looking for a cheaper alternative to either Spotify or Apple Music can take a closer look at Napster.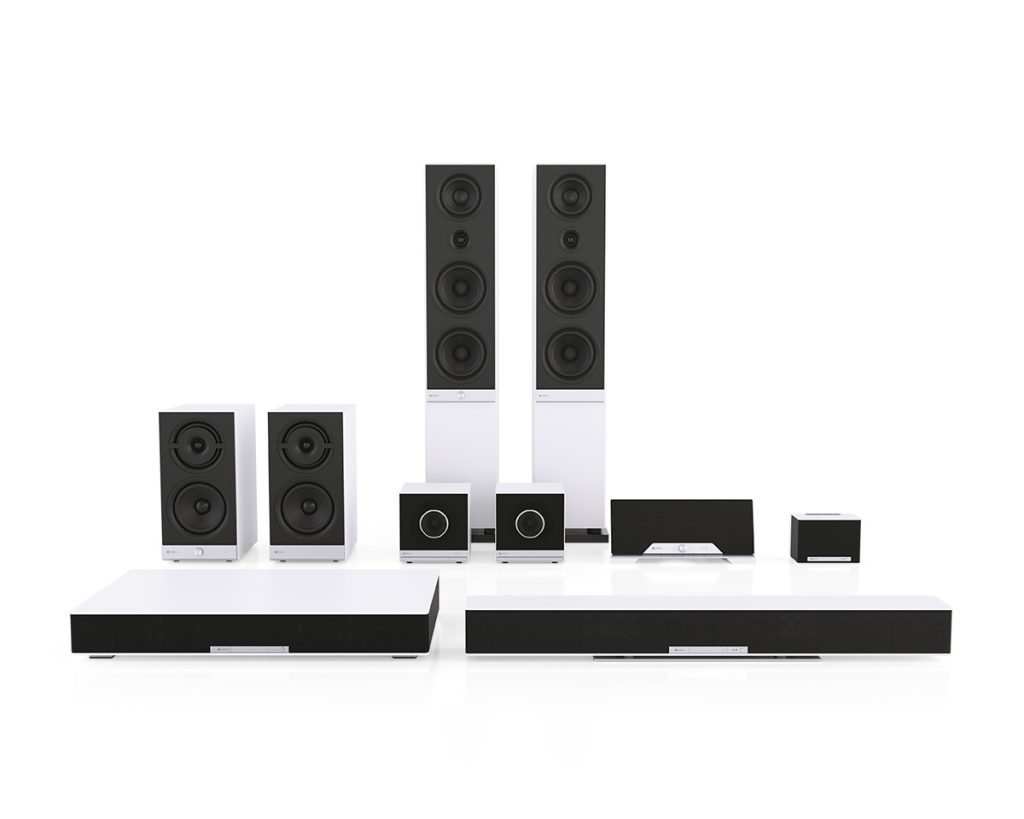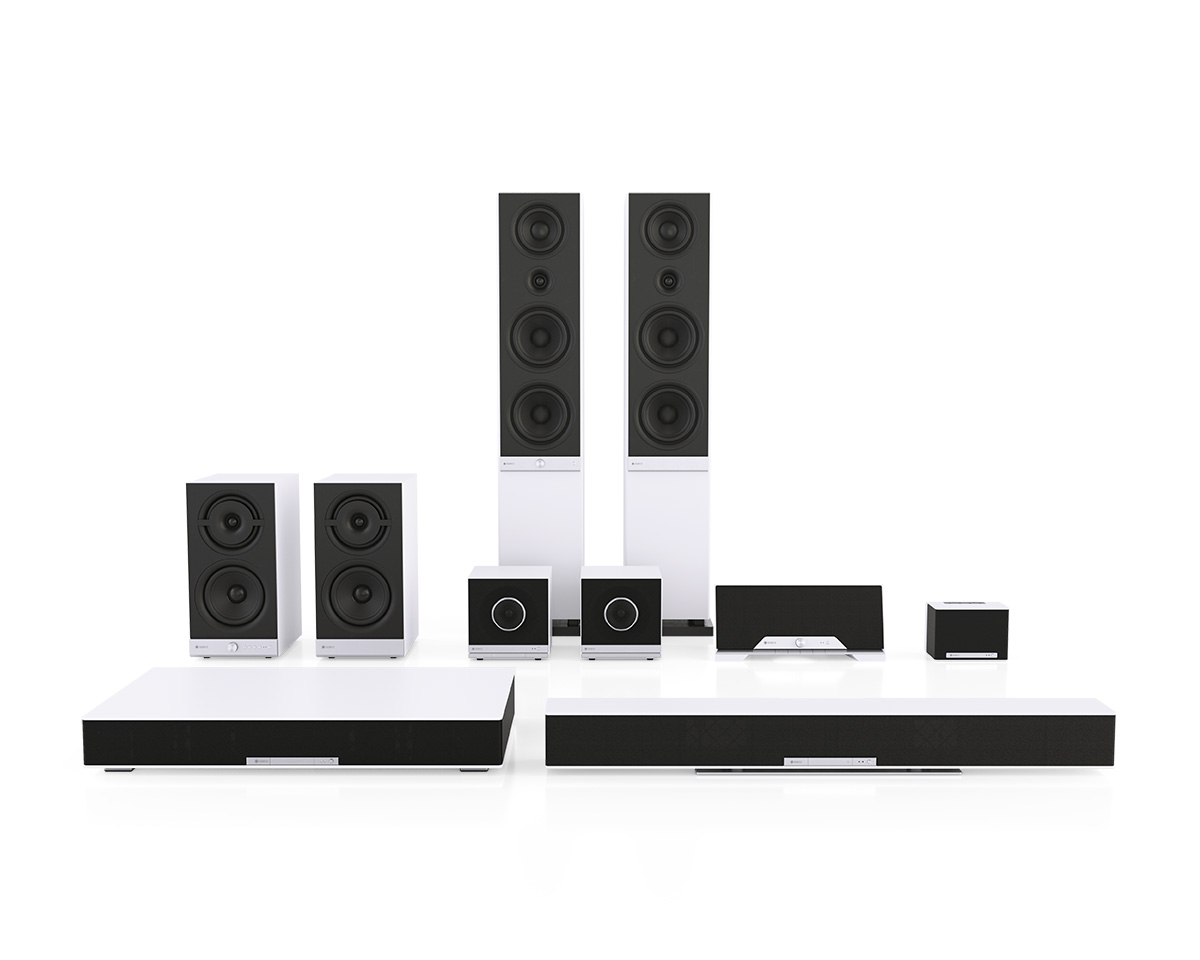 The Raumfeld streaming world: Flexible, customizable
The Raumfeld streaming system was designed to offer users maximum flexibility in terms of audio content. In addition to personal libraries made available on home networks (stored on external hard drives, NAS servers, etc.), users can access millions of songs from the cloud via music services directly integrated into the app as well as Spotify. A recent Chromecast built-in integration makes it possible to stream from over 200 Chromecast-enabled apps.
In addition, simply connecting an AirPort Express to a line-in on a single speaker gives a whole Raumfeld system access to iTunes and Apple Music. Note that it's possible to connect an Amazon Echo Dot in the same way.
Ready to experience the future of music listening? Then check out the Raumfeld product overview!
*Applies to all Raumfeld products with the exception of the One S.

Title: Property of Teufel Audio
Picture #1: By Fletcher6 (Own work) [CC BY-SA 3.0 (http://creativecommons.org/licenses/by-sa/3.0)], via Wikimedia Commons
Pictures #2 & #3: Property of Teufel Audio