The next stage of development for the wired transmission standard HDMI, or High Definition Multimedia Interface, is upon us. The HDMI Forum announced a new HDMI standard in the second quarter of 2017. Known as HDMI 2.1, it promises better High Dynamic Range (HDR) transmission, 8 K resolution and higher refresh rates by increasing the cable's bandwidth from HDMI 2.0's 18 Gbps up to 48 Gbps.
Resolution is just part of the picture
In the recent past, the emphasis in regards to improved picture quality has been on increasing the number of pixels. Ultra HD resolution content, defined as a horizontal screen resolution of  4,000 pixels or above, delivers more detail and all around better resolution. Sometime simply referred to as 4K, Ultra HD content is already supported by the current HDMI standard, HDMI 2.0.
While 8K resolution screens are in the works, many people wonder whether this will really be a sea change in picture quality. The problem is that, at some point, our own physical hardware – our eyes – reaches a limit. We become incapable of noticing better resolution.
Since pixel counts are reaching a point of diminishing returns in terms of quantity, many technology manufacturers have turned their attention to the quality of the pixels themselves, that is to say on brightness and contrast. The result has been HDR content and televisions. HDR is a technology capable of making the colours and, above all, the contrast in everything from flickering fire light and blue sky so much more realistic than the Standard Dynamic Range technology (SDR) we have been using.  It is in this area of HDR technology that the latest HDMI standard 2.0 is in need of an upgrade.
HDMI 2.1 to support HDR
The transmission of HDR content is challenging. For one, it needs to accommodate for multiple HDR standards, the most popular being HDR-10 and Dolby Vision. This means that the information delivered to the television and the televisions themselves employ different technologies with different maximum levels of peak brightness and black level. The open HDR standard HDR-10 supports up to 4,000 nits peak brightness whereas Dolby's proprietary Dolby Vision supports up to 10,000 nits. Dolby also has the edge when it comes to colours, supporting 12-bit colour in contrast to HDR-10's 10-bit. But don't worry, these "mere" 10-bits refers to an ability to render over a billion distinct colours for incredible picture quality.
The two standards also differ in the way they transmit metadata, or the data that tells the other data what to do. HDR-10 uses static metadata meaning that the entirety of the HDR video metadata is transmitted onto the TV at once. In contrast, Dolby Vison employs dynamic metadata. This makes it possible to continuously readjust colour and brightness levels throughout the movie and can make a difference in a films that feature dramatic scene changes. Whereas the current HDMI standard supported static HDR metadata, HDMI 2.1 will support dynamic metadata as well. This is good news as all forms of HDR content become more readily available. Amazon Video, for instance, announced support for Dolby Vision last year.
Ultra HD 8K, better frame refresh rates
The higher bandwidth of HDMI 2.1 not only prepares it for technologies that have already arrived, like HDR, it makes the new standard ready for future technologies like 8K television. 8K offers 4 X's the pixels as 4K picture quality. Given that 4K is already defined as "Ultra HD" many wonder what to call 8K. One solution is to simply differentiate between "Ultra HD 4K" and "Ultra HD 8K". Ultra HD 8K televisions are expected to be available for sale in 2018.
HDMI 2.1 also supports something called Game Mode VRR for PCs, televisions and game consoles. The VRR stands for Variable Refresh Rate, a technology that allows graphics processors to close the gap between when an image is rendered and when it is displayed on the screen. The result is a more fluid and realistic gaming experience. The standard also supports generally higher refresh rates of 8K 60Hz and 4K 120 Hz. HDMI 2.0 offered a maximum refresh rate of 60 Hz.
HDMI 2.1 is backwards compatible
HDMI 2.1 cables are designed to work with older HMDI devices, even though all the new technologies this new transmission standards make possible may not work.
Coda: HDMI 2.1 is the latest transmission standard for cutting-edge picture quality
•    The HDMI Forum announced the introduction of an improved HDMI transmission standard for Q2 2017
•    The new standard will support the transmission of dynamic metadata with Dolby Vision HDR technology
•    HDMI 2.1 will also support Ultra HD 8K, a technology set to be available in 2018
•    Game Mode VRR for more fluid picture quality with gaming is also supported by HDMI 2.1
•    HDMI 2.1 is backwards compatible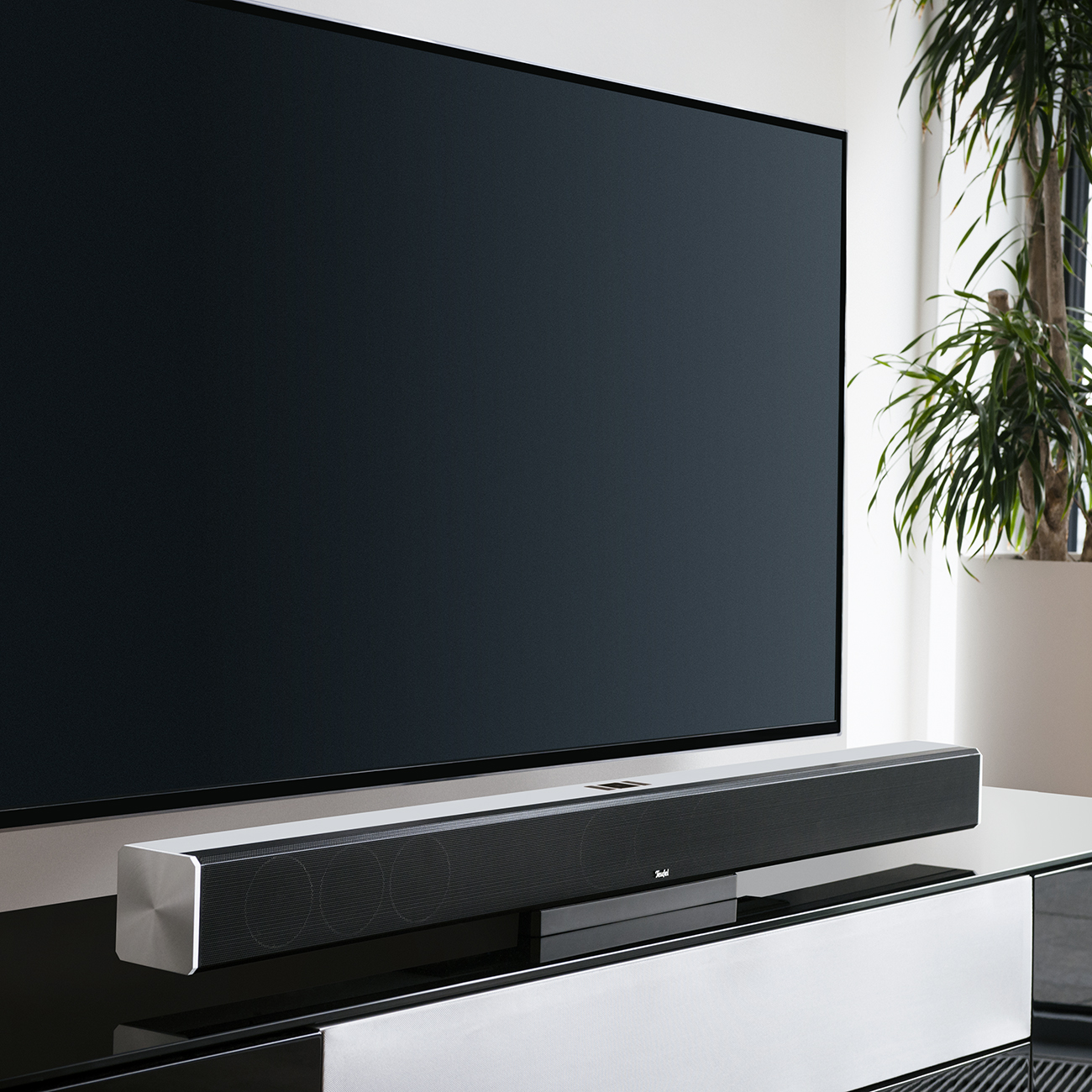 Sound tips for enjoying high definition sound with HDR and Ultra HD picture quality:
•    ➥ Cinebar 11: The slender soundbar with external wireless subwoofer creates a fine resolution and powerful soundstage. The soundbar comes equipped with Dolby Digital, DTS and Virtual Surround Sound for a thrilling home cinema experience.
•    ➥ Cinebar 52 THX: This THX certified soundbar with external subwoofer delivers linear playback across the frequency spectrum without distortion. The mighty soundbar can fill even larger rooms with thrilling surround sound..
•    ➥ Cinebar Trios: A soundbar that contains two front channels and centre. Dynamore Technology ensures an especially broad soundstage.
Title picture: http://strange-lands.com [CC BY-SA 2.0 (http://creativecommons.org/licenses/by-sa/2.0)], via Wikimedia Commons