Wi-Fi speakers and streaming are designed to make audio listening much easier and more convenient. But what exactly do you need to transfer music wirelessly to Wi-Fi speakers? What about the amplifier? Do you need to have a home network? Which music and streaming sources are available for Wi-Fi speakers? Can older speakers be integrated into your new streaming system? We have the answers.
A powerful home network – the infrastructure for Wi-Fi speakers
The basic requirement for Wi-Fi speakers is that a Wi-Fi network is available. As a rule, a conventional Wi-Fi router is sufficient for this. It is important that the signal strength at the location of the speakers is good. If this is not the case, the audio stream might cut out. With streaming systems that are spread out over several floors and across many players, you should also keep an eye on the available bandwidth and the supported Wi-Fi standard.
Because lossless data formats such as FLAC or simultaneous multi-room streaming are dependent on high transmission rates due to the larger data volume. In such cases, both the wireless speakers and the router should support one of the newer wireless standards: 802.11 n or ac.
Most Wi-Fi speakers do not require an external amplifier or A/V receiver. They are usually designed as active loudspeakers. This means that the amplifier and the D/A converter are integrated in the speaker.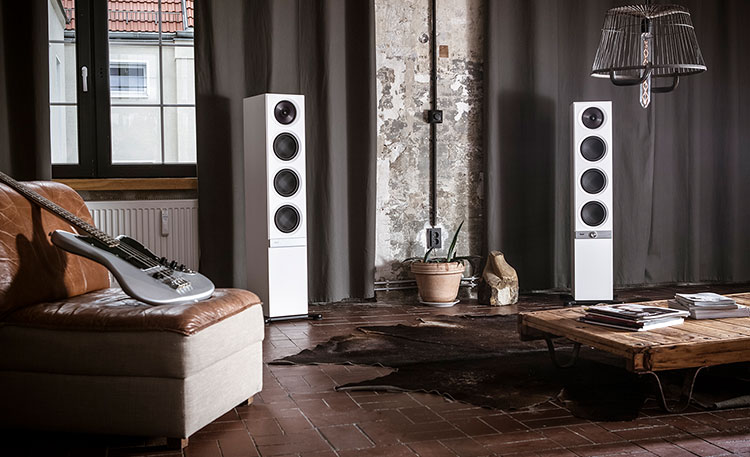 Wi-Fi speaker controls and music sources
If you have Wi-Fi speakers and a wireless home network, you can already begin setup and configuration of the streaming system. You can easily install our Teufel Streaming systems with the setup wizard, which is provided as a step-by-step guide via the Teufel Raumfeld app.
Teufel Streaming automatically detects music that has been shared on the network or stored on a USB stick connected to Teufel Streaming. In addition, the music stored directly on your smart device with the "Music sharing" option on the app can also be played via Teufel Streaming. Of course, you can also access play music from popular streaming services such as Spotify, Napster, SoundCloud or TIDAL with Teufel Streaming devices.
Play music from CD or vinyl on Teufel Streaming
As a special feature, you can also connect your streaming device to an existing player such as a CD- or record player.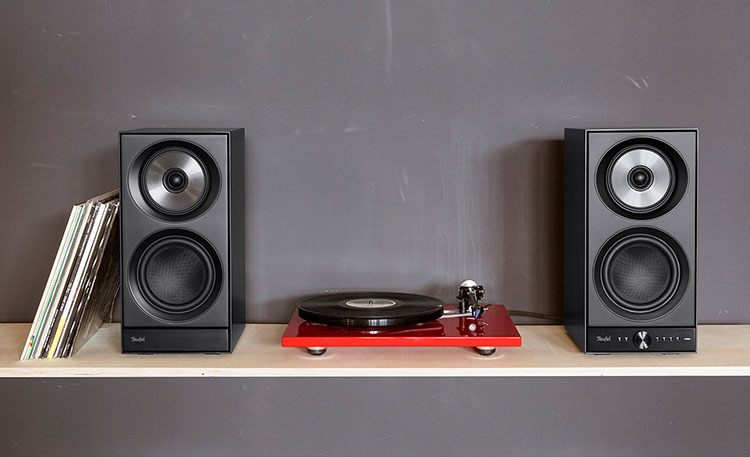 Update your current system – streaming extras for Wi-Fi speakers
▶ Expand: When the router reaches its limits, the Expand can help. Simply connect it to the router via a LAN cable to improve performance. You can set up a digital streaming library with up to 200,000 songs on the Expand.
▶ Connector: Your favourite old system consisting of amplifier and passive loudspeaker doesn't have to stay offline anymore. The Connector connects them to the online world thanks to a powerful D/A converter and Wi-Fi module. The connector is connected via RCA or optical cable.
Which Wi-Fi speaker is right for you?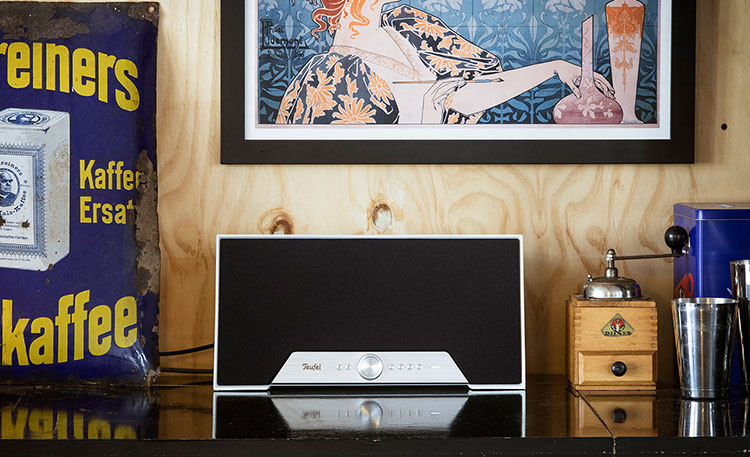 From portable mini speakers to floor-standing speakers with 3-way systems: Teufel Streaming offers Wi-Fi loudspeakers to suit all your listening needs.
▶ Teufel One M: The One M doesn't just sound good, it looks good too. With its compact size, matte finish and minimalist design, it cuts a good figure on any shelf. An integrated stereo system with Dynamore sound distribution and front-firing subwoofer provides top-quality sound reinforcement. Like all Teufel Streaming Wi-Fi speakers, the One M is compatible with both iOS and Android devices and also has inputs for RCA and USB.
▶ Teufel One S:  A very compact streaming speaker for streaming via Wi-Fi and Bluetooth. Produces an astonishingly powerful sound from such a compact package.
▶ Teufel Stereo L: 400-Watt power output, tweeter, mid-range and bass driver, Class-D amplifier – sounds like a high-end system? That's the Stereo L, only with the advantage that you don't need an external amplifier. Everything you need for Hi-Fi enjoyment is already housed in these floor-standing speakers.
▶ Teufel Sounddeck Streaming: Six high-quality speakers and a powerful 280-Watt amplifier are integrated into the wooden housing of the Wi-Fi sounddeck. The sounddeck can be optionally connected to your smartphone to use streaming services and other audio sources. Audio signals from the TV set are fed in via HDMI.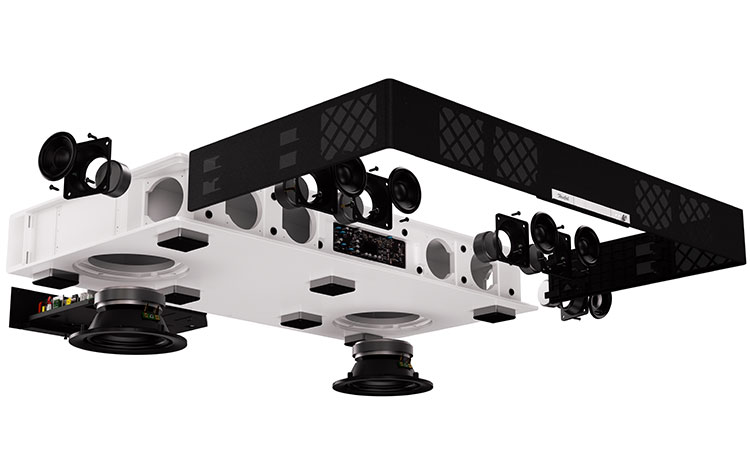 Discover Teufel Streaming systems:
Conclusion: Audio streaming with no compromise on sound quality
A wireless home network with a strong signal is required to operate Wi-Fi speakers.
The connection and the audio stream between speakers and home network are controlled by streaming software.
Wi-Fi speakers are available in many forms, from mini speakers to sounddecks for the TV.
Further reading
Thinking of investing in a wireless streaming device? Check out Airtame's one-stop handy guide for what you should consider before buying, from the intended use to price point to how to install. Enjoy a clutter-free, cable-free environment at home or at work!