We have recently been exhibiting a very special guitar in the basement of our Berlin flagship store, and it has already caught the attention of many visitors with its unique design. As it goes, the custom guitar, named Lucifer, is one of the many creations of the Berlin punk rocker and artist Alex Molter. We met Alex to learn more about the man with the rock and roll riches.
A multi-talent with a penchant for rock music
As we learned in the interview, Alex is a creative multi-talent with a penchant for rock music. His increasingly popular label ROXXTA.com will even have its own exhibition space at the 30th edition of the Wacken Open Air cult festival in 2019. Rock stars like Rob Halford (Judas Priest) have posted selfies with Alex's art on Instagram. And some VIPs have already taken a seat on his Throne of Rock.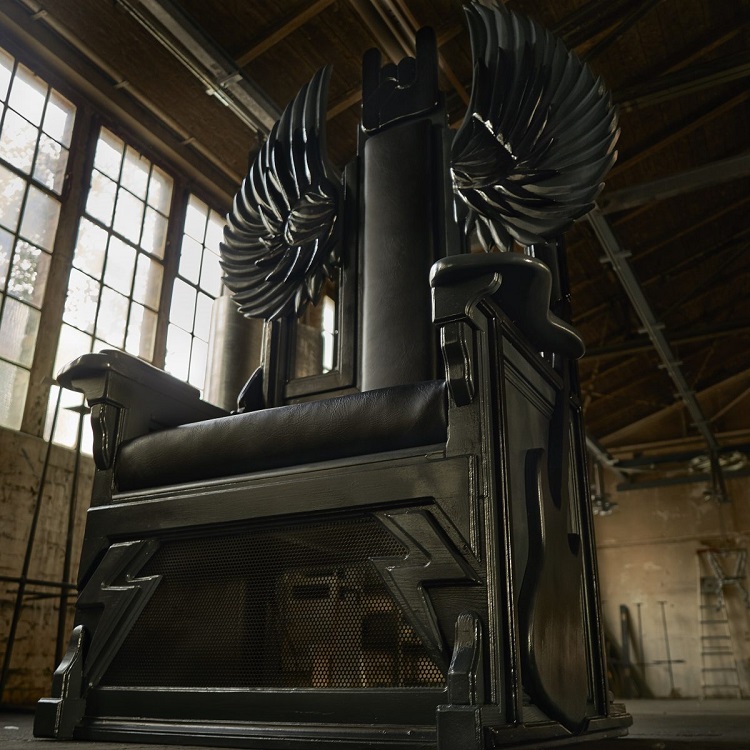 The interview with Alex – works of art with a rocker attitude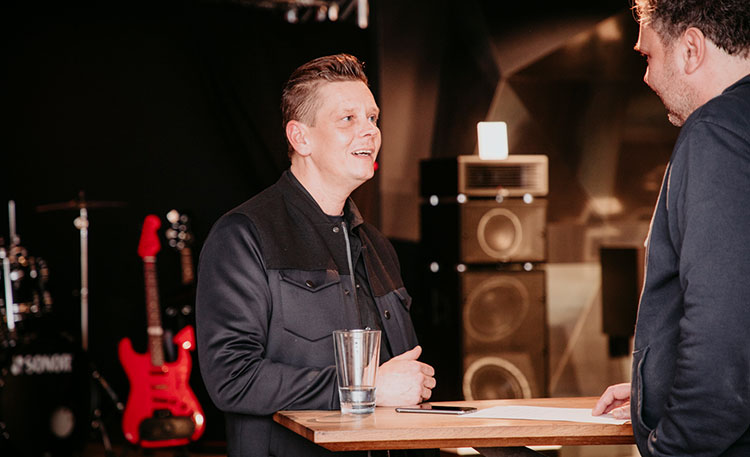 Blog editor : Alex, thanks for stopping by. Let's get right into it. So, on your site roxxta.com you can see an overview of your creative projects, like the Throne of Rock, the Full Metal Cruise Anchor and of course your custom guitars. How did you come up with the idea to create these works of art?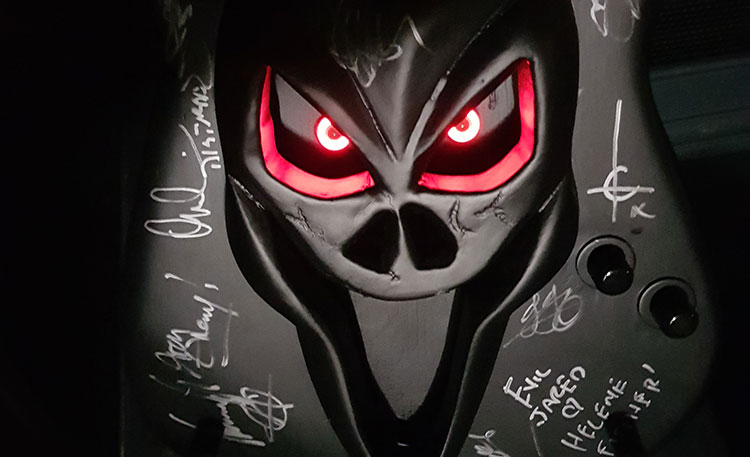 Alex: Well, it all started ten years ago with the REAL Lucifer guitar. That's when my punk band Lautstark! made the song Luzifer. I had the idea to make a guitar that matched the song. I wanted to create a specially designed guitar and connect it to a sound system.
Ed: How did the joint project with Teufel come about?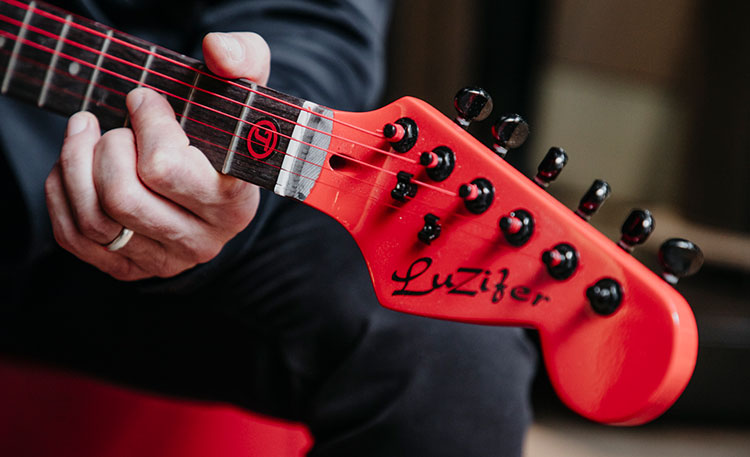 Alex: I came to the Teufel store with my first guitar and asked if there would be any interest in me creating a show guitar in a Teufel design and integrate a Bluetooth speaker. Since the team immediately thought it was a cool idea, I started working on it. The Bamster Pro fits perfectly which was of course perfect.
There's no question about it, as a Berliner you just know Teufel.
Ed: How did you actually find out about Teufel?
Alex: There's no question about it, as a Berliner you just know Teufel.
Ed: Alongside your art project, you are also a member of the Reinickendorf punkband, Lautstark! Tell us a little about the band.
Alex: There are five of us in the band. We play according to the motto: "We can't do much, so we'll do punk rock." (laughs) I'm a singer and guitarist. Lautstark! is above all a fun project, but it is also my music.
Ed: Where can fans see you play live?
Alex:  We only do a few gigs – for us it's really above all about having fun, and other projects are also important. But we do have one date for next year already, we will be playing in Hafenbar in Tegel on the 6th April together with a band from Düsseldorf.
Ed: …Die Toten Hosen perhaps?
Alex: (laughs) Not quite, but almost. Maybe even cooler, namely DIE OCHMONEKS. By the way, it's the night before Hertha plays Düsseldorf.
Ed: Good to know. You have announced the release of your So ist Leben on your band page, right?
Alex:  Yes, the album is out now and you can stream it on SoundCloud. It will also be out on vinyl very soon.
It was awesome, I knew that I had to go back
Ed: Alex, what's your connection to WACKEN OPEN AIR?
Alex: I sent a picture of the Throne of Rock to Holger Hüber, the founder of Wacken, and he responded immediately and wanted to use it for Judas Priest's backstage area at Wacken 2018. Of course I said yes. We were able to exhibit even more, a total of 10 exhibits. It was my first Wacken, it was awesome and I knew I wanted to go there again.
By the way, Rob Halford (singer of Judas Priest) sat on the throne. He even posted a picture of it on his birthday. Of course it's fun when you see that your designs have been so well received.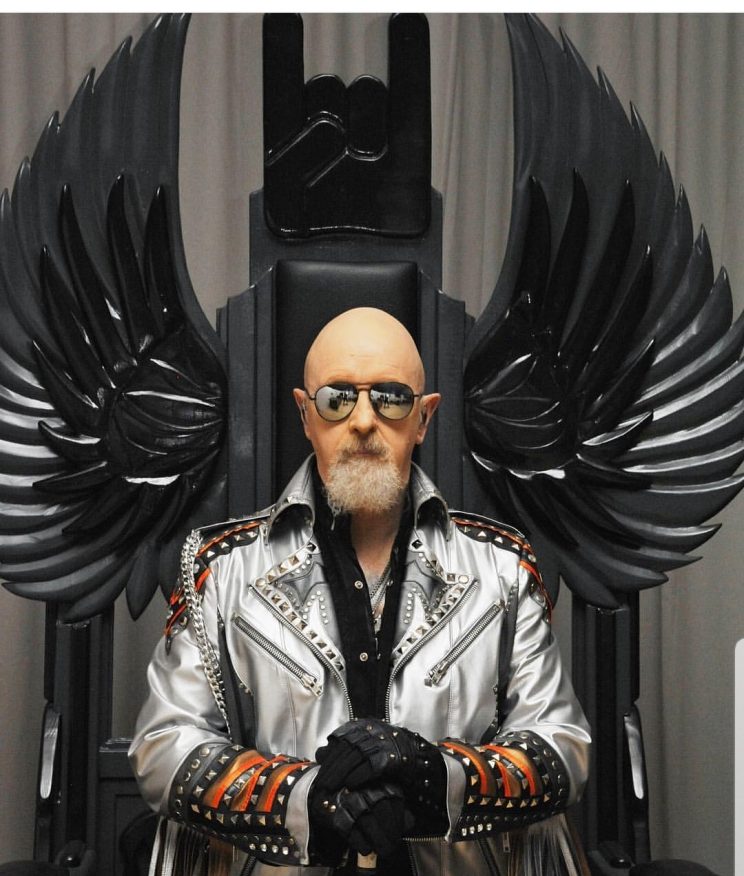 Ed: Which music do you like to listen to yourself?
Alex: Everything from punk to rock, and a lot of really old punk rock.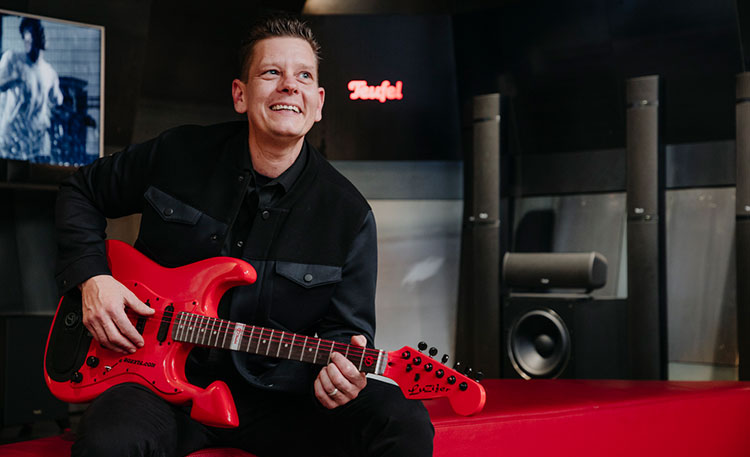 CHILL ART AREA
Ed: Alex, what are your plans for the future?
Alex:  The next projects in the pipeline are the album, the Hafenbar gig, and then Wacken 2019. I'm planning to create a CHILL ART AREA there with rock art walls, seating, tables, the throne and several other artworks. I'll probably be at another two festivals. Organising all this on my own requires a lot of effort. And it also takes time of course to create the artworks, until everything is as I imagined it to be.
Ed: You can tell that you're versatile and full of ideas. We are already looking forward to seeing your next creations. Thanks for your time and the interview.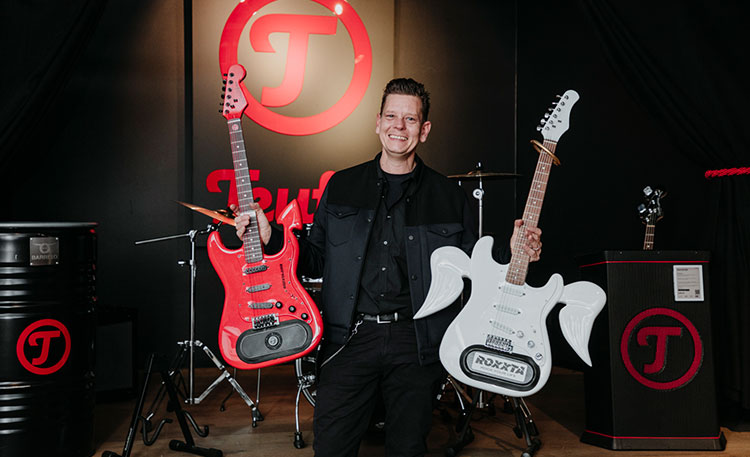 Experience great sound and a rock aesthetic
The Lucifer guitar is now permanently on display and can be admired during normal opening hours in the Teufel flagship store.