Whoever remembers the first Bluetooth headsets from a few years back knows that the sound produced is best described as serviceable. Sure, it was possible to understand the person on the other end of a phone call without any problem, but listening to music was no pleasure. The sound was indistinct and full of noise added to it by the need to radically compress files. The bandwidth was simply not sufficient to transfer the large file sizes needed to create a realistic sound.
This changed in 2009 with the introduction of Bluetooth 3.0 which had data speeds of up to 24Mbps compared to Bluetooth 1.0's measly 700Kbps. Suddenly, high data transfer rates became possible. With the advent of Bluetooth 4.0, Bluetooth was able to use even less energy. This opened the door to the creation of wireless portable devices that sounded great and didn't need to be charged every 2 hours. As if this wasn't enough, a codec that enables CD-quality audio transmission began to gain in popularity in both Bluetooth senders like smartphones and receivers like Bluetooth headphones and speakers. Added together, Bluetooth 4.0 and the aptX codec completely transformed what this low-energy, limited bandwidth wireless technology was able to do. Enter high-end Bluetooth headphones. Enter the AIRY.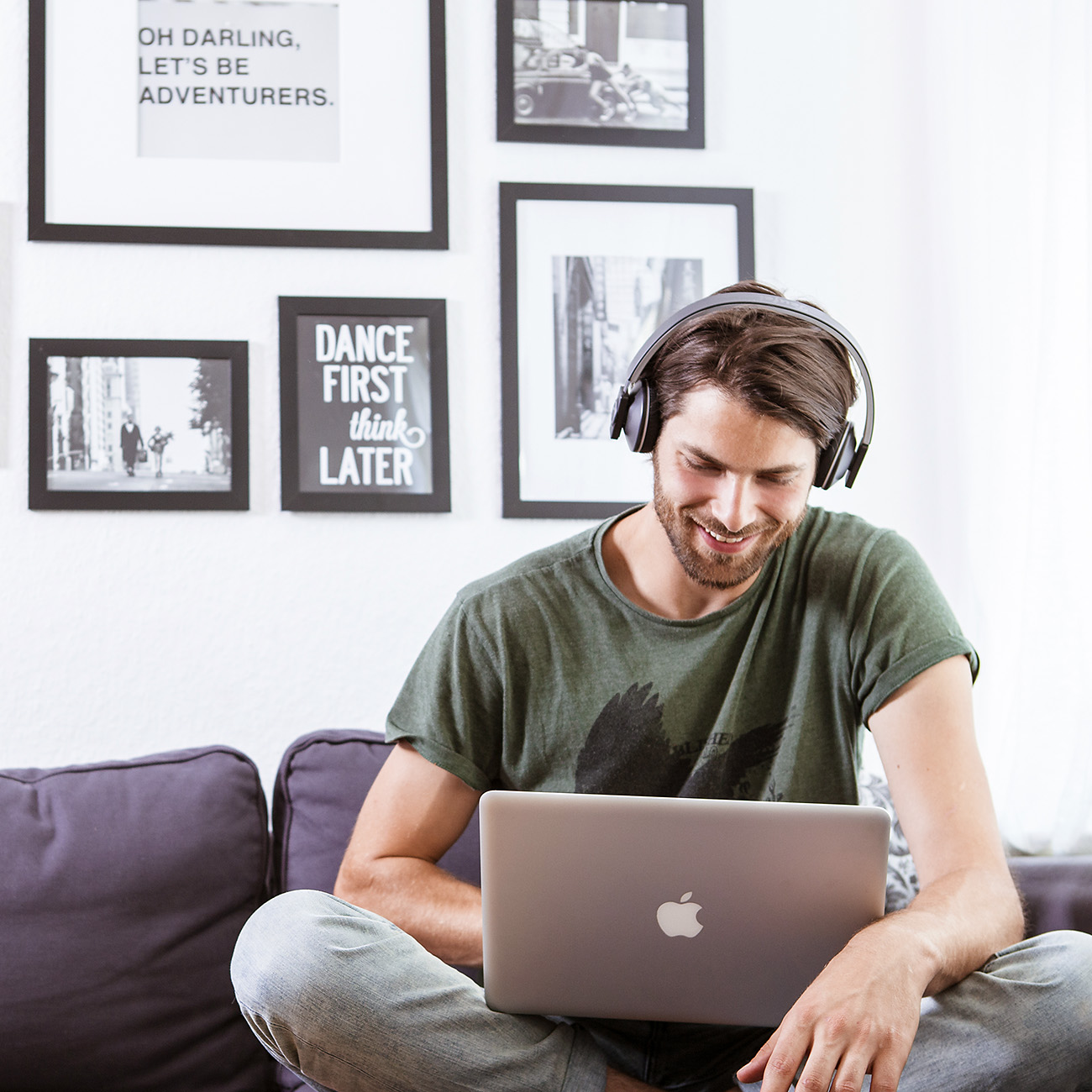 When our audio engineers set about creating our first-ever Bluetooth headphones, one thing was clear: The liberating effect of wireless audio had to be expressed in every aspect of the design. The headphones needed to be lightweight, packed with convenient features, incredibly stylish and still deliver the sound that people have come to expect from Teufel: Powerful, with great bass depth and a transparent treble range.
Easy Bluetooth pairing and NFC
The wireless functionality of the AIRY couldn't be easier to establish. Simply activate the Bluetooth function on your source device. Depending on the manufacturer, the AIRY will be displayed as an option and must simply be selected or a search for new devices will have to be initiated. Once the two devices recognize each other, they begin a short pairing process. After this, an audio signal can be sent from one to the other in high-end sound quality. This initial pairing process is incredibly quick and only needs to be done one time. All future playback will thereafter begin automatically as long as Bluetooth is activated on both devices and both devices are on.
As quick and easy as the normal Bluetooth pairing procedure is, NFC technology makes it even easier and faster. NFC stands for Near Field Communication, a radio standard that allows two devices to communicate with each other without the user having to select any options or define any settings. All that is required is for the two devices to be briefly brought into close proximity with each other.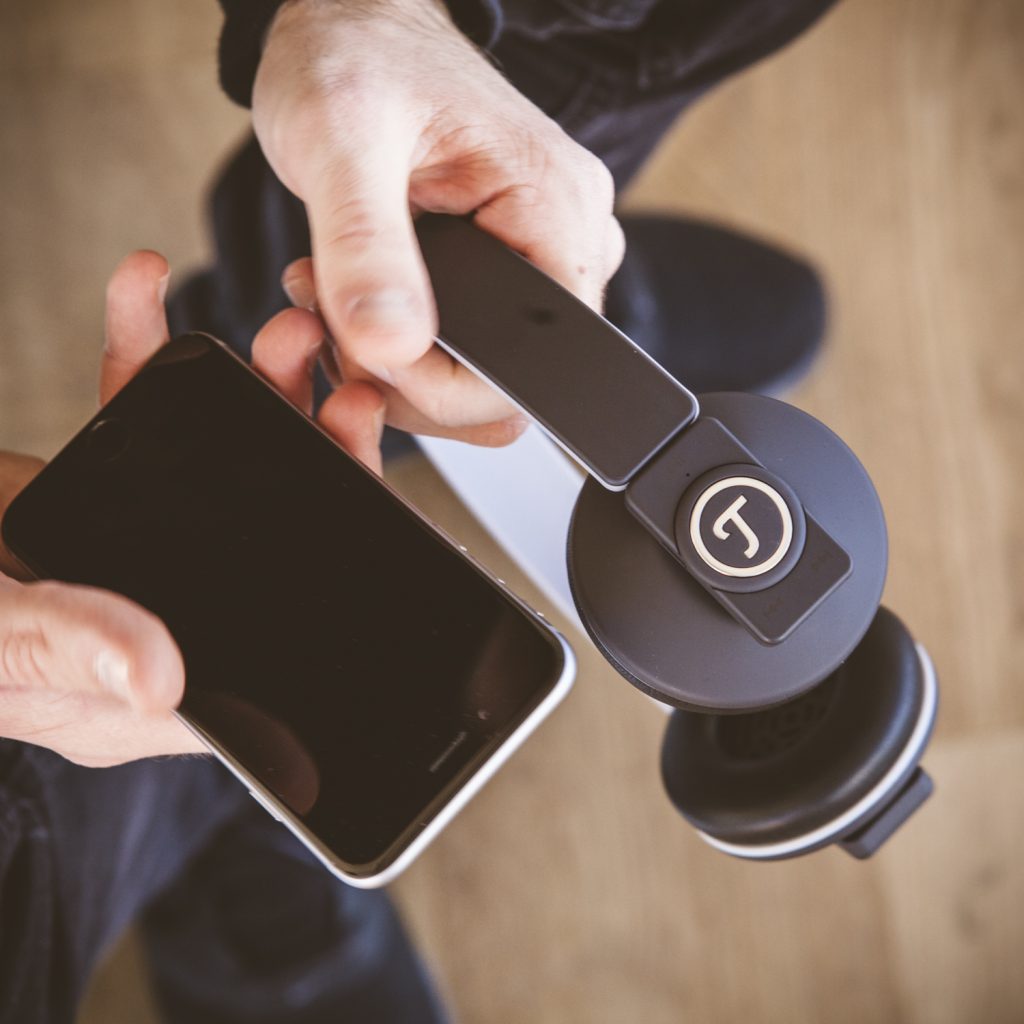 The sound
Bluetooth 4.0 and an aptX codec aren't enough produce a good sound on their own. They transmit the audio signal as transparently as possible without a cable connection, but for really good sound quality, the headphones need to be equipped with high-end driver technology. Naturally, this is where Teufel excels. The AIRY combines the linear frequency range of Teufel's popular Aureol Real headphones with the deep and wonderfully textured bass of the Teufel Massive. Powerful neodymium HD drivers produce a linear frequency response and a low impedance (32 ohms) with a sensitivity of 104 +- 3 dB @ 1 kHz, 1 mW makes the AIRY capable of high volumes without breaking a sweat.
Bluetooth headphones with well-thought-out features
The Teufel AIRY sports a comprehensive feature set that perfectly underscores the headphone's light feel and liberating wireless playback. A control is built into the headphones themselves so that you don't need to have the source device in hand to control your music. A practical regulator adorned with a discreet Teufel "T" allows the user to easily control volume levels. Directly beneath it are two buttons that allow you to jump to the previous or next track. Above the volume regulator is a button that allows the user to switch between play and pause. A blue LED light indicates whether the device is connected via Bluetooth. It should be noted that a 3.5 mm stereo cable included with delivery can be used with the AIRY even if the battery is empty, transforming it into a pair of standard on-ear hi-fi headphones.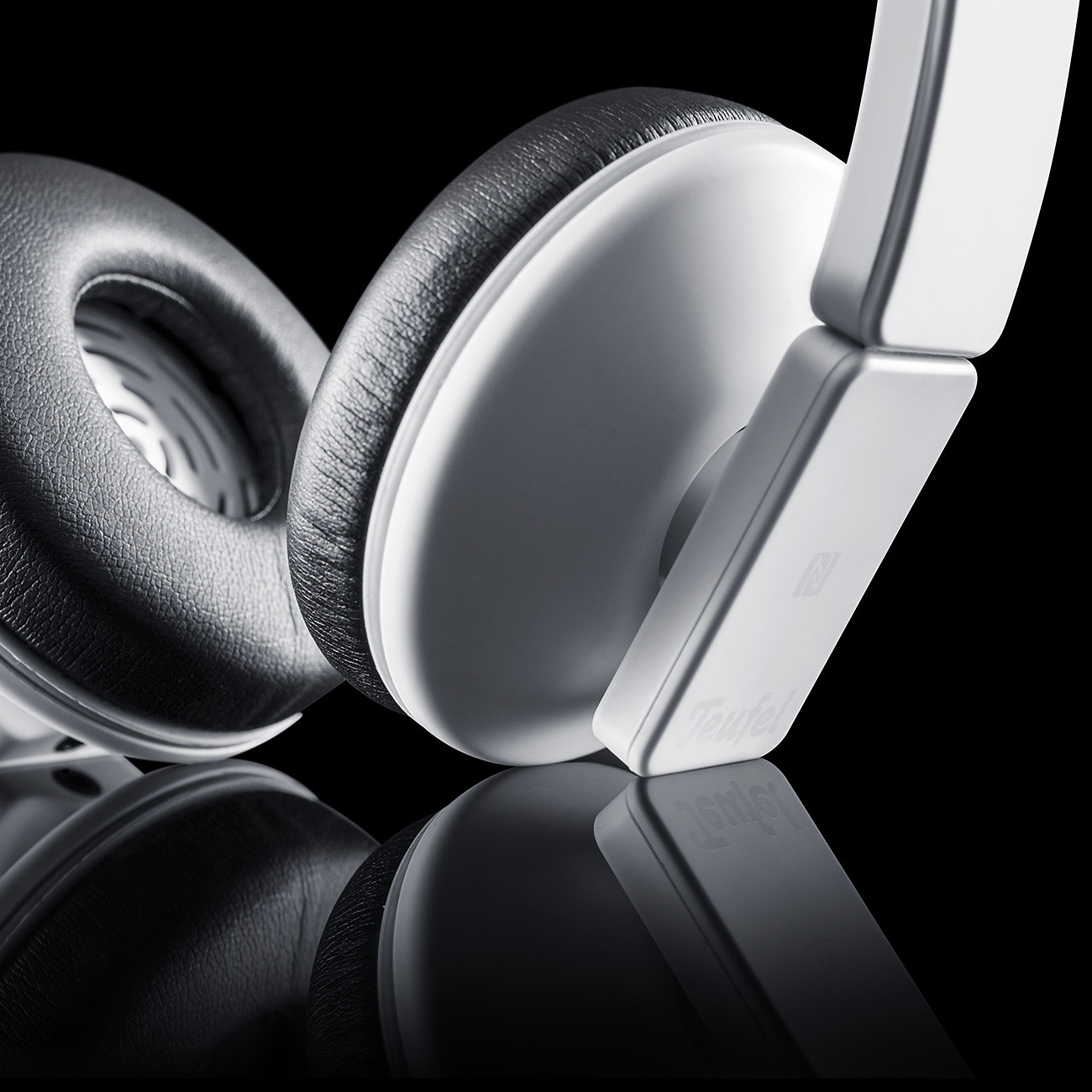 The microphone is placed at such a height on one side so that speech is perfectly conveyed but breathing noises are not. When a call is accepted, music playback automatically stops and starts again when the user ends the call. The long-lasting lithium ion battery can be quickly charged with any standard mobile phone charger or on a PC via the included USB cable. The Teufel AIRY's amazing range means that it's possible to go into the other room away from the playback device and still enjoy uninterrupted sound. With Bluetooth enabled televisions or TV sound systems, this means it's possible to quickly dart into the kitchen and not miss anything that's said. The sound is, of course, completely synchronous with the picture.
Style follows function – free and flexible
Not limited by sound or functionality, the AIRY proves itself to be utterly flexible when it comes to style as well. High-quality ear pads can be removed and interchanged with a range of coloured pads available soon. This makes it possible to adjust the AIRY to your mood, the season or what you're wearing.
All pictures: Property of Teufel Audio